All Posts Tagged With: "Kate Hudson"
I'm excited to share with you my interview with Amy Bailey who has begun to make her mark within Hollywood's demanding movie stars. Amy can be seen in the star-studded movie, "Nine" along side Nicole Kidman, Penelope Cruz, and Kate Hudson. Up next for the actress, she will be playing the Hatteress in Tim Burton's "Alice in Wonderland."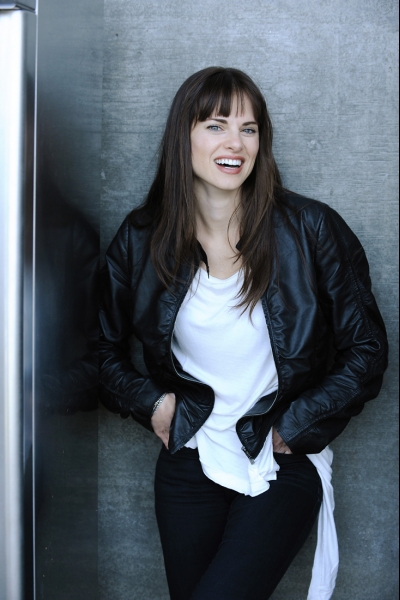 Amy Bailey
In this interview Amy Bailey tells Marta Walsh about how it all began for her in Hollywood. Her role in the film "Nine" and what was it like working with its director Rob Marshall. How one day she took Penelope Cruz and her sister to see the Royal Ballet perform. Her latest acting role in  "Alice in Wonderland", also staring in this film Johnny Depp. Future plans, and of course, style and beauty secrets!
Marta Walsh: Where did you grow up and where is home for you?
Amy Baliey: I grew up in a coastal town called Corpus Christi, in South Texas. I loved going to the beach right after school. Now I divide my time between London and L.A.
MW: How did you decide on a career in showbiz, and what were some of your first breaks?
AB: I was a professional ballerina by 17yrs old, so I guess being onstage always felt pretty natural. My parents couldn't believe that as a teenager I would skip out parties because I had ballet class the next morning. It kept me out of trouble, for the most part 🙂
BEST DRESSED: Kate Hudson brought  pure elegance to the red carpet last night for the 2010 SAG Awards. You had to see the back of the dress to really appreciate the whole look. I hear from Celebrity Stylist Rachel Zoe's Twitter that she was the style genius who picked Kate's white PUCCI gown. Marta LOVE:) "White is the new black :)" according to Rachel Zoe.
Kate Hudson at the 2010 SAG Awards: Do you love?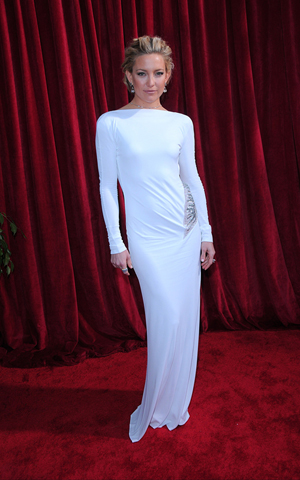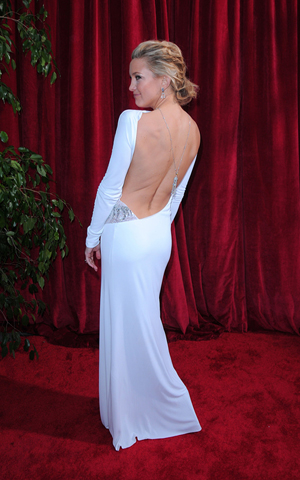 Kate Hudson looked pretty and elegant in Marchesa at the 67th Golden Globes. Kate wore a strapless silk crepe gown with sculptured band bodice and bottom flared skirt.
Celebrity manicurist Deborah Lippmann polished off some of Hollywood's hottest looks at the Golden Globes on Sunday. Kate Hudson wore a classic deep red called Lady Is A Tramp to offset her pure white Marchesa dress.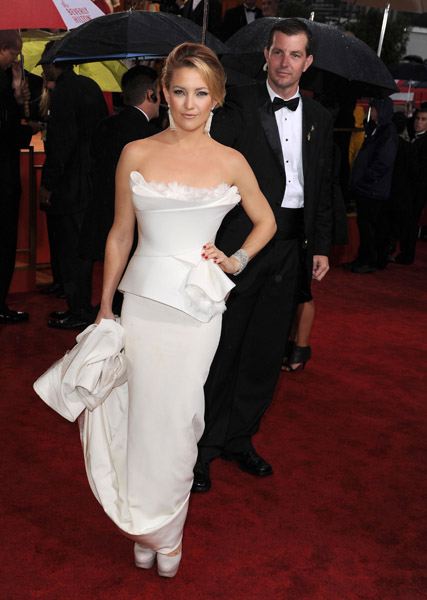 GET THE LOOK: Kate Hudson was wearing CHANEL Beauté at the 67th Annual Golden Globe Awards. Kate's makeup look was created by Makeup Artist Leslie Lopez.
Beauty Inspiration & The Look: "Golden Globes makeup is all about the dress. When I saw Kate in her gorgeous white dress, I knew we had to go for a clean, sophisticated, pretty look – very Grace Kelly."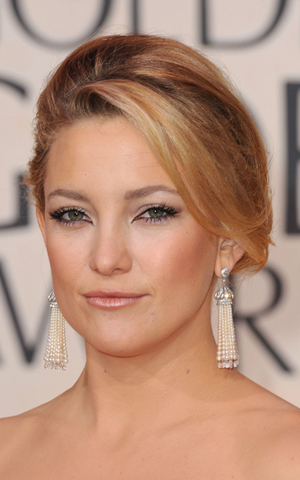 Beauty Tip: "I prepped Kate's skin with CHANEL Sublimage Fluid before applying her base, L'Oreal True Match Foundation in N-3. In the crease of her eyes I used the grey shade from the CHANEL Quadra Eye Shadow in Blue Celestes. I applied the lightest silvery white shade under the brow bone, as well as under the lash line. The inside of her eyes were lined with Almay black eye pencil, and I finished the eyes with CHANEL Inimitable Mascara in Noir. Finally, on her lips I used CHANEL Aqualumiere Sheer Colour Lipshine in Malta, a sheer subtle peach shade."
Kate Hudson stood out tonight on the red carpet at the 67th Golden Globes and not so much for her dress and 'the looks". Kate exudes an attitude and a  natural charm which makes everything else almost not important. For some reason though Kate's dress seems Japanese inspired, almost a take off of The kimono. Do you love?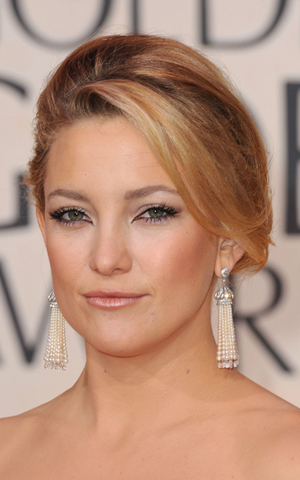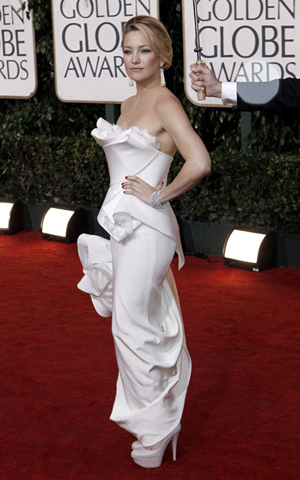 Kate Hudson and Penelope Cruz both looking fabulous in CHANEL Haute Couture at the NY Premiere of "NINE", December 15th, 2009. Which CHANEL dress are you?
Penelope CRUZ was wearing a long asymmetrical satin red dress Chanel Haute Couture. The dress was specially chosen by Karl Lagerfeld for Penelope from the Chanel Conservatoire. This unique dress was shown during the Spring/Summer Haute Couture show of Karl Lagerfeld for Chanel in1989.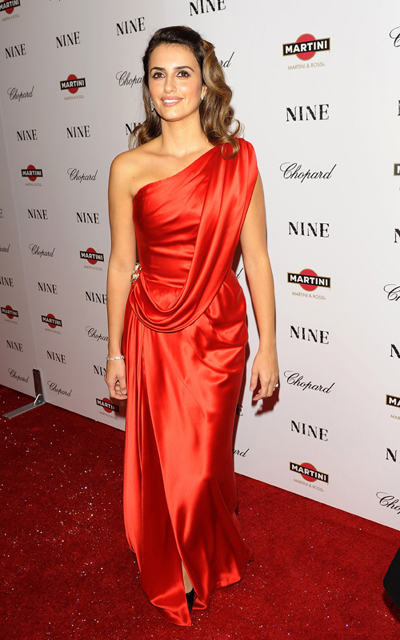 Kate Hudson was wearing an embroidered dress from the Fall/Winter 2009 Haute Couture collection.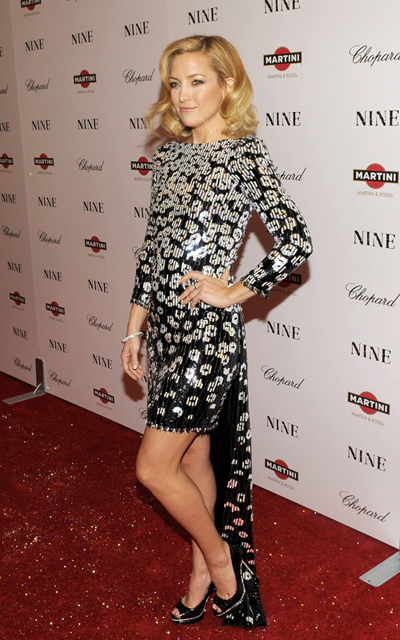 Love Kate Hudson's hairdo at the Premiere of "NINE"? Talking Makeup has the scoop on how to get Kate's look thanks to Celebrity Hairdresser David Babaii.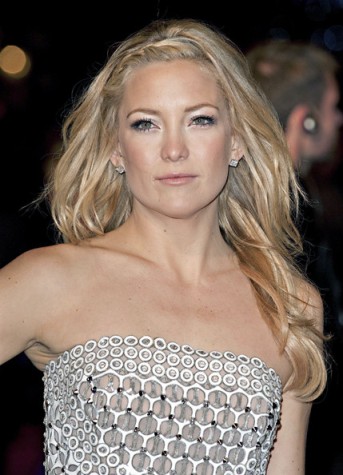 I prepared Kate's wet hair by massaging a dime size amount of my David Babaii for WildAid Hair Polish into her hair. For greater control, I parted her hair into 4 sections (both sides and crown leaving the nape area free). This helps achieve the perfect blow dry.
I dried each section straight, giving the ends a soft rounded finish with my David Babaii for WildAid Blow Dryer. For added lift and volume, I sprayed some David Babaii for WildAid Volcanic Ash Root Amplifier.
To finish, I french braided her shorter layers to sweep hair back and away from her face. For hold, I used my Mise en Plis Light Styling Spray. It's like oxygen for the hair! It doesn't weigh your style down or make it feel tacky. At the end of the night, Kate's look was completely fresh without any product build up
Visit the David Babaii for WildAid website for additional product details.
Kate Hudson is on the cover of Harper's Bazaar January 2010 issue which is on stands December 15th, 2009.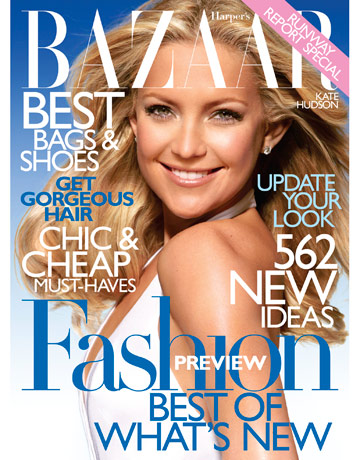 I love the photo of Kate Hudson with her son (see below) in Harper's Bazaar January 2010 issue. Kate reminds me a lot of myself when I go out with my 2 boys, trying to juggle being all dressed up and glamorous (that includes sexy high heels, short dresses, and leather pants) and also be a mom at the same time. Kate does is successfully here, and I must say, I do to:) I believe to not loose my sense of glamour even though I'm a mom. It what keeps me young a vibrant forever.
Kate Hudson is on the cover of Elle Magazine UK December 2009 issue and I'm intrigued with her bold and very dramatic eye makeup. The photo reminds me of the 1930's for some reason, maybe it's the dress. And I really love Kate's artistic and timeless pose. Do you also love?
Stars of 'Nine' Nicole Kidman, Marion Cotillard, Penelope Cruz, and  Kate Hudson grace the Vogue Magazine cover November 2009. This Vogue cover was photographed by Annie Leibovitz. The movie "Nine" directed by Rob Marshall is about a famous film director Guido Contini who struggles to find harmony in his professional and personal lives, as he engages in dramatic relationships with his wife, his mistress, his muse, his agent, and his mother. Release Date:25 December 2009 (USA).
Which "Nine" star on the cover of Vogue Magazine November 2009 is your favorite or is the perfect 10?:)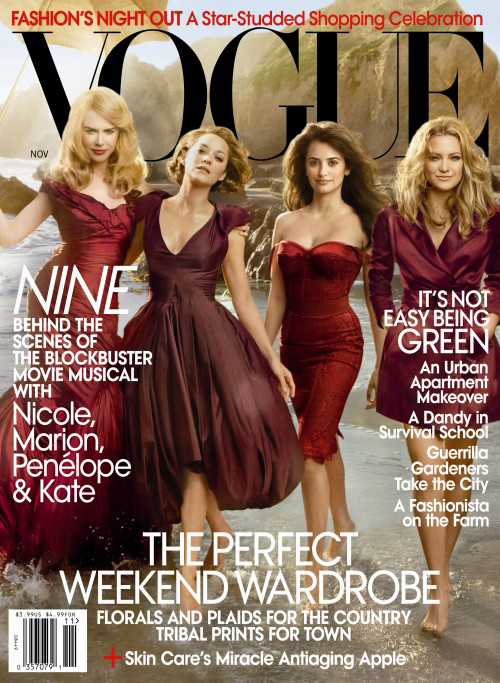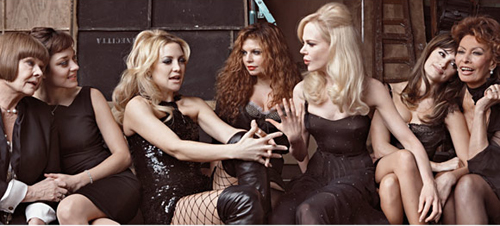 The Women of Nine [From Left]: Judi Dench, Marion Cotillard, Kate Hudson, Fergie, Nicole Kidman, Penélope Cruz, and Sophia Loren, at London's Shepperton Studios.