All Posts Tagged With: "Kate Spade"
Jouer Cosmetics was delighted to partner with kate spade new york for their Fall 2012 presentation. To complement the Ready-to-Wear collection with its rich hues, playful prints and Parisian influence, Jouer Cosmetics created a classic, clean look this season with a romantic edge.

Jouer Cosmetics Partners with kate spade new york for Fall 2012
Kate spade New York joins forces with Women for Women International to create five new limited edition totes for Spring 2010.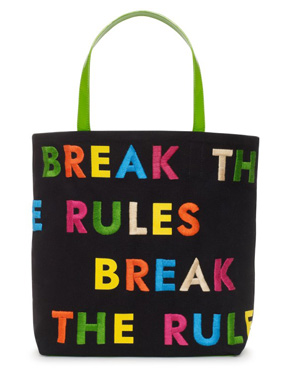 As a part of kate spade New York's ongoing hand in hand partnership with Women for Women International, five colorful new totes will be released in the Spring 2010 collection. The totes combine kate spade New York designs with the expert craftsmanship from women in war-torn countries. All appliqués are specially handmade in Bosnia and Kosovo by Women for Women International employees.
kate spade Spring 2010: Representatives from kate spade new york will be in SOHO (Prince Street between Mott & Mulberry) Saturday, March 27th and the 28th, 2010, from 11am – 5pm in New York's Union Square in celebration of the first day of spring.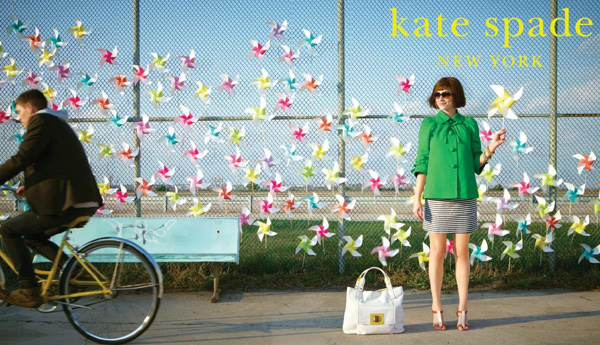 kate spade girls will be handing out pinwheels in an array of fun colors. Each pinwheel will include a promotional offer redeemable for 15% off any full price purchase in kate spade stores and online at www.katespade.com
Kate Spade Coal Medium Heddy Cosmetic Case is a super glossy cosmetic case that is trimmed in leather ans has an interior zip pocket.  Other features: top zip closure, cotton twill, and PVC with leather trim. 
Kate Spade Coal Medium Heddy Cosmetic Case was created by fashion designer Kate Spade and comes in three colors: Kelly Green, chocolate, and black.  Cost: $70. Size: 9 1/2 W x 5 1/2 H x 3 D.
Kate Spade is famous for designing glamorous handbags, but in Spring of 2002 Kate Spade and Estee Lauder launched "kate spade beauty". Kate aka Katherine Noel Brosnahan met her husband Andy Spade in Arizona State University.  Andy Spade who grew up in Scottsdale Arizona is the older brother of the famous comedian actor David spade. If you live in Phoenix you can visit Kate Spade boutique in Fashion Square Mall.   Neiman Marcus Group Inc owns a majority interest in  Kate Spade.  
The signature fragrance called simply Kate Spade Classic Pearls is a white floral with its main note of Honeysuckle.  Kate Spade fragrance is fresh and clean and is inspired by Kate's trips to the Hamptons in New York.  The vintage yellow-rose wallpaper in the master bedroom of their southampton cottage has been seen in more than one kate spade ads and is also the basis for the packaging of her scent.  Cost: $95 for 3.4 oz Eau de Toilette. Kate Spade fragrance comes in a line of body cream, lotion, perfume, and powder.   Also try Kate Spade Dusting Powder which is a 1.5 oz of a luxurious and silky powder fragrance for your body.  Cost:  $60.