All Posts Tagged With: "Kay Panabaker"
Lancôme celebrity makeup artist Vanessa Scali worked her magic on Fame star Kherington Payne at the movie's Los Angeles premiere last night. Talking Makeup got on the inside scoop behind the rising star's graphic, smokey eye, pretty golden skin and shimmery nude mouth.
To start, Vanessa prepped the skin with Lancôme's Génifique Youth Activating Concentrate, which kept Kherington's skin fresh in the 100 degree heat. Lancôme's Effacernes in Light Bisque –Vanessa's favorite formula—was dabbed underneath the eyes. Bobbi Brown's Foundation Stick was applied on select areas with a small brush and blended with the fingers.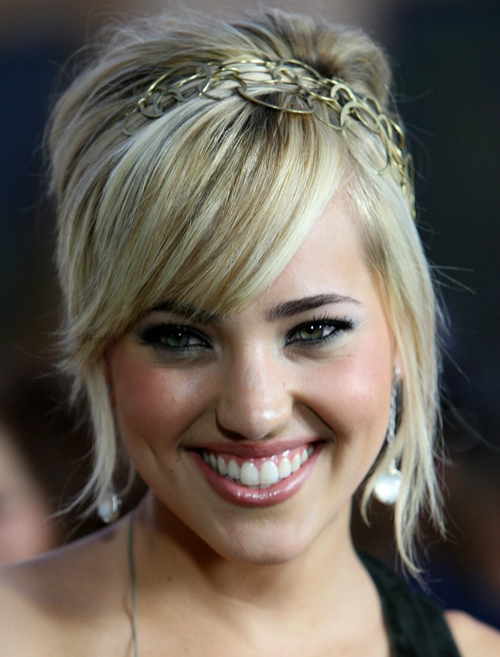 Lancôme's Blush Subtil in Sheer Amourose delivered a glowy look and was accented with Giorgio Armani Beauty's Fluid Sheer #2 on the cheek and brow bones. A dusting of Lancôme's Photôgenic Sheer Loose Powder, just on the T-zone.
For Kherington's dramatic eyes, Vanessa layered Shu Uemura's Pressed Eye Shadow in ME Black #990 and ME Olive #471.
FAME Brilliant Shine Lips Lip Gloss Collection by Sephora NEW: This fall, get inspired by the highly anticipated new feature film FAME! Watching these talented, hard-working students act, sing and dance their way to the top is sure to put a smile on our freshly glossed pouts. "What's that pout about," you say? It's Sephora's exclusive set of Fame Brilliant Shine Lip Glosses announced as part of a new partnership with Metro-Goldwyn-Mayer Pictures (MGM). With names like "Rising Star" and "In the Spotlight," these must-have limited-edition glosses will leave any beauty star feeling fame-ous!
Let the cameras roll with Sephora's new Fame-themed collection:

FAME Brilliant Shine Lip Gloss in Starring Role ($10) – Take the lead and shine like a star with this soft pink lip candy.
FAME Brilliant Shine Lip Gloss in Rising Star ($10) – Rise above the rest with a glistening gloss in hot pink.
FAME Brilliant Shine Lip Gloss in Standing Ovation ($10) – Let the the thunderous applause continue! With luscious red apple lips you'll drive the audience wild!
Few weeks ago I was given an incredible opportunity to interview actress and FAME star Kay Panabaker. It was such pleasure chatting with Kay over the phone. She came across as extremely intelligent, witty, and very dedicated young woman. She completed her BA in History from UCLA before she turned 18! And, she is beautiful. Watch out Hollywood!
Kay gave me the biggest compliment: "Thank you for an intelligent interview and questions. I'm not used to those. I'm used to 'What's your character like' and 'Whose the most famous person you have in your cell phone'. I appreciate this interview, it was great."-Kay Panabaker.
Thank you Kay!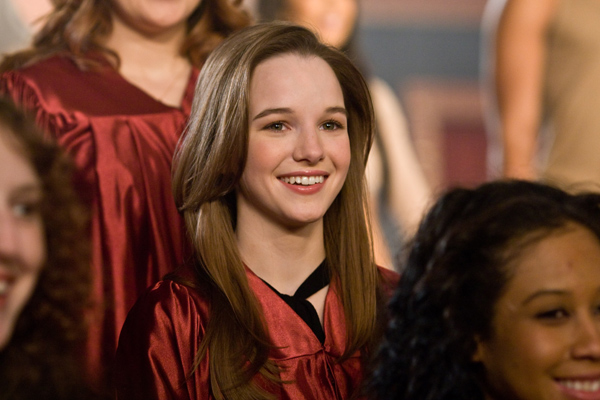 Kay Panabaker plays the role of "Jenny" in the upcoming film FAME, a movie based upon the 1980 film which follows NYC talent attending the New York City High School for the Performing Arts, (Known today as Fiorello H. Laguardia H.S.) The Movie "FAME" is in theatres September 25th, 2009 (USA).
I caught up with Kay one afternoon this summer to chat about her love for acting. Her charcter "Jenny" in the upcoming film "FAME". How she finds the balance between life and an acting career. Kay even reveald to me what's in her makeup bag and future plans.
Marta Walsh: Why have you decided on a career in acting? How did it all began for Kay?
Kay Panabaker: My sister (Danielle Panabaker) and I kind of fell into acting. She and I used to do the same activities, like dancing. We would then take the same dance classes, and then the same print work and commercials. That was back in Georgia. When we moved to Chicago we started to do more theatre. One of our agents then recommended that we should move to LA. My mom was very skeptical. She told us it was a crazy idea and that we will never make it. So in a way I fell into acting, but I've been loving it pretty much from the beginning. When I was 10 I hardly even watched TV, so I don't how I discovered the love for acting and movies.
MW: How do you find the right balance between school and enjoying life as a young woman and at same time working in Hollywood? What advice can you give to young aspiring actors and actresses?
KP: School and education are very important to me and I believe it is possible to do both. Just because you want to be an actress doesn't mean you can't go to school. I started community college when I was 13. I used to go to work during the day and go to school at night. I would do my homework in whatever spare time I had. Sure there is a sacrifice. I gave a bit on a social life but I made it work, and I'm so thankful that I did. I now have a degree I can fall into. I have more options. I got my degree so young I can even still go back to school if I decide do. There is nothing I can't do!