All Posts Tagged With: "Kim Kardashian's Hair"
KIM KARDASHIAN. HAIR BY: CHRIS McMILLAN, LIVING PROOF CELEBRITY HAIRSTYLIST.
Kim Kardashian 2013 MTV Movie Awards
INSPIRATION: "We wanted a really simple, chic blow out. Kim's been trying to grow her bangs out, so I created a deep part to pull the bangs to the side. We kept the blowout sleek with a little bit of texture."
TIPS/TECHNIQUE: "I used Living Proof Prime Style Extender while Kim's hair was still damp so that her style would last all night. Then I blew it dry with a round brush to create the sophisticated blow out. I created a very deep part to tuck her bangs to the side. I used Hold Flexible Hairspray throughout her hair to create texture and a piecy look. I also used it to keep the bangs tucked away."
PRODUCTS: PRIME STYLE EXTENDER ($20), HOLD FLEXIBLE HAIRSPRAY ($24)
DRESS: YVES SAINT LAURENT
RETAILERS: LIVINGPROOF.COM, SEPHORA, SEPHORA.COM, ULTA, NORDSTROM
Celebrity Hair Watch. Kim Kardashian gets bangs! Kim showed up with this new hairdo to the Comcast Entertainment Group's party for the premiere of "Keeping Up With The Kardashians/The Spin Crowd" in West Hollywood, California, Thursday, August 19th, 2010. Do you love?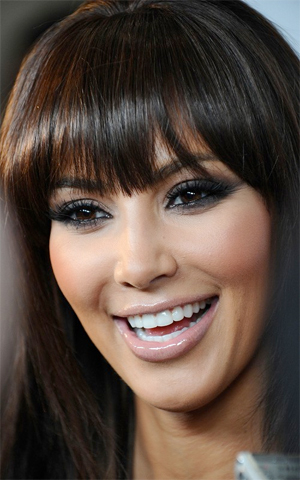 Kim Kardashian Goes Blonde: This is the latest from Kim Kardashian on Twitter: "I WENT BLONDE!!! Do you like it?"
Do you like Kim Kardashian in blonde hair?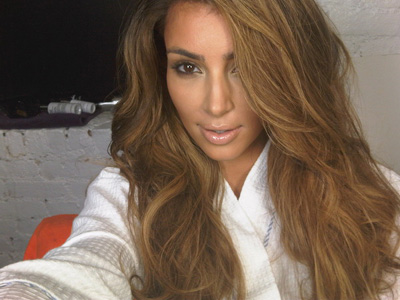 Kim Kardashian in dark brown hair: