All Posts Tagged With: "kimora Lee Simmons"
According to globalgrind.com: E! Online exclusively reveals that Kimora Lee Simmons is moving on from Baby Phat and Phat Fashions, the fashion house she launched 14 years ago. Kimora and Baby Phat's parent company, Kellwood Company, will go their separate ways as of Sept. 1, 2010. "After 14 years of conceiving and nurturing Baby Phat, it's time for me to move on and further expand my other businesses and create a new phenomenon," Simmons says. "I adore all those who have faithfully been with me since the beginning.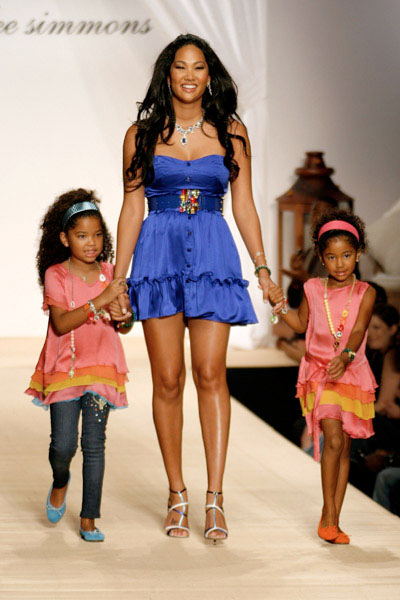 For the April/May 2010 issue of Los Angeles Confidential Magazine, celebrity hairdresser Marcia Hamilton created soft, romantic waves for cover model Kimora Lee Simmons.
Hair Tutorial: How to get Kimora Lee Simmons hairdo or hairstyle
1. Start out by spraying a volumizer from foot to ends, then brush product evenly throughout the hair.
This Spring, Kimora Lee Simmons will launch her newest fragrance that will inspire and excite fans and fragrance lovers alike. The launch of Baby Phat DARE ME perfume combines fragrance & fashion with empowerment and confidence, wrapped up in a young, sexy scent and bottle.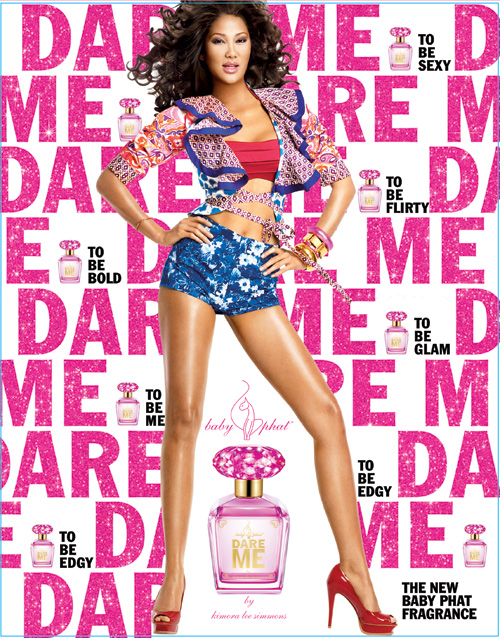 DARE ME: PRINT AD VISUAL. Photographer: Alexi Lubomirski. Shoot details: Los Angeles
Since partnering with international fragrance powerhouse Coty Inc. in 2005, Kimora continues to captivate the fragrance world with her bold new fragrance, DARE ME. This captivating and flirty scent is the essence of independence, designed to encourage girls and women of all ages to "own the catwalk and take center stage." The packaging taps into the fun, edgy and fabulous fashion that is at the heart of the Baby Phat brand. It dares to be noticed.
What Kimora Lee Simmons Loves is a Trina On the Loose Train Case!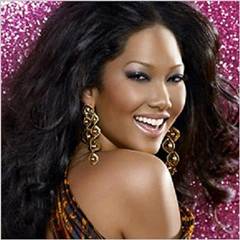 What can you get someone that has everything they want? A trendy make-up bag of course! The Trina On the Loose Train Case ($65.00) adds a touch of fierceness, so you can carry around your makeup in high-fashion style!
Add a little fabulosity to your life, just like Kimora Lee Simmons with Trina!
Want to get a bit glamorous?  Check out Kimora Lee Simmons Charm Bracelet which is a chunky gold bracelet with a  number that's encased in gold, and filled with a gorgeous glitter gloss.  Comes in one shade: Kimora Le Simmons Charm Bracelet in clear with gold glitter.  Cost: $18.50.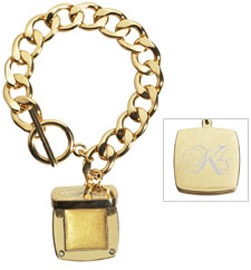 New at Kimora Lee Simmons make up line is a Chocolate Shimmer Powder.  Kimora Lee Simmons is the very sexy Baby-Phat fashion designer.  This very seductive Chocolate Shimmer Powder is part of Kimmore Lee Simmons or KLS glamorous beauty line.  Kimora's fabulous make up line is stocked with girlie glosses, sexy shimmers, and buttery bronzers. Thanks to Kimora Lee Simmons, your can also get a celebrity treatment without the expensive price tag.  New at KLS is Kimora's Chocolate Shimmer Powder, a shimmering powder that can be used anywhere you wish to sparkle: on lips, eyes, cheeks, and decollete.  This must have Kimora's Chocolate Shimmer Powder has a hint of golden glow and is deliciously-scented.  It comes with a bling bling packaging of gold satin pouch and a special application brush.  The sexy powder can be used on temples, forehead, and chin as a highlighter. It can also be used on chest for bronzing and a little sparkle.  Cost:  $24.