All Posts Tagged With: "Kyra Sedgwick"
Kyra Sedgwick looks absolutely stunning and fit posing before making her way to the "Late Show With David Letterman" in New York City. Kyra wore a Lorraine Schwartz diamond snake ring, an OFIRA gold and ruby ring and OFIRA gold and diamond bangles.
(Hollywood, CA – July 11, 2011) – Actress Kyra Sedgwick is gorgeous in Zac Posen arriving to the David Letterman Show set. The Closer star stunned the audience wearing a Zac Posen Pre Fall 2011 black silk strapless dress.
The Kate Somerville Skin Health experts have been very busy prepping the skin of celebs before their big night. Check out the list of stars who have visited the Kate Somerville Clinic in preparation for the 2010 Golden Globes and their favorite treatments before the red carpet event. Kate will also be featured LIVE tomorrow, Sunday January 17th, 2010, on the Red Carpet. Tune into the TV Guide Channel, Golden Globe pre-show at around 1:15pm PST and watch Kate's skin tips.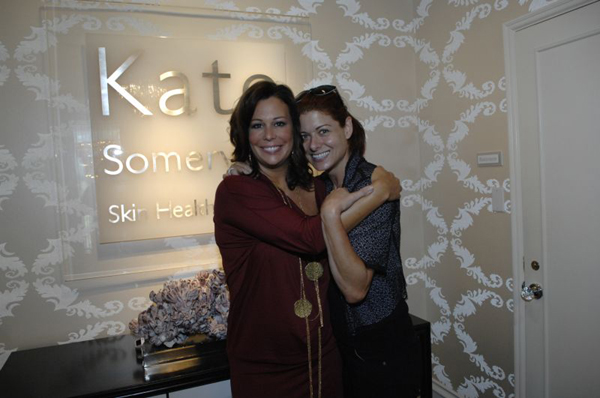 Debra Messing and Kate Somerville
Kate Somerville Golden Globes Clients include:
· Anna Paquin (Nominated for True Blood and Best Performance in a mini-series)
· Olivia Wilde (House is nominated)
· Kyra Sedgwick (Nominated for The Closer)
· Debra Messing (She'll be attending as husband's show, Damages, is nominated)|
· Lea Michele (Nominated for Glee)
· Jane Lynch (Nominated for Glee)
· Julie Benz and Jennifer Carpenter (on Dexter, which is nominated)
· Sophia Vergara (Modern Family is nominated)
· Perrey Reeves (Entourage is nominated) 
Wondering how to achieve the award show looks seen at the 60th Annual Primetime Emmy Awards? PureOlogy's PureArtist's, Angel del Solar, Wendy Belanger, Darren Pena, Mary Katherine Hecht and Sherilynn Smart have the latest hair trends and tips to create the Emmy award show looks at home.
The top three trends as seen on the red carpet:
1. Timeless waves as seen on Kyra Sedgwick, Terry Hatcher, and Brooke Shields.

Kyra Sedgwick.

Terry Hatcher.

Brooke Shields.
2. Classic Chignon as see on Hayden Panettiere, Christina Applegate and Lauren Conrad.

Hayden Panettiere.