All Posts Tagged With: "Lady Gaga"
Pop-sensation Lady Gaga graces the cover of Vogue's March Power Issue, photographed by Mario Testino. On the eve of the release of her groundbreaking new album, Born This Way, Contributing Editor Jonathan Van Meter went on tour with the global phenom—and discovered a remarkably poised star at the top of her game.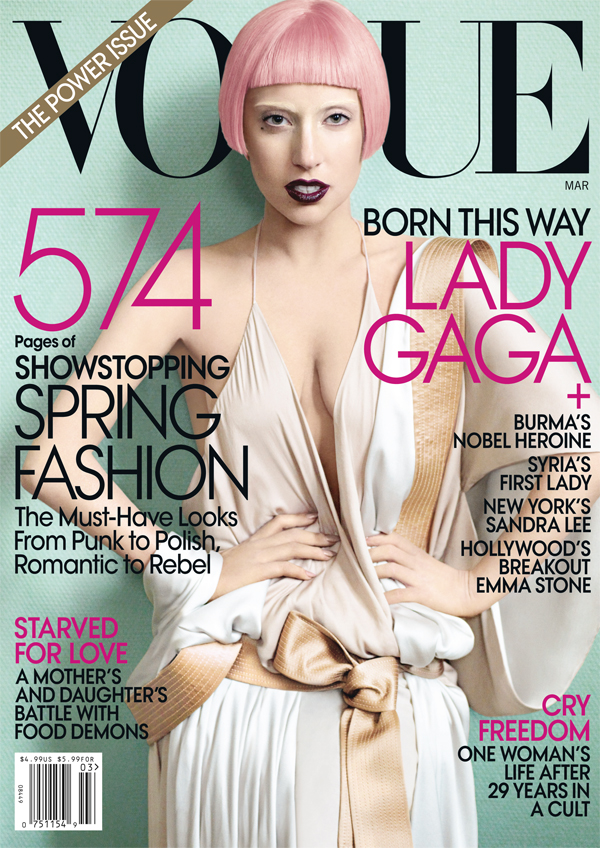 "I am quite down-to-earth for such an eccentric person…"
THE SNEAK PEEK PHOTOS!
MAC confirmed in today's WWD that Lady Gaga will be our next Viva Glam Spokesperson.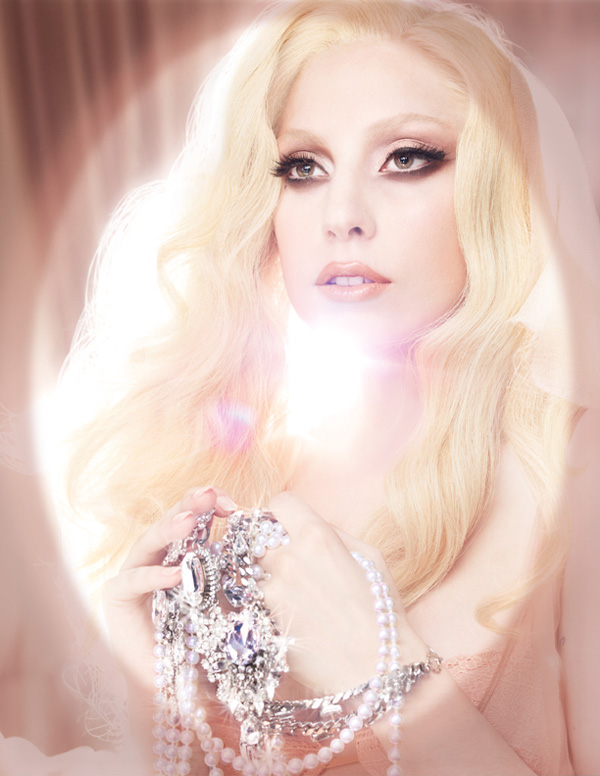 "MAC Cosmetics has signed Lady Gaga on for a second year as the spokeswoman for its Viva Glam campaign. Gaga teamed up with Cyndi Lauper for the 2010 campaign, which launched earlier this year. The company said the Gaga-Lauper campaign was the most successful ever for the MAC AIDS Fund, which has raised more than $190 million for the cause since its founding in 1994. For her solo turn in 2011, Gaga was shot by Nick Knight and styled by Nicola Formichetti."
Milan, November 2010. Dolce & Gabbana will represent Italian fashion, creativity and craftsmanship as a part of the second edition of the exhibition "Les années 1900-2000: Histoire Idéale de la Mode Contemporaine. Vol. 2" which will take place from November 25th 2010 to June 26th 2011 at the prestigious Parisian Musée Des Arts Decoratifs.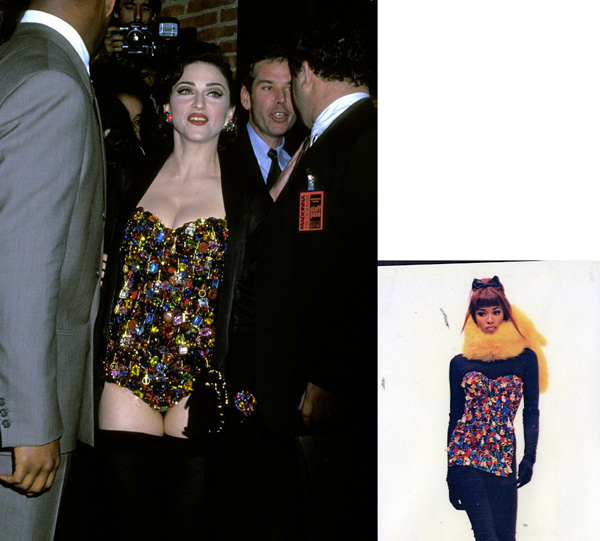 In the first case the chosen piece is a corset embellished with multi-coloured stones and charms, which became iconic when worn by Madonna at the 1991 "Truth or Dare" premiere in New York.
For the first time, the editors of Vogue present a one-of-a-kind salute to the year's most iconic women, including Blake Lively, Lady Gaga, Carey Mulligan and Kate Moss.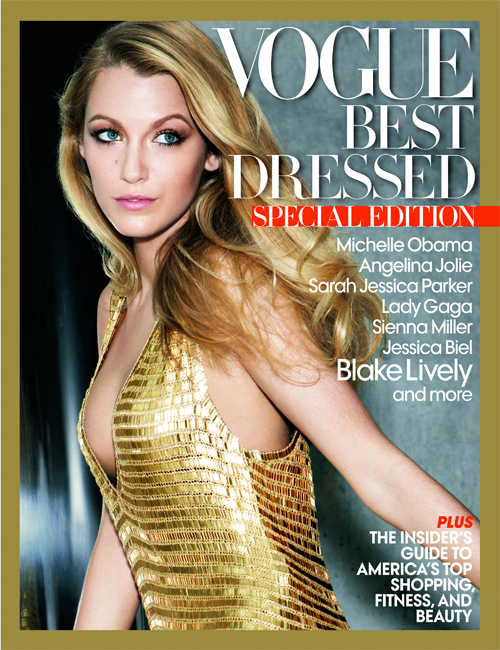 The Vogue Best Dressed Special Edition also features:
Lady Gaga is looking fabulous in a meat bikini on the cover of Vogue Hommes Japan. Do you think Lady Gaga has a good taste for fashion?
Two Exclusive Lady Gaga fashion films premier on SHOWstudio.com. The latest collaboration between Nick Knight's award-winning website SHOWstudio.com and the ground-breaking musician Lady Gaga sees not one but two exclusive videos focused on the star premiering on the site.
On Friday 3 September, 2010, at 11:00 BST as part of the ongoing fashion film season The Fashion Body, SHOWstudio.com launches Lady Gaga's vision of the left eye – inspired by her experiences at the very eye of a storm of publicity which has made her one of the most famous faces on the planet.
Watch: Anna Wintour and Marc Jacobs on the Late Night With Jimmy Fallon from last night, Wednesday, September 1st, 2010. It is quite funny because Anna mentions Lady GaGa and how she kept her waiting for 45 minutes because she was talking to God! Classic. 🙂
Sneak peek preview of Lady Gaga gracing the cover of V Magazine (issue #67): "The New York Issue," which features fashion and art in the most exciting city on Earth! Music legend Lady Gaga poses as the Statue of Liberty alongside designer Marc Jacobs for this cover, in which artist Dan Colen interpreted the iconic "V" using bubble gum as his medium. In total, V Magazine collaborated with 4 New York based artists for their creative take, and Colen's is the first to be released for this exclusive preview. V67 hits newsstands TODAY, September 2nd, 2010.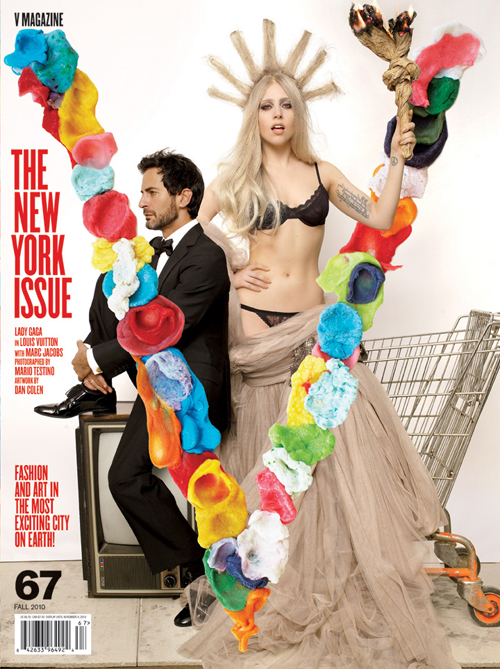 Sneak peek to the upcoming V story, "A YEAR IN THE LIFE," by Lady Gaga's own Fashion Director and best friend Nicola Formichetti, from the upcoming issue of V MAGAZINE, V67, hitting newsstands on September 2nd, 2010.
Nicola picks his 15 personal favorite GaGa moments, from July 2009 to June 2010, documenting the singer's rise to fashion and music royalty, as well as providing insights into the unique style that both Lady GaGa and Nicola Formichetti are famed for.
This classic/rare celebrity photo has just landed on Marta Walsh's & Talking Makeup desk: KISS lead singer Paul Stanley holding Lady Gaga backstage at KISS' current "The Hottest Show on Earth" tour in Holmdel, New Jersey (PNC Bank Arts Center) on Friday, August 20, 2010. Lady Gaga is wearing a pair of Paul Stanley's own stage boots which she wore for the entire performance.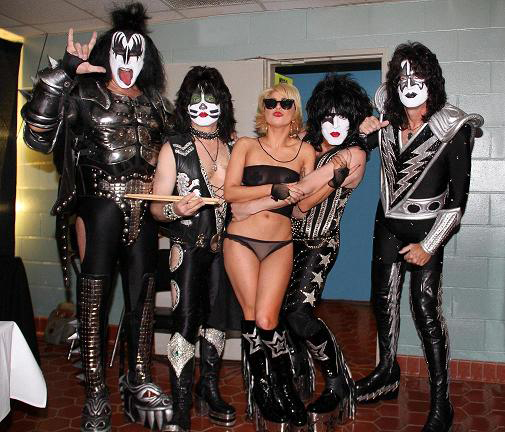 Left to Right: Gene Simmons, Eric Singer, Lady Gaga, Paul Stanley and Tommy Thayer.
Photo Credit: Dean Snowden, KISS.