All Posts Tagged With: "Lanvin"
Paris Fashion Week SS 2011. Designer: Lanvin. Hair by Guido for Redken. The Hairstyle & Inspiration: At Lanvin, the look was a wet low ponytail, inspired by a girl who just finished scuba diving and pulled her hair back into a ponytail.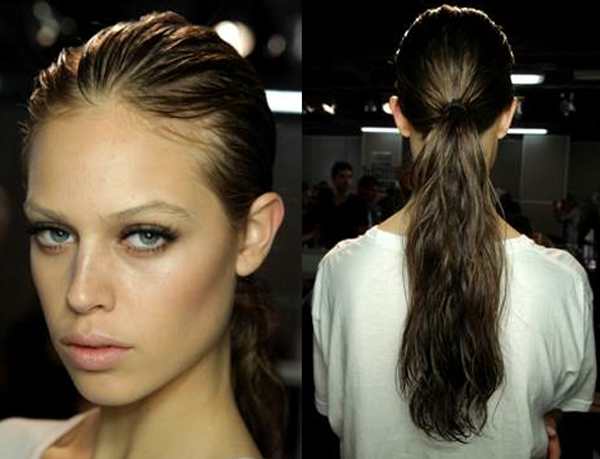 Photos by Matt Lever for Redken
"This look is quite different from last season's look- there are a few sporty pieces in the collection so we wanted to play on that and created a wet, low ponytail as if a girl just finished scuba diving or a swim. This is something most women have actually worn- rushing out of the shower to work and putting hair, wet, into a low ponytail." –Guido, Redken Creative Consultant
H&M has confirmed that its next designer collaboration will be with Lanvin!! WATCH!
The collection will be designed by Lanvin's artistic director Alber Elbaz (Marta Walsh is a huge fan, especially that we both at sometime grew up in Israel) and menswear designer Lucas Ossendrijver, and is slated to go on sale on sale in the US and Canada on November 20, and the rest of the world on November 23, 2010, in around 200 H&M stores worldwide. According to H&M, the collection of both womenswear and menswear will be revealed on November 2, just three weeks before the clothes hit the store. Read full article in Style.com
Molly Sims attends the Mulberry pool party in Los Angeles, California, Wednesday, July 21st, 2010. Molly dress is by: Mulberry (style- Raglan). Jewelry: Grayce by Molly Sims Faceted Rectangular Crystal Gem Necklace (HSN Line $79.95 on hsn.com). Shoes: Lanvin. Do you love?

Alber Elbaz is one man that inspires me greatly. He's designs for Lanvin's fashion house are bigger than life, exquisite, a work of art. I stumbled upon this video and thought to share: New York Times' Suzy Menkes interview with Lanvin's Alber Elbaz. Menkes discusses with Lanvin's star designer putting women first and the Winter 2010 collection.
For more New York Times videos visit: http://video.nytimes.com
Rihanna looks bigger than life on the cover of Elle Magazine July 2010. Rihanna was photographed by Tom Munro. On turning her dream of popstardom into reality: "If I were in Barbados still, I would be dreaming about this. I asked for it, and I love it, so why am I complaining? My first day on tour, I remember saying 'I'm so tired—this is so much.' Then I thought, What the fuck? You asked for this—you prayed to God to tour like Madonna." Read full article in Elle.com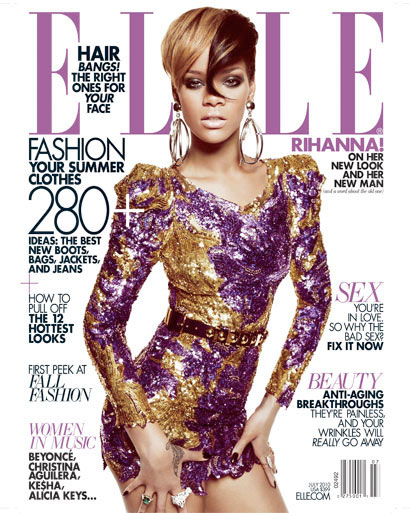 Watch Rihanna behind the scenes her Elle Magazine photo shoot:
I stumbled upon a brilliant interview with Lanvin designer Alber Elbaz who is a big inspiration of mine. The interview is titled The Future Of Fashion, Part Six: Alber Elbaz and it was written by by Dirk Standen for style.com.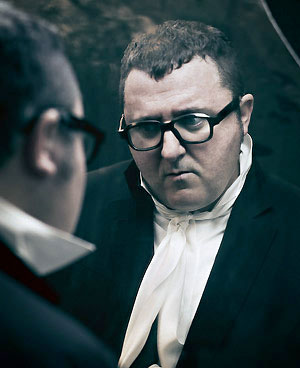 Here's an exert:
Talking about instant successes, have you followed the rise of the fashion bloggers?
I have to tell you, I love bloggers. And I'm not telling you that because I'm [trying to] bribe them. Every morning I wake up and I see the blogs. There is something very innocent. There is something very honest. You can say, OK, they didn't have the experience of seeing things. But again it's another medium. That's their opinion and it's interesting to see how politically incorrect they are. Of course, when they say, "Oh my God, I love it," I'm extremely happy.
At yesterday's, March 5th, 2010, Lanvin shows in Paris, Redken Creative Consultant Guido created the hairstyle to compliment the designers' Fall/Winter collection. Find out the must-have products and inspiration!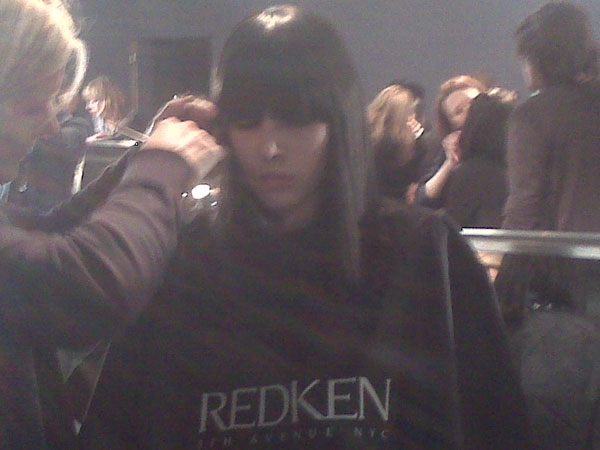 LANVIN Fall Winter 2010 backstage in Paris, hair by Redken
Guido fashioned shoulder length black high shine wigs with sharp cut bangs – inspired by 1950s and 1960s Manga Doll, Bettie Page, "posh" bourgeois women. "The Lanvin woman is very feminine, but powerful. The collection is modern and we wanted to make a dramatic statement with the hair. Wigs took a bit of convincing, but in the end the designer said 'go for it' and we created this very strong hair statement. When a woman wears a wig, it automatically transforms her persona." –Guido, Redken Creative Consultant 
GET THE LOOK: January Jones' dramatic hair look at the 67th Annual Golden Globes Awards, created by top celebrity stylist Mark Townsend, introduced a new, modern take on red carpet style.
The Look & Inspiration: Inspired by her gorgeous black Lanvin dress, Townsend created a head-turning look that was boldly accessorized with a sleek black ribbon headband. "As soon as I saw the dress I knew I wanted to put her hair up," said Townsend, "and I think that adding the satin ribbon as a headband gave a classic French twist with a very modern edge."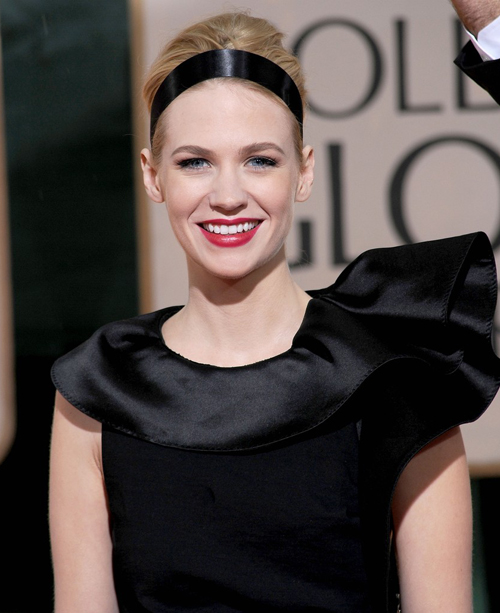 Here's Mark Townsend's hair tutorial on how to get January Jones hairdo at the 2010 Golden Golbes:
I started by applying a small amount of Moroccanoil Treatment to January's damp hair and blow-dried it with a round brush. This unique argan oil-infused formula gives the hair amazing shine and silky finish, an essential to the look I had in mind.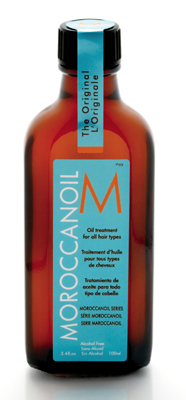 When the hair was dry, I took a dollop of Moroccanoil Hydrating Styling Cream into my hands and then finger combed the hair to give a soft hold and add even more shine and leave the hair extremely smooth.
Allen Edwards styled the hair for this shoot of 5 of the top talent from E ! Catt Sadler, Ashlan Gorse, Debbie Matenopoulous, Samantha Harris and Giuliana Rancic. I'm huge fan of the E! beautiful presenters and always wondered who did their hair. Now I know! Mr. Allen Edwards Marta would like to meet you!:)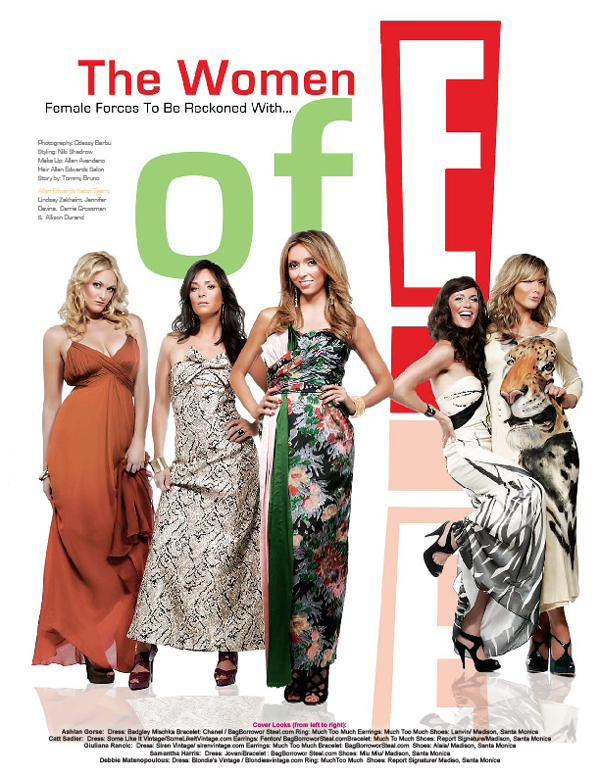 Cover Looks (from left to right):