All Posts Tagged With: "LIERAC"
LOVING the LIERAC Magnificence Precision Eye Care Anti-Aging Care for the eye contour ($49) and actually the entire LIERAC's "red" line (the serum is a must-have). It's light and non-irritating, doesn't smell strong, all in all a very good eye cream. Available at CVS and LIERAC.com
Loving the Lierac Magnificence Red Serum. It's super light water-like gentle serum, doesn't irritate my skin (so many skincare products do), it has a scent and is not perfume-free but it's fruity and not too strong and doesn't linger past makeup application. As a perfume-free skincare fanatic this works. I would say it's very soothing to the skin and hydrating. Some days when I feel confident (ha) I only use this serum and nothing else. It's a keeper. Forgot to mention the serum is red (which is pretty cool) when you first dispense but goes on clear.
Summer Skincare. The latest from LIERAC Paris skincare and worth writing about are: to get your body smooth and sexy for the beach season LIERAC MORPHO-SLIM Anti-Cellulite Concentrate is a good friend. Even if you have the perfect skin there is no harm in using this because it's so hydrating. I speak for myself, it works for me.
LIERAC INITIATIC Fluid For The First Signs Of Aging designed for women aged 30 and over. I say it's a nice moisturizer and I give it my OK. Formulated with high-tech peptide and goji fruit extract to work on these first lines and wrinkles.
Body Refining & Cellulite Treatment Skincare. It is summer time and probably many of you are spending more time in your bathing suits. Now there is body care that targets cellulite and maintaining firmer skin. Here are the picks: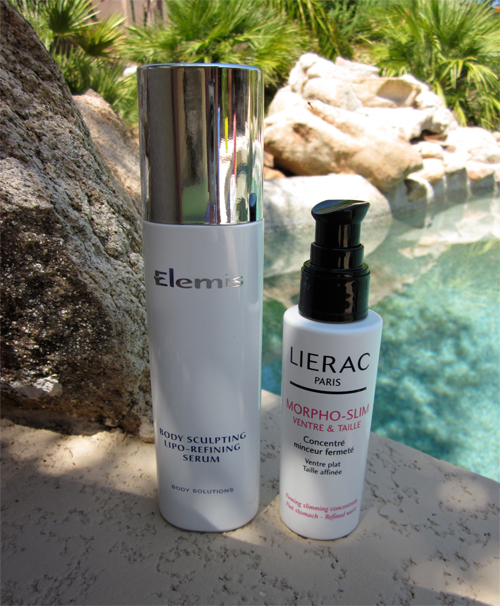 L to R: Elemis Body Sculpting Lipo-Refining Serum is a luxurious and super light gel that is easily absorbed into skin. The serum is cooling and calming. According to Elemis: "Designed with a Lipo-Refining trio of Marine and plant extracts….selected for their effectiveness to reduce the visible signs of cellulite". LIERAC Paris Morpho-Slim Firming slimming concentrate. According to LIERAC: "Flat stomach. Refined waist". Although I wouldn't skip my gym, both serums feel cooling, calming and nice on the skin. I like to use them more as preventative than actual treatment, because I don't have cellulite (please don't hate me). I use anti-aging skincare for my face, why not my body. Just a thought:)