All Posts Tagged With: "Lighthouse Beauty"
Kim Kardashian is about to add another title to her resume: fragrance creator. Today's Women's Wear Daily reports that the reality star has inked a deal with beauty firm Lighthouse Beauty. Her first fragrance is expected to launch in spring 2010.
"Collaborating with Lighthouse Beauty was a really creative, innovative process," said Kardashian. "What's' so different about their approach is that they have worked so closely with me on all aspects of my fragrance, the bottle, the juice…so I can develop a product that truly represents me and speaks to my fans….the fragrance really captures who I am."

Kim Kardashian.
Photo Credit: Photo By Steve Eichner
Kardashian, best known for her role on the E! Entertainment channel reality series "Keeping Up With the Kardashians," (which also features her sisters, Kourtney, Khloe, Kendall and Kylie, her mother Kris, and her stepfather, Bruce Jenner) and her frequent appearances in the tabloids.
Read full article on wwwd.com
Celebrity Fragrance: Power by Fifty Cent is a new fragrance by 50 Cent, aka Curtis Jackson, which will be produced and marketed by Lighthouse Beauty a new company in which the star is a partner.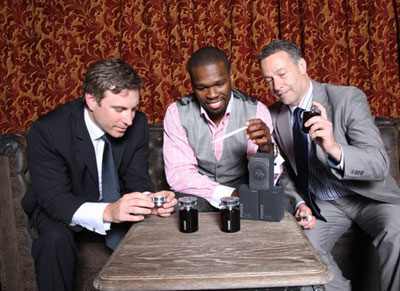 Thomas Buekiewicz, Curtis "50 Cent" Jackson and Philip Zellner.
Photo By Talaya Centeno
Read full story at wwd.com