All Posts Tagged With: "Lips"
Estée Lauder's Love Your Lips collection comes just in time for Valentine's Day to give your lips that perfect, seductive look. You'll have him saying "Be My Valentine" in no time!
Love Your Lips is a limited-edition collection of 12 lip-loving Estée Lauder Signature Hydra Lustre Lipstick shades and 4 NEW Kissable Lip Glosses. Each lipstick features a special "L♥VE" logo on the bullet and the glosses are packaged in uniquely designed vials specially adorned with the same logo. These two undeniably attractive lip formulas will make sure your lips don't go unnoticed this Valentine's Day.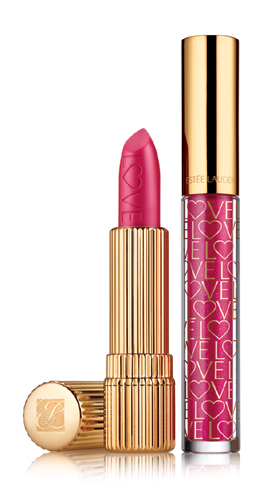 On Sunday night, Hollywood's A-listers showcased several of spring beauty trends on red carpet at the 67th annual Golden Globe Awards.
Beauty Trend: Berry-stained Lips
GET THE LOOK: Winners Drew Barrymore and Chloe Sevigny, as well as actress Maggie Gyllenhaal donned a refreshing combo of berry-stained lips and rosy cheeks, perfect for spring.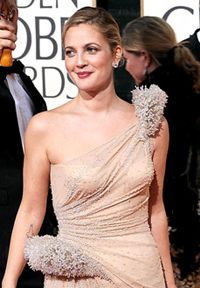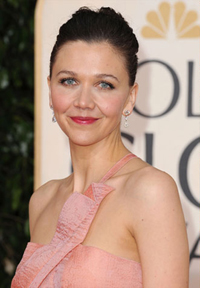 To try out this look, try (see images below, from left) the Dolce&Gabbana Classic Cream Lipstick in Sublime or Dolce&Gabbana The Shine Lipstick in Ruby. On cheeks, dust on the Dolce&Gabbana Luminous Cheek Color in Rose for a subtle, radiant glow.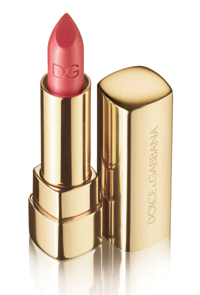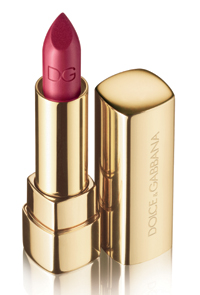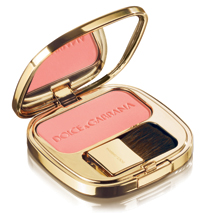 GET THE LOOK:  Gabourey Sidibe, Golden Globe nominee for her lead role in the movie Precious, partnered with Bobbi Brown to create her Golden Globe glow.
"I wanted Gabourey to look pretty powerful, but still like herself, so I gave her glowing skin and modern, sexy eyes. She doesn't need a lot of makeup, so we added some sparkle shadow, lashes and color to her lips and cheeks, and she was perfect. I love this look because she has a natural glow and looks like the prettiest version of herself."-Bobbi Brown.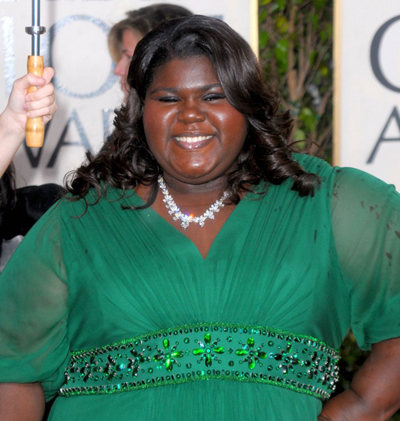 Makeup tutorial on how to get Gabourey Sidibe's makeup look at the 67th Golden Globe Awards using Bobbi Brown products:
Step 1: Prep skin with Soothing Face Tonic and Hydrating Face Cream
Step 2: Apply Chestnut Concealer under eye. Use Concealer Brush to get an even application.
Step 3: Apply Oil-Free Compact Foundation in Chestnut with a sponge and/or Foundation Brush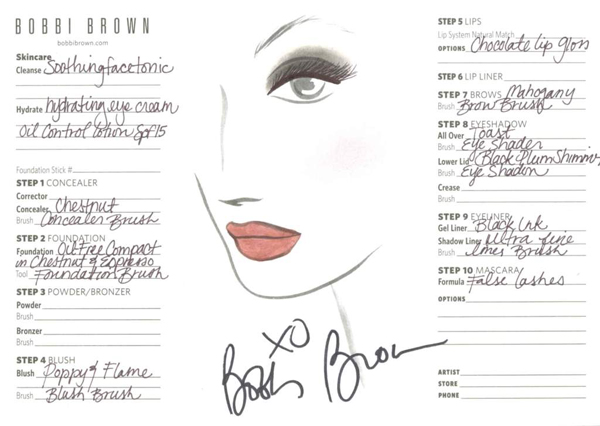 GET THE LOOK: Funny lady and Golden Globes nominee Tina Fey was made up by celebrity makeup artist Ana Marie last night at the 67th Golden Globe Awards using Lancôme products. Here's the scoop on Tina Fey's makeup at the awards straight from Ana Marie. The inspiration, says Ana Marie, was Old Hollywood/1950's with a twist.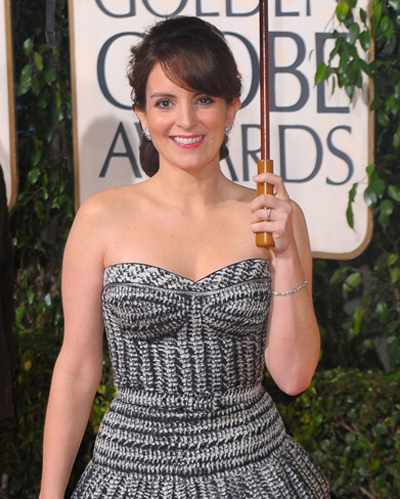 The makeup tutorial on how to get Tina Fey's makeup look by celebrity makeup artist Ana Marie for Lancôme:
Tina's skin was prepped with Lancôme Secret de Vie Toner (Ana Marie's favorite!) and moisturized with Bienfait Multi Vital, a combination that keeps the skin looking vibrant all day. Lancôme Absolue Foundation in Pearl evened out Tina's complexion. Ana Marie applied it with a foundation brush and blended with a damp sponge to make the foundation more transparent.
GET THE LOOK: Award Winner Julianna Margulies Wears NARS Makeup at the 2010 Golden Globes!
The Look: "Julianna has such beautiful skin and a gorgeous beaming smile, that I wanted to keep the colors subdued and let her natural skintone shine through," said Kristofer Buckle for NARS Cosmetics. "I didn't want to use too much color because it might have taken away from her. I wanted it to be all about Julianna so I focused on highlighting her skin by encouraging shine and glow."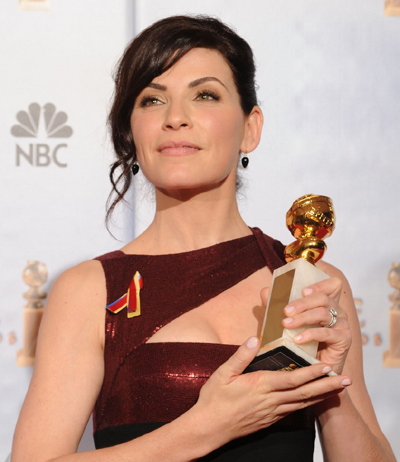 Below is Kristofer's makeup tutorial to recreate Julianna's look:
Complexion:
· Using fingers apply Orgasm Illuminator (NEW for Spring 2010) down the center of the nose, across cheekbones, and on the apples of the cheeks
· Apply Firming Foundation all over face, mixing in with the Orgasm Illuminator
· Re-apply Orgasm Illuminator over the entire complexion to encourage shine [Kristofer's tip: "I used the Flat Concealer Brush to apply the Orgasm Illuminator on top of the foundation creating high gleam."]
GET THE LOOK: Celebrity makeup artist Genevieve gave Courteney Cox her Golden Globes look, pairing a sexy smoky eye with a pale nude lip. Genevieve gave us all the details on the nominee's look.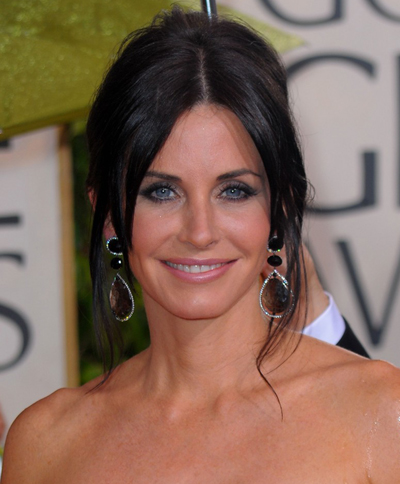 Genevieve lined Lancôme Le Crayon Khôl in Gris Noir on the upper and lower lash line to define Courteney's eyes. Several coats of Lancôme Hypnôse mascara in black gave her lashes a beautiful boost of volume. Genevieve added Lancôme Color Design Eyeshadow in Honeymoon to the inner corner and The New Black to the outer corner to make Courteney's eyes pop. Genevieve added just a touch of color to the cheeks with Giorgio Armani Sheer Cream Blush #2. For Courteney's soft neutral colored pout, Genevieve dabbed on Lancôme Color Design Lipcolor in Pale Lip.
All Lancôme products are available at www.lancome-usa.com.
GET THE LOOK: Lancôme's new ambassadress Julia Roberts looked gorgeous on the red carpet at the Golden Globe Awards. Celebrity makeup artist Genevieve created Julia's look and Talking Makeup got the inside scoop.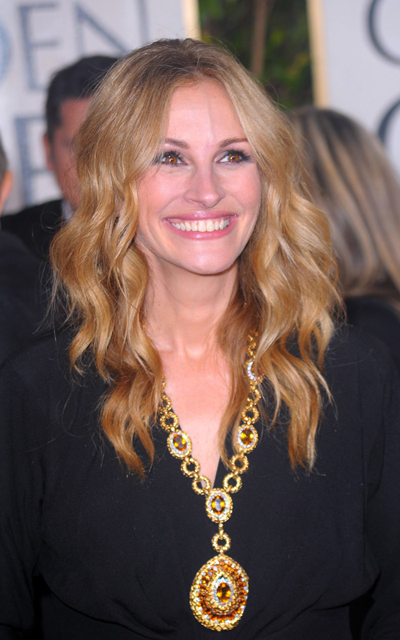 First, Genevieve applied Lancôme Bienfait Multi Vital Teinté to Julia's flawless complexion. Just a hint of color was applied to the cheeks with Lancôme Color Design Cream Blush in Petticoat Pink. Genevieve used her finger to apply and pressed the color on to Julia's cheeks. To create a dramatic eye, Le Crayon Khôl in Black Ebony was used. Several coats of Lancôme Définicils Pro Mascara in Black created lush, dark lashes. Genevieve opted for a soft natural-looking pout. She applied Lancôme Le Lipstique lip liner in Natural Mauve then coated the lips with Lancôme L'Absolu Rouge in Coquette and topped with Lancôme Juicy Tubes in Hallucination for a high-shine finish.
All Lancôme products are available at www.lancome-usa.com
GET THE LOOK:  Nicole Kidman was wearing CHANEL Beauté at the 67th Annual Golden Globe Awards.  Nicole's makeup look was created by Makeup Artist Angela Levin.
Beauty Inspiration & The Look: "Nicole is a true Hollywood movie star – and I knew I wanted to go with an old Hollywood look. Somewhere along the way, I decided to kick it up a bit and make her eyes more sexy and sultry."
Beauty Tip: "To prepare Nicole's skin, I used CHANEL Sublimage Cream all over her face and neck, and CHANEL Sublimage Eye Cream under the eyes. Her eyes were a combination of CHANEL Soft Touch Eyeshadows – in Jungle, Bois Bleu, and Le Bronze. I gave her a slightly dramatic look with two coats of CHANEL nimitable Mascara in Noir. On Nicole's cheeks I used the perfect coraly ink blush, CHANEL Powder Blush in In Love. On her lips she wore CHANEL Rouge Allure Laque in Santal."
GET THE LOOK: Jennifer Garner was wearing CHANEL Beauté at the 67th Annual Golden Globe Awards. Jennifer's makeup look was created by Makeup Artist Kate Lee.
Beauty Inspiration & The Look: "Jen's dress was a perfect nude colour, and the beads were pink and silvery. The overall look was champagne and beige. With her pale skin and dark hair, it was my job to bring colour and radiance to the silhouette because everything else was quite monochromatic. I saw it as an excuse to break out the perfect lip shade."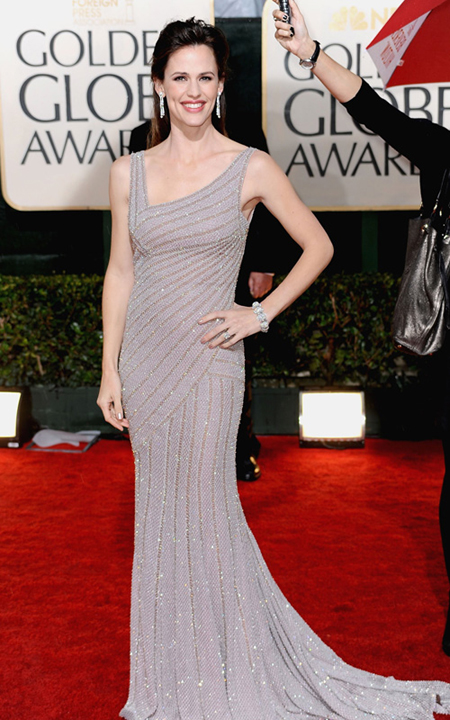 Beauty Tip: "I prepped the skin with CHANEL Hydramax + Active Serum and then CHANEL Sublimage Fluid Moisturizer, which leaves a velvety texture on the skin. On Jen's eyes I used CHANEL Quadra Eye Shadow in Kaska Beige. I liner her lids with CHANEL Long Lasting Eyeliner in Espresso, smudged it out, and used the dark burgundy shade from the quad along the lash line. I then used my favourite colour in the world, the beigey-taupey-lilac shade in the quad, in the socket line. I feathered it along the lash line as well, to blend the chocolate brown liner. I curled the lashes, an applied one coat of CHANEL Inimitable Waterproof Mascara in Noir. On her cheeks I used Neutrogena a combination of Neutrogena Mineral Sheer Cheek Colours in Apricot, Sable, and Rare Rose. Finally, on the lips I used CHANEL Rouge Coco in Rouge Orage. I chose this shade because it has amazing staying power and incredible hydrating properties. It's an intense rosey colour with a bronze shimmer – perfect or Jen's full lips."
Introducing Dolce&Gabbana The Roses Lipstick Collection.
"To me, lips are a woman's most evocative feature; they are the focus of her femininity, the key to her innermost being. The shades she wears must capture her many moods," says Domenico Dolce, "since the rose has always been an icon to us, representing deep womanly sensuality in full bloom, it seemed natural that it served equally as inspiration in our quest for the perfect collection of lipsticks."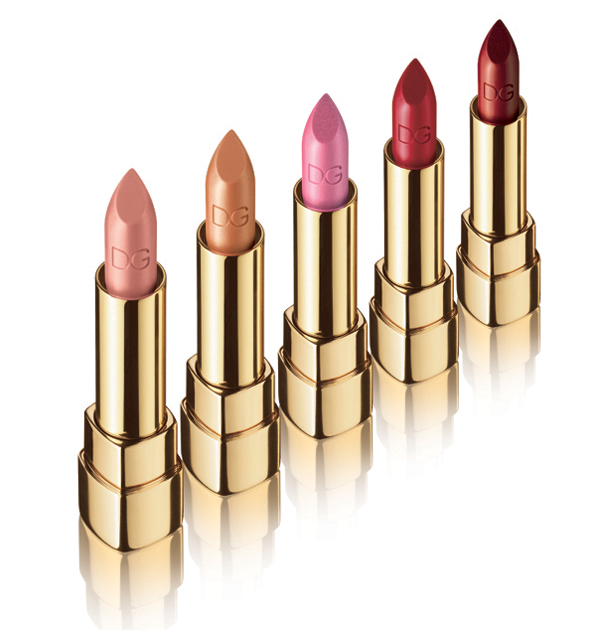 "We also wanted to emphasize the act of applying lipstick, which should be the most luxurious and most intimate of beauty rituals, so finding the perfect rose scent was crucial," says Stefano Gabbana, "as the design of the lipstick as an object of absolute beauty too, is essential."
Domenico Dolce and Stefano Gabbana proudly celebrate the first year anniversary of Dolce & Gabbana The Make Up with The Roses Lipstick Collection. Dolce & Gabbana The Make Up is a visionary translation of two decades of straight-from-the-runway colour reinterpreted into a colour cosmetic collection that transcends time, tradition, and trends. The Make Up continues to evolve with The Roses Lipstick Collection and captures implicit femininity and explicit sensuality, inspiring desire and reinventing modern beauty.