All Posts Tagged With: "L'Occitane"
Combat dry and dehydrated winter skin with Sunday Riley's NEW Juno Serum and L'Occitane's NEW Shea Face Care.
Sunday Riley's Juno Serum ($125 for 30 ml) is 100% natural serum launching at the end of January 2010 from Sunday Riley Modern Skincare. This multi-tasking oil provides an instant glow – perfect for a new look for the new year! It is extremely high in natural retinol,Vitamin C, Essential Amino Acids, Omega-3, 6, & 9, UV shields, and natural Anti-Inflammatory agents. Skin type: Normal to Dry, even exzema prone. Celeb fans of the line include Leighton Meester, Blake Lively, and Vivica A Fox. Available: at barneys.com

L'Occitane Opens New Soho boutique Today!!
Address:
146 Spring Street
New York, NY 10012
(Between West Broadway and Wooster Street)
Watch: Follow Marta Walsh founder and editor of Talking Makeup.com and the rest of the Daily Makeover Beauty Bloggerati through the beauty boutiques of New York City.
The bloggers hit Kiehl's, L'Occitane, Lancôme, Fresh, and Space NK.
L'Occitane NEW Anti-Aging Divine Immortelle Cream: On September 16th, L'Occitane is launching a new amazing anti-aging Cream: Immortelle Divine.
On Corsican Lands, L'Occitane discovered Immortelle and Myrtle organic essential Oils with extraordinary powers of longevity and regeneration. Now it brings them together in an exceptional, complete anti-ageing care: Immortelle Divine Cream. To fight all the signs of aging and help preserve the skin's youthfulness.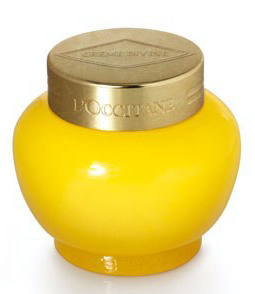 Ingredients:
• organic immortelle essential oil: gives substance to the skin.
• organic myrtle essential oil: restores cellular youthfulness and vitality
Talking Makeup is a big fan of L'Occitane body lotions and hand creams.  L'Occitane products main ingredient is a high level of shea butter, and this stuff works! 
Try L'Occitane's Limited Edition Hand's Best Friend Hand Cream Trio which includes 1 oz of each Honey and Lemon Hand Cream, Shea Butter Hand Cream, and Cherry Blossom Hand Cream, $25.   
Talking Makeup is in love with L'Occitane Almond Milk Concentrate.  This body lotion by L'Occitane is one of the best moisturizers on the market.  L'Occitane Almond Milk Concentrate is formulated with almond proteins and milk concentrate both help in firming and nourishing your skin. 
The almond part in L'Occitane Almond Milk Concentrate is made with almond cultivated from Provence.  Cost: $38.    
L'Occitane Mom and Baby Balm is perfect if you are an expectant mother or just a busy mom and is looking for a good moisturizing cream for the family.  Mom and Baby Balm by L'Occitane is designed to to nourish, protect, and soothe the fragile skin of your baby, or child and is also good enough for you.  This body lotion is made with 100 percent plant-based formula, and is rich in shea butter, coconut oil, and grapeseed oil.  So you won't found in this product animal derived ingredients, such as:  Lanolin.  L'Occitane Mom And Baby Balm was developed by L'Occitane and was tested to minimize the risks of an allergic reaction. This balm is fragrance and preservative-free.  Cost: $20. 
The brand L'Occitane was created in 1976 by Olivier Baussan who got his inspiration from growing up in Provence South Of France.  L'Occitane means "the women from Occitania" or a women from South of France.  L'Occitane uses only the finest natural ingredients and their products come in an environmentally friendly packaging. L'Occitane has a strict no animal testing policy and uses Braille labels to make their products available to everyone.  L'Occitane got its popularity with products , such as:  L'Occitane Shea Butter Hand Cream a super creamy hand cream with 20% shea butter, Honey, almond, and coconut oil.  Cost:  $9-$25 depending on tube size.
L'Occitane other very popular product is L'Occitane Shea Butter Body Lotion a super rich all over body moisturizer.  Shea Butter Lotion from L'Occitane is rich in shea butter, natural honey, apricot oil,  vitamin A, B, C, and E.  It glides easily on your body and the moister does last all day.  L'Occitane body lotions are great if you are pregnant or a mom to be.   You can apply L'Occitane Shea Body Lotion on your ever expanding belly to soothe and to prevent stretch marks.  Cost:  $30. 
If you are looking for even a richer cream try L'Occitane Ultra Rich Body Cream which has a high concentration of shea butter (25%), mallow, and sweet almond in whipped texture.  Cost:  $36.