All Posts Tagged With: "LORAC"
Sofia Carson was co-hosting last night's Oscar's All Access on ABC and Celebrity Makeup Artist Patrick Ta decided to keep her look naturally glam. He trusted LORAC Cosmetics to create a bold lip and glowy eyeshadow effect. "The dress was our inspiration for Sofia's makeup and hair. Today is all about showing off Sofia's natural beauty! I wanted to keep the makeup subtle with a bright red lip to bring that Hollywood feel without looking over done."
Product Details Are Outlined Below:
LORAC Cosmetics unveiled this month the brand's 2015 Spring Collection! The series launched on January 15th, 2015 and will be available for purchase at: www.loraccosmetics.com.
Unzipped Gold Palette ($42) – a sequel to the best-selling Unzipped Palette, GOLD is filled with 10 highly pigmented, ultra-rich shimmer and matte shadows for natural, head-turning looks.
LORAC Cosmetics limited-edition Black Friday & Cyber Monday Deals, check it out!
Black Friday must-haves available only on November 28th:
Sultry Starlet Shimmer Eye Shadow Palette & Vintage Vixen Matte Eye Shadow Palette ($12 each) – Available at Ulta stores and online at Ulta.com
Today, LORAC Cosmetics unveils their Fall 2014 Collection on www.loraccosmetics.com!
This collection features the much talked-about and anticipated PRO Palette 2, which is now also available in Ulta Stores/Utla.com.
PRO Palette 2 ($42) – the sequel to the original, best-selling PRO Palette, this PRO artistry palette is packed with 8 Shimmer and 8 Matte Eye Shadows in all the cool shades you need to create the hottest looks straight from the Red Carpet
PRO Matte Lip Colors ($16 each) – velvety-smooth, matte lip colors available in an array of highly-pigmented, buildable, rich shades to color, line and define your lips
NEW makeup: LORAC Cosmetics Limited Edition Blushing Beauty Collection! The 7-piece set gives your eyes, cheeks and lips a rosy glow that lasts.
Included in the Limited-Edition Set:
LORAC Cosmetics NEW Summer 2014 Collection is launching today, April 3rd, on www.loraccosmetics.com!
Alter Ego Cream Lipstick ($16) – the highly-pigmented cream lipstick coat your lips in luscious color with a satin finish. Whether you wish to be a Free Spirit, a Supermodel or a Sex Kitten (even if just for a night), Alter Ego Lipstick comes in 20 gorgeous colors from soft nudes to vivid hues to create any look you covet.
Travel-Sized TANtalizer Body Bronzing Spray ($15) – a mini version of the iconic TANtalizer Body Bronzing Spray will help give you a sexy glow on-the-go.
3D Lustre/Liner ($19) – this double-ended duo liner contains a gorgeous sparkle wand and correlating color-infused black liquid liner, ideal for creating eye-catching looks.
SummerGLO Eyeshadow Palette ($24) – turn up the heat with this palette that offers endless color combinations to complement your summertime, sun-kissed complexion.
Back To Bronze Collection ($36) – the perfect beach-ready bag complete with all the makeup necessities, from Cobra Mascara to TANtalizer Baked Bronzer, for a day in the sand.

Carol Shaw, Celebrity Makeup Artist and Founder of LORAC Cosmetics, has been working with Nicole Kidman for years and we also hear Kidman is a fan of LORAC's BREAKTHROUGH PERFORMANCE FOUNDATION with SPF 14. She uses shade SMS 1, a light shade that matches her porcelain skin perfectly.

LORAC's BREAKTHROUGH PERFORMANCE FOUNDATION is available for $38 at LORACcosmetics.com, ULTA, Sephora, ulta.com, sephora.com and beauty.com.
For the first time ever, LORAC has created two one-of-a-kind palettes for HauteLook, each only $14! The palettes will be available exclusively on HauteLook.com for a limited time starting September 2nd, 2011. Each compact is valued at $76!
HAUTE COUTURE PALETTE in SAND TROPEZ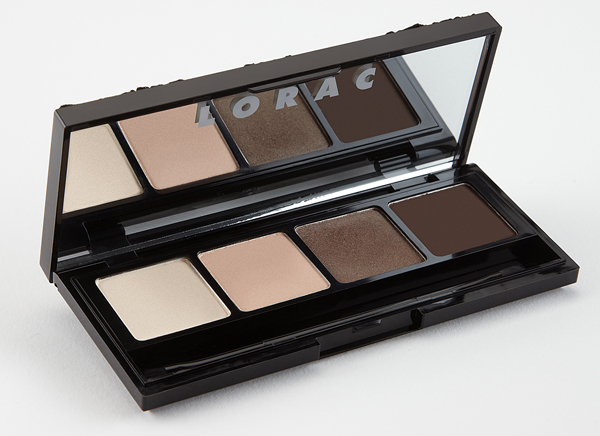 This neutral palette includes a matte ivory, gold shimmer, bronze shimmer and matte espresso brown and a custom, double-ended brush for perfect application every time.
Best Liquid Eye Liners: LORAC Front of the Line PRO. What I like: it is easy to use to draw a precise line and best of all it's long lasting. Especially when the allergy season is going my eye liner doesn't last and this one passed the test. Formulated to be "water-resistant liquid liner" according to LORAC. I use the black shade but it also comes in brown.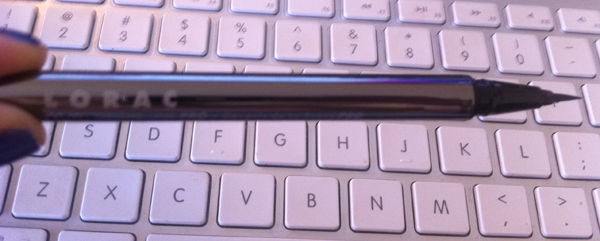 LORAC Front of the Line PRO the eye liner that resist hot summer days in Phoenix AZ and is long wearing
Last night, June 5th, 2011, A-list movie star, Scarlett Johansson, looked stunning as she walked the red carpet at Spike TV's Guy Choice Awards in LA.  TM has the scoop, thanks Celebrity Makeup Artist and Founder of LORAC cosmetics, on how to get Scarlett's smokey-eye/nude lip look.
Complexion:
Primed with aquaPRIME
Breakthrough Performance Foundation – SMS 4 & 5 mix
Double Feature Concealer – DF 1.5