All Posts Tagged With: "L'Oreal"
Twilight Star Ashley Greene looked absolutely beautiful at the premiere of Julie & Julia! I particularly love her red lips, good choice for a glamorous Hollywood night.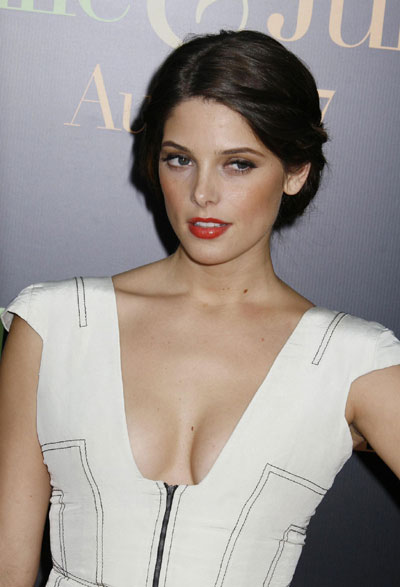 To get Twilight Star Ashley Greene red lips you might want to try the following:
Revlon ColorStay Ultimate Liquid Lipstick in Top Tomato (left). L'Oreal Infallible Plumping Lipgloss in Plumped Red (right).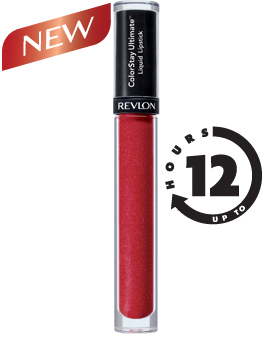 la prairie Cellular Luxe Lip Colour in Cardinal (left). Motives by Loren Ridinger Rich Formula Lipstick in Ruby (right).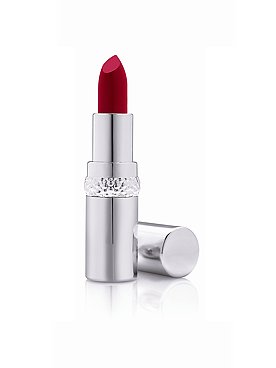 Image via www.hollywoodtuna.com
Bath time at the Walsh house is always a challenge with two feisty boys like: Jake Walsh (3) and Kieran Walsh (1). But with the NEW L'Oreal Kids Extra Gentle 2-In-1 Buck's Berrydactyl Shampoo I can get my kids bath time mission accomplished!

It's bath time at the Walsh house:Jake Walsh (3) left, and Kieran Walsh (1) right & the NEW L'Oreal Kids Extra Gentle 2-In-1 Buck's Berrydactyl Shampoo
What I like about NEW L'Oreal Kids Extra Gentle 2-In-1 Buck's Berrydactyl Shampoo: It's the kid's friendly packaging inspired by Ice Age: Dawn of the Dinosaurs and that delicious sweet candy smell.
And the 2-in-1 formula is nice and quick before my boys change their mind about bath time last minute (yes. It happened few times before when I took too long fussing with a fancy conditioner:). Needless to say, this L'Oreal kids shampoo leaves my boys hair soft and silky, just like a baby (pun intended:) Secret: my hubby uses it too! SRP: $3.29
Emmanuelle Chriqui looked stunning as always on the  "Entourage" premiere – Chriqui opens up to Women's Health (www.womenshealthmag.com) in the July/August 2009 issue on her exotic look, challenges she's faced in her career, and advice on how to embrace being different.
Embracing her uniqueness: "There's been a massive shift of consciousness. We have an African American president, there's been a huge influx of Latin talent in mainstream music and film, and there's a real audience for international films like Slumdog Millionaire. Guess what? The girl next door isn't necessarily blonde and blue-eyed anymore. So I don't feel like I need to morph into that All-American thing. Now it's about accepting who you really are and being proud of that. When you have confidence that's what becomes attractive to other people and makes them want to work with you and spend time with you."
Marta Walsh & www.talkingmakeup.com  are giving away items from L'Oreal Paris Fall 2009 makeup collection & also inspired by Beyonce, one of L'Oreal Paris beautiful faces.
HOW TO ENTER TO WIN:
1. If you are not already signed-up on Twitter, go to: www.twitter.com  & create an account.
2. Go to: www.twitter.com/TalkingMakeup  and click to FOLLOW!
3. Look for Marta's L'Oreal Paris Beyonce Twitt, and simply RE-Twitt, or simply hit reply & copy the following twitt:
RT @talkingmakeup Please RE-Twitt this & Enter to WIN the L'Oreal Paris Makeup Beyonce Inspired GIVEAWAY http://tinyurl.com/m46hxw
4. Makesure to begin your Twitt with: RT @talkingmakeup then add the RE-Twitt
5. Feel free to contact Marta for questions!
GOOD LUCK:)
Thanks to L'Oreal Paris, I was invited backstage at the Beyonce concert in Phoenix tonight, and actually meet & greet Beyonce! I'm a huge Beyonce fan and couldn't be more excited!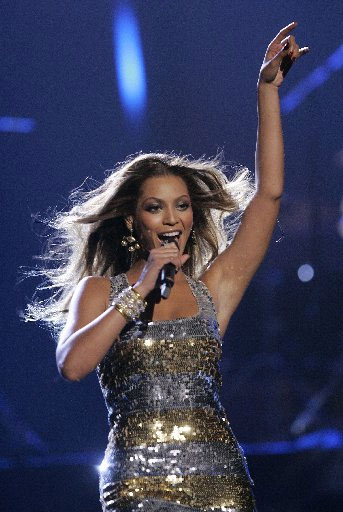 Beyonce is also L'Oreal Paris beautiful face, and I always get inspired when I see her wearing L'Oreal makeup!
I hope to get a chance to take a photo with Beyonce tonight and share it with you!
Marta Walsh (photo below) is wearing, The Infallible Never Fail Plumping Lip Gloss in Plumped Red (LOVE) and HIP Matte Shadow Duos in Platinum (super Glamorous), all by L'Oreal Paris.

Marta Walsh (Click image to enlarge)
I'm going to be twitting from the Beyonce concert so make sure to follow me on Twitter: www.twitter.com/TalkingMakeup
Check out L'Oréal Paris newest collections for Fall 2009!
L'Oréal Paris is launching their newest collections for Fall 2009! Marta is VERY excited:)
Here is the fabulous list:
Extra-Volume Collagen Mascara:

Escape from your comfort zone and pump up the volume with Extra-Volume Collagen Mascara with up to 12 times more impact, this innovative formula thickens, lengthens, and separates perfectly for all-day wear that won't clump, fake or smudge!
Colour Riche Anti-Aging Serum Lipstick:

Talking Makeup's lovely intern Meryl, put L'Oreal HIP Kohl Eyeliner in Kohl Navy and L'Oreal HIP Kohl Eyeliner in Gold Kohl to the test.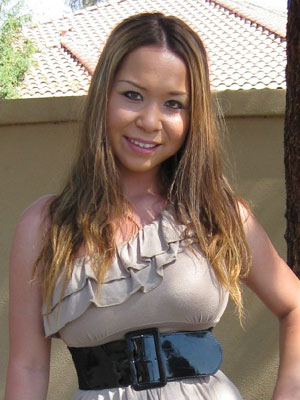 Meryl, Talking Makeup's intern
Here is Meryl's L'Oreal HIP Kohl Eyeliner in Kohl Navy and L'Oreal HIP Kohl Eyeliner in Gold Kohl review: The applicator is a stiff felt tip which applies the loose pigment stored in the jar. Thanks to the rich pigmentation, these actually stay put really well. The colors I tried were Navy Kohl, and Gold Kohl which were extremely wearable and in style for the summer season. I liked the gold color for inner eye highlighting. I used the navy to create the smoky navy blue eyes.

These are my Pros and Cons about the product. Pros- Very easy to apply, highly pigmented rich in color and vibrant! Cons- Since it's a loose powder on a felt tip, it could be slightly messy and flaky. Just remember to tap the eyeliner over the sink to release the excess before application. Overall it gave me a shimmery summer smoky eyes!
I'm experiencing a great hair day today thanks to L'Oréal Professionnel Série Expert Vitamino Color Shampoo and Conditioner. My hairdresser introduced them to me on my last visit, and I'm in love:)
Here is a photo of Marta Walsh all smiles because she is feeling her hair:)
 
Marta Walsh
L'Oréal Professionnel Série Expert Vitamino Color Shampoo is designed for normal-to-thick, and slightly to-moderately sensitized hair. It nourishes and protects the hair fiber, making hair supple and silky, while instantly detangling. Protects the radiance of your color longer.
Today L'Oréal Paris celebrates its 100th anniversary!
With products sold in over 150 countries around the world, L'Oréal Paris is a beauty leader grounded in science and driven by the passion to succeed. This centennial celebration recognizes the vision of its founder, French chemist Eugène Schueller, who developed the first permanent haircolor using an oxidation process, and the amazing growth one company has had over the past century.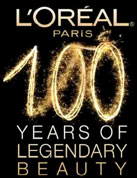 To showcase its rich history and amazing achievements over the last 100 years, L'Oréal Paris is offering specials on some of its iconic products, including Colour Riche Lipcolour, Voluminous Mascara, True Match Makeup, Excellence Haircolor, EverPure haircare and Revitalift skincare.
L'Oréal Paris is proud to continue their longstanding commitment to support women's inner beauty through the fourth annual Women of Worth grassroots awards program. Beginning April 20th, you are invited to visit the L'Oréal Paris Women of Worth online community at www.womenofworth.com , to nominate a woman whose service and dedication to volunteerism are making a difference.

The 2008 L'Oréal Paris Women of Worth Honorees were honored
for their outstanding commitment to community achievement
and volunteerism. Nominations for 2009 are currently live at
womenofworth.com.
In addition to nominating women enriching their communities, you will find helpful tips on how to get involved in local and national volunteer organizations, and also have the opportunity to read and share inspiring personal stories of worth and empowerment. Nominations are open through July 13th.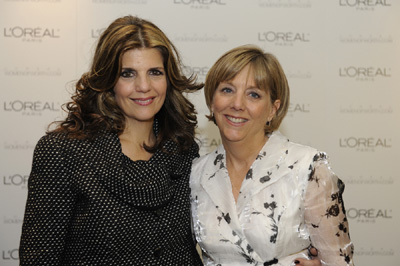 Women of Worth 2008 National Honoree, Cindy Kerr and L'Oréal
Paris, President Karen Fondu.