All Posts Tagged With: "lower lashes"
NEW Beauty Products On The Block. New beauty products excite me. In fact that's what makes me a beauty junkie you see. The thrill of trying new products and maybe even finding The One. The latest has just landed the Marta Walsh's desk. Here's a sneak peek. Mostly by L'Oreal Paris introducing EverSleek Sulfate-Free smoothing system Preparative Shampoo, conditioner, and EverSleek Frizz Creme Serum. Smells green melon and white rose and fantastic and works as good as salon brands. Also in the collection, L'Oreal EverSleek Intense Smoothing version.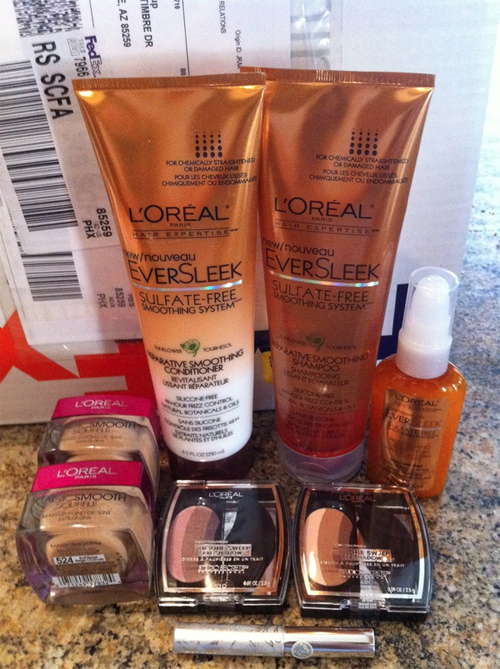 Just landed on Marta Walsh's desk the latest beauty products x
Another favorite is L'Oreal New Magic Smooth Souffle Makeup Foundation, so light so easy to apply, great wearable shades, it's a keeper. It's an air-whipped, oil-free foundation. This is part f L'Oreal Studio Secrets collection inspired by backstage beauty and their very talented makeup artist James Kaliardos.
The Office's Jenna Fischer and her makeup artist Vanessa Scali designed a Golden Goddess look that was easy and sexy: Pale, gold skin and a smoky bronze eye. Here's how to get the look:
SKIN: "I first applied spot foundation only where it was needed using shu uemura's Nobara Cream Cover Stick Foundation. It gives clean, fresh, flawless coverage. I then used Lancôme's Effecernes in Light Bisque and Blush Subtil in Sheer Amourose. I highlighted her cheek and brow bones with Armani's Fluid Sheer #2. In the T-zone only, I used shu uemura's Face Powder in Colorless – matte formula."