All Posts Tagged With: "Luminous waves"
Bryce Dallas Howard looked amazing at the premiere of The Twilight Saga: Eclipse tonight. For her winning red carpet look, star stylist David Babaii created a relaxed, Bridget Bardot inspired hairstyle. Luminous waves highlighted her luxurious titian-colored hair as it was pulled back on each side, accented with a subtle beehive with shiny, healthy beautiful hair cascading sensually down her back. Babaii released several strands to strategically fall forward and frame Bryce's face for a modern 60's effect.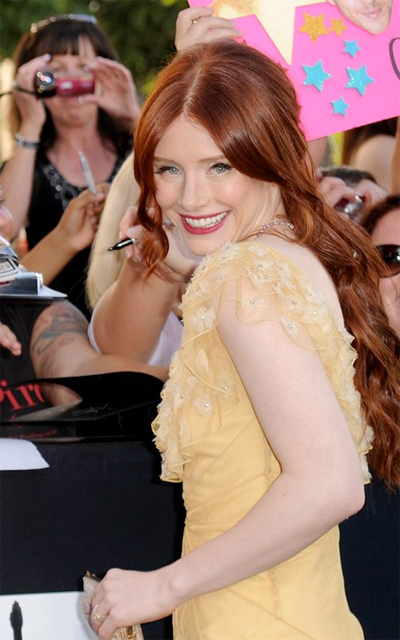 Bryce Dallas Howard's hair by Moroccanoil at The Twilight Saga: Eclipse Premiere
David Babaii Explains How To Get Bryce Dallas Howard's Hairstyle: The Hair Tutorial
I prepared Bryce's hair by applying a small amount of argan oil-infused original Moroccanoil Treatment on damp hair before blow-drying to condition, strengthen and protect strands from the heat of the curling iron as well as to eliminate any sign of frizz or static.