All Posts Tagged With: "MAC Hello Kitty"
Megan Fox is gracing the cover of Cosmopolitan Magazine October 2009. Wait, it's not October yet! Nonetheless, I don't mind the sneak peek to Megan's cover. I approve Megan's hairstyle. You can never go wrong with straight smooth hair parted in the middle. I do it all the time, lol:)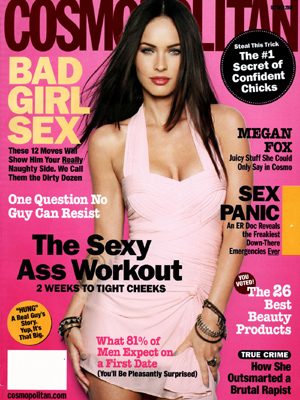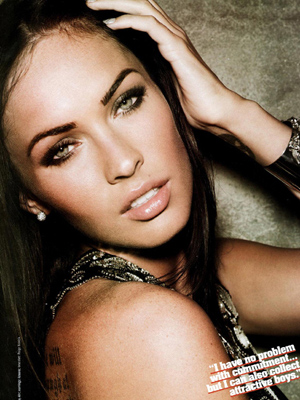 Wonder how to get Megan Fox's look on the cover of Cosmopolitan Magazine October 2009? Here are some tips! 
I detect grey nail polish. To get Megan Fox's grey nails try MAC Hello Kitty Nail Polish in On The Prowl.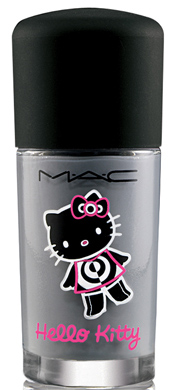 To get Megan Fox's sexy long eye lashes try ÔSCILLATION POWERBOOSTER by Lancôme: A two-in-one vibrating lash primer and conditioner that boosts the appearance of lash growth. HYPNÔSE DRAMA Instant Full Body Volume Mascara by Lancôme: The ultimate instant-volume mascara for lash drama. I use both the lash primer and mascara by Lancôme and they work amazing in getting my lashes super long, full, and Hollywood worthy.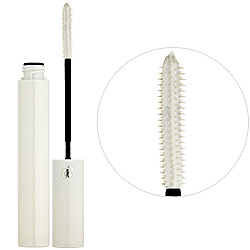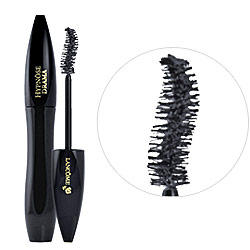 To add more drama and difintion to eyes use a black eye liner to upper lash line, and the corner of eyes try: Prescriptives NEW Longwear Kohl Liner in black hohl. Or, Givenchy Magic Kajal Eye Pencil in magic black.
MAC Cosmetics, the iconic global makeup authority, has teamed up with none other than the International pop culture phenomenon Hello Kitty, to create a colour story that takes its cue from both the fantastical world of Hello Kitty and the glamorous fashion scene. Somewhere between a coy girl and sexy siren, MAC Hello Kitty represents the desire in all of us to be both innocent and mischievous. More Angelina Jolie than Shirley Temple, the feisty new colour collection takes its inspiration from the complex, yet elegantly feminine sensibility. Please welcome MAC Hello Kitty available everywhere MAC is sold February 12, 2009.
In celebration of the partnership, MAC has taken it to the stylish next level and tapped into its fashion reservoir of friends and assembled a team of 30 internationally renowned designers, to create one-of-a-kind pieces that are inspired by the Hello Kitty collection.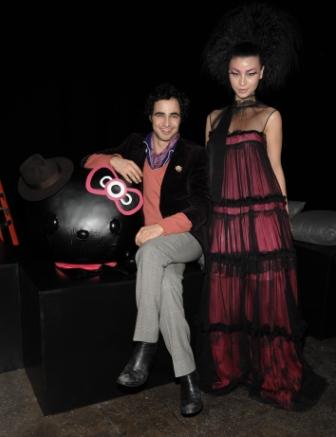 Fashion Designer Zac Pozen and model.
"Since the inception of the brand, MAC's roots have always been in fashion," says John Demsey, Group President, MAC Cosmetics. "We support both up and coming and established designers by providing makeup artistry for their runway shows or creating limited edition designer colour collections. It was a natural fit to fuse two iconic brands with fashion, and give both MAC addicts and Hello Kitty obsessed fans something that will keep them talking for a long time," says Demsey.
Here is a Q &A with Jennifer Balbier SVP Product Development, MAC Worldwide about the latest from MAC Cosmetics: MAC Hello Kitty.
How did the MAC Hello Kitty partnership inspire your own product development process?
To me, MAC Hello Kitty embodies the ultimate beauty icon: No one is more alluring yet incredibly cute and at the same time appeals to a wider range of customers than she does, it doesn't matter how old you are. Hello Kitty is the ultimate girly girl and guys like her too. She is coy and I couldn't help but be reminded of how you never really know what she's thinking. We wanted to reflect that mysterious quality through a sweet side, but also something slightly mischievous when it came to the colours. I started out by creating a palette of pinks, since they fit and always trend well in the spring, but we also incorporated black into the collection to give it a sophisticated edge as well, and moved forward from there.
Can you tell us more about who this girl is?
I see her as a playful, coquettish girly girl with a rocker edge, but she also likes to pamper and take care of herself. I think the actual products evolved to reflect this character.
Introducing MAC Hello Kitty!
MAC Hello Kitty Colour Collecton: All that's girly and sparkly. This sophisticated colour story takes its cue from both the fantastical world of Hello Kitty and the glamour of the spring fashion shows. It will feature plush pinks, rich purples, turquoise for extra pop, three-dimensional lickable lips and lashes that were made to bat, all packaged in a sophisticated yet adorable graphic black design to give the line that baaaaaad kitty edge.
MAC paired six playful Lipstick shades with six sparkling Lipglass glosses, two Tinted Lip Conditioners that will have your kisser covered, and two bright and punchy eye quads that can be accented with reflective eye Glitter and Glitter Eye Liners, all of which are perfectly framed by the thickest, most decadent Plush Lash Mascara. Beauty Powder Blush in shades of pink and peach will give the MAC Hello Kitty woman a demure, rosy flush and nails are decorated in fabulous shades of pepto-pink, modern grey and creamy white Nail Lacquer.