All Posts Tagged With: "MAC Naked Honey"
Talking Makeup's lovely intern Meryl Lowe took MAC Naked Honey Body Wash to the test!

Meryl Lowe
This is what Meryl thinks about MAC Naked Honey Body Wash!
MAC Naked Honey Body Wash review:
MAC Naked Honey Body Wash is part of MAC's latest MAC Naked Honey collection. Let me tell you, this product is amazing in the shower. The jasmine and little splash of lavender fragrance notes makes you feel so calm and relaxed in the shower. This body wash cleanses the skin while providing the soothing and moisturizing it needs. It leaves your skin fresh and glorious! The body wash actually looks like honey when you squeeze it out of the bottle. My favorite body wash out right now!
Hello everyone!
Make sure to stop by Talking Makeup's YouTube Channel, subscribe, and enter for a chance to WIN items from MAC Style Warrior & Mac Naked Honey latest makeup collections!
It's going like hot potatoes since last week! Don's miss the action!
Watch Marta's videos below to finds out rules of giveaway & which MAC Style Warrior & MAC Naked Honey products can be YOURS:
MAC Style Warrior GIVEAWAY:
MAC Naked Honey GIVEAWAY:
MAC hosts intimate dinner in honor of iconic photographer Miles Aldridge!
Last Thursday, May 28th, 2009, James Gager (Senior Vice President/Creative Director, MAC Cosmetics) hosted an intimate dinner at Trestle on Tenth in honor of Miles Aldridge and his new book, Pictures for Photographs.

Atmosphere
MAC and Miles Aldridge have a long standing relationship and have collaborated on projects and worked together for years. MAC has been working with Miles for 4 seasons now.
Past collections Miles Aldridge has shot for MAC: MAC Red She Said, MAC Blonde Brunette Redhead, and MAC Dame Edna. Miles also shot the visual for MAC's latest collection, MAC Naked Honey.

Miles Aldridge.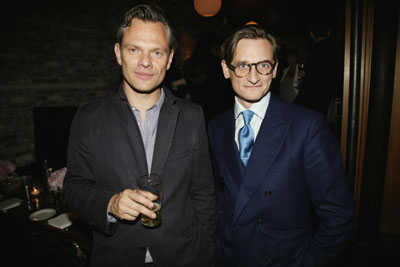 Miles Aldridge & Hamish Bowles.
Talking Makeup is giving away 2 items for the latest MAC Naked Honey makeup collection: MAC Eye Shadow in Creme De Miel and MAC Lipgloss in Buzz.
How to enter to WIN MAC Naked Honey GIVEAWAY:
1. Go to Marta Walsh's video YouTube channel and subscribe!!!
2. Leave a comment.
3. You must have a U.S. & Canada address only.
Good luck:)
Marta
MAC Lipgloss in Buzz-Dark copper brown w/ multi-dimensional pearl:
MAC Naked Honey will be available in North America June 11, 2009 at all MAC locations, 1.800.588.0070 and www.maccosmetics.com and International July 2009.
Bees do it… now MAC does it! Honey that is! As ancient and exotic as Kohl, great beauties have long revered the natural restorative powers of the Golden Elixir.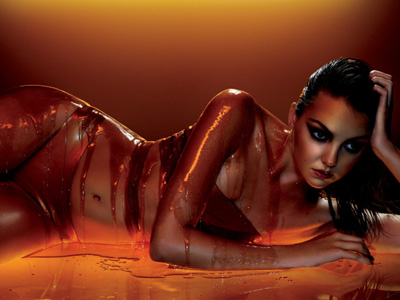 Following the example of their fabled Queen, Cleopatra, Egyptians bathed in honey and milk. Queen Anne of England used it to silken her hair; from the Ancient Greeks to the Roman Empire, honey has never lost its regal, ever-amber lustre. We love the luxury of its sensual essence…but we also know that it's a highly efficient and wholesome humectant and healer.
Introducing our limited edition Naked Honey collection – three aspects of golden warmth and sun-made sweetness for the body, layered with two decidedly different honeycomb-derived fragrances – celebrating the secret lives of Queen Bees. Complementary shades of High-Light Powder, Eye Shadow and Lipglass are all the buzz for summer.
LIPGLASS
She's a Star Light neutral gold