All Posts Tagged With: "Maggie Barry"
 POP Beauty Paints LA Fashion Week at the Maggie Barry Spring/Summer 2009 Fashion Show!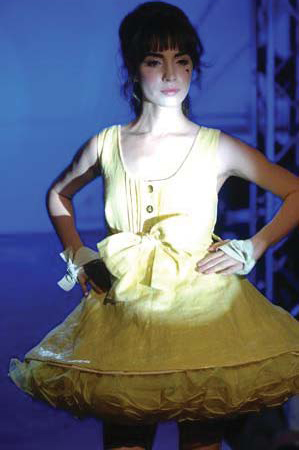 Pop Beauty London Style: Pop Beauty, the British cult makeup brand encapsulates all that makes London "Swing"; Silky, long-lasting, uber flattering textures in punchy, punky must-have shades. Pop pushes the boundaries and creates trends with its maverick style. Pop appeals to all, Pop is a state of mind, an appreciation of award winning makeup and an innate sense of style. 
I met my dear friend Victoria Rowe, who also happens to be a very talented makeup artist, backstage at the Maggie Barry show during LA Fashion Week.
Victoria Rowe created the makeup looks at the Maggie Barry fashion show using products by Pop Beauty. And this is a photo of us together.

Victoria Rowe (left) Marta Walsh (right).
More celebrity photos we snapped during LA Fashion Week. Celebrity names include:
Actress Amy Smart minutes before the Viridis Luxe fashion show.
Kim Kardashian and sister Kourtney Kardashian from Keeping Up With The Kardashians show on E!Networks. Kim Kardashian and Kourtney Kardashian were spotted backstage at the Caroline D'Amore fashion show.
Vida Guerra a model known for her appearance in the U.S. edition of FHM magazine in December 2002. Vida Guerra opened the Sheiki Jeans show for designer Sheila Marie.
I met up with celebrity makeup artist Victoria Rowe backstage at the Maggie Barry fashion show during LA Fashion Week. Victoria gave me a sneak peek to the makeup look for the runway which was achieved by Pop Beauty!
Here is a video of my interview with Victoria Rowe where she explains the makeup look backstage at the Maggie Barry show during LA Fashion Week, using makeup products by Pop Beauty.  It was super loud backstage since it was in a club, so the video is also a bit loud. But, you can see the model's look wearing all Pop Beauty makeup and few tips here and there.
Want a flirty, funky shade to make your eyes pop? Coming right up. How about glittering eyeliner for a night on the town? Consider it done. Pop Beauty's irresistible range of juicy color fulfills every order-from kiss-worthy lip pouters to eye shadows with a glittery finish to sparkly, all over shimmers that add a delectably enhancing glow to any look. Keep your finger on the beauty pulse and your makeup bag on the cutting edge with Pop Beauty's deliciously loud, yet totally wearable shades.
Pop Beauty founder Sara Strand has never had a problem getting noticed. From her signature scarlet mane to her extraordinary talent in singing, Strand caught the ear of music executives at Sony at the young age of 11-after she left them singing messages into their answering machines.  
Pop Beauty makeup is available in Sephora and Ulta.