All Posts Tagged With: "Makeovers"
Witness one reader's new makeup look and hairstyle that help her go from the office to happy hour — in a flash
This is a TotalBeauty.com makeover article
Our makeover dream team gave Web designer Dana a pretty-yet-easy-to-maintain beauty update. See how you too can transform your look without adding minutes to your routine.
Check out these women's transformations and get wallet-friendly beauty tips on how to give your look a boost
This is a TotalBeauty.com makeover article
Three working mothers were pampered and given a makeover by team of experts. They came out on the other side with an extra bounce in their step.
Maybelline New York announce contest with winner landing on Broadway stage in CHICAGO the musical!
Be Sensational And Win is an amazing contest created by Maybelline New York in partnership with CVS/pharmacy, with the grand prize landing the winner on the Broadway stage, in CHICAGO, the musical. Although it is called a "walk on", the winner will do much more than walk. Depending on the winner's ability, you will get to sing, dance and most certainly have lines in this once in a lifetime opportunity.
Listen up blonds, are you in for a free concert and some pampering? The John Frieda team is out to prove that blondes really do have more fun with the Sheer Blonde Entourage, a series of events and perks available for blondes. The blonde VIP program begins on March 18th, 2010, in New York City at the Highline Ballroom with a private performance by Grammy-nominated singer-songwriter and blonde icon Natasha Bedingfield, whose third album drops this spring.

Natasha Bedingfield
The elite event lets you blonds experience the benefits of being blonde with the royal treatment, from makeovers at hair stations to complimentary food and beverages—all set to the music of Natasha Bedingfield.
If you are in the NY area on the 18th join the Sheer Blonde Entourage for a free concert and some pampering.
Blonds throughout the country: the Sheer Blonde Entourage will be stopping by a city near you soon! Talking Makeup will keep you posted.
The concert is completely free for all who sign up at: www.forblondesonly.com
In case you've been busy writhing on the floor post-punch at Headliners, Jersey Shore is the number one pop culture phenomenon of the decade. True, the decade is only two weeks old but Jersey Shore is even catching on in Hollywood. Stars are partaking in their own guido/guidette worthy makeovers. Recently Jersified: Alyssa Milano and Michael Cera. MTV.com writer Lisa Chudnofsky got her own pouf courtesy of Snooki herself.
This fist-pumping and nickname generating MTV opus has peppered more conversations of mine lately than has the healthcare debate. Want to arm yourself with the all the info you need for the watercooler convos on Fridays? Pour yourself a tall glass of Ron-Ron Juice and let's break down the beauty fails of Jersey Shore.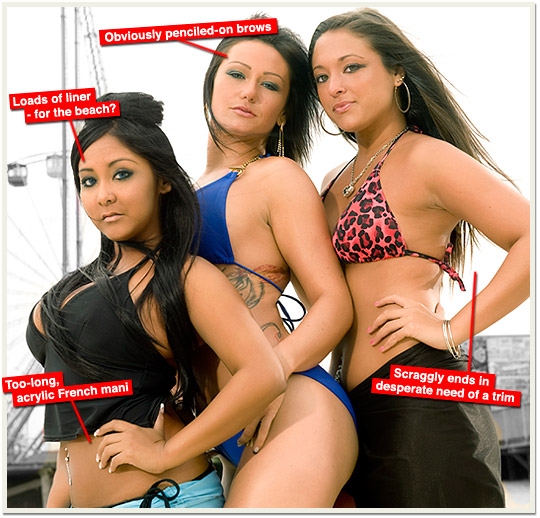 The girls of Jersey Shore, left to right: Snooki, JWoWW, Sammi
1. The Acrylic French Mani I just can't "vibe" the acrylic faux nail situations. And the French manicure adds insult to injury. I'd like to see Snooki follow Sammi's lead and stick to natural nails with a pretty pink polish.
2. Loads of Liner Yes, it's the summer and yes, you're wearing your Ed Hardy best. But Snooki, you're on the beach, doll. Summer makeup is all about taking it down a notch.
3. Obviously Penciled-On Brows Overplucking can lead to permanent sparse brows. JWoww would do well to better match her eye pencil to her brow shade and use tiny hairlike strokes to simulate real brows.
4. Scraggly Ends Sartorially, Sammi needs some advice, but she's doing okay in the beauty department–with the exception of her flat-ironed to death ends, which are dying for a trim. Just an inch or two would increase volume and movement, giving the impression of healthier hair.
Read full article in dailymakeover.com
This Tuesday, December 22nd, the legendary makeup artist Sandy Linter will be at the Lancôme boutique in the posh Mall at Short Hills in New Jersey. Sandy, who has worked with many celebrities such as Sigourney Weaver, will be hosting one-on-one appointments from 10am to 6pm. The fee is a pre-pay of $175 and it's all redeemable in Lancôme products. Please call 973-258-0790 to reserve a spot.

Sandy Linter
Here's the address and contact information:
The Lancôme Boutique
The Mall at Short Hills
1200 Morris Turnpike
Short Hills, NJ 07078
973-258-0790
How To Apply Lancôme Ink Artliner in Indigo Charm With Sandy Linter
Having the right products and accessories in your work drawer or in your purse is the secret to holiday party beauty success. We asked three always-on-the-go women–a jewelry designer, a communications executive and a college student working in retail–to spill their best day-to-night tips and tricks.
The PR Maven: Bari Seiden
As Estee Lauder's Vice President of Corporate Communications, Bari Seiden helps drive beauty industry titan's global charitable activies. As such, she often has to rush straight from the snazzy EL offices to a holiday fiesta.
For those of you aware of Fashion's Night Out, being held tomorrow, Thursday, September 10th, in New York, NARS will be creating '80's rock star' makeovers (à la Marc Jacobs) in numerous locations.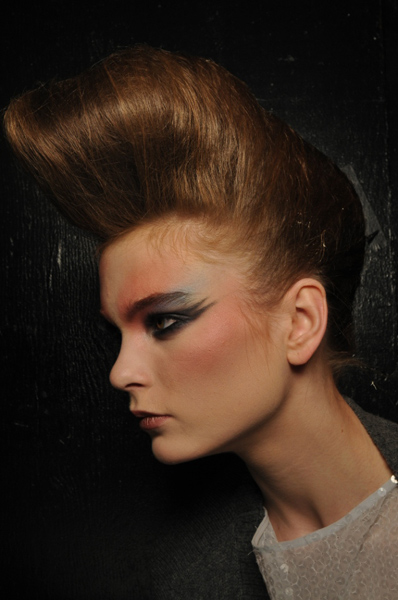 Top look at the NARS And Marc Jacobs at Fashion's Night Out
Fashion's Night Out is an initiative, hosted by VOGUE, to encourage consumer spending in retail markets around the world. Model appearances, exuberant window displays, designer cameos and beauty makeovers are all part of the event that's kicking off New York Fashion Week. From borough to borough, New Yorkers will be celebrating their city's fashionable reputation (not to mention some charitable perks: proceeds from the official Fashion's Night Out T-Shirts are being donated to the National September 11th Memorial and Museum).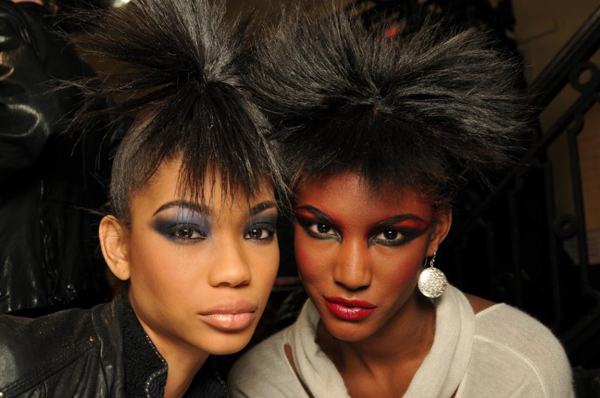 Top looks at the NARS And Marc Jacobs at Fashion's Night Out
Maybelline New York to hold sensational event July 30 at Grand Central Terminal Rite Aid and outside Grand Central Terminal. Professional Makeup Artists to offer on-the-spot mini sensational Lipcolor Makeovers inside Rite Aid and under Grand Central Taxi Stand at 43rd Street and Vanderbilt Avenue. Live musical performances by the cast of Broadway's CHICAGO the Musical under the Grand Central Taxi Stand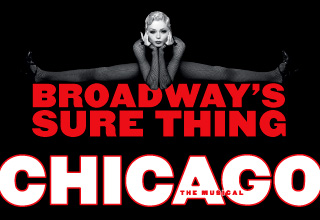 Maybelline New York will be center stage Thursday, July 30, with the cast of Broadway's CHICAGO the Musical to launch Maybelline New York's new Color Sensational Lipcolor. The fun starts with free on-the-spot mini sensational lipcolor makeovers at the Rite Aid in Grand Central Terminal and outside under the Grand Central Taxi Stand at 43rd Street and Vanderbilt Avenue. Highlighting the event will be live musical performances by the cast of Broadway's CHICAGO the Musical under the Grand Central Taxi Stand at 3:30 and 4:30 p.m.

Professional makeup artists will provide lip-scriptions and help women identify their perfect lip shades and offer first come, first served mini sensational lipcolor makeovers at Rite Aid, 26 Grand Central Terminal, July 30, 8-10 a.m., 12-2 p.m. and 3-7 p.m. Makeup artists also will be outside under the Taxi Stand at Grand Central Terminal 3-7 p.m.
Visitors can enter to win free tickets to Broadway's CHICAGO the Musical, with Maybelline New York giving away a free pair of tickets every hour between 3 and 7 p.m. Coupons for Maybelline New York's Color Sensational Lipcolor, gift bags filled with sample size products and 50 percent off discounts for CHICAGO the Musical will be available on a first come, first served basis.