All Posts Tagged With: "makeup brush"
Best Foundation Makeup Brush. The winner is: It Cosmetics Radiant Foundation brush from the It Brushes For Ulta All That Glitters Brush Set.  It is the softest makeup brush ever, doesn't pick  too much foundation so no waste, and makes foundation application super easy.
Best foundation and best foundation brush. MAC Pro Longwear SPF 10 Foundation and Brush 187SE my new LOVE. The foundation itself has a great feel and finish and is super long wearing. I prefer this brush (187SE) on a regular flat foundation brush for applying liquid foundation.
What I do is I dispense few pumps of liquid foundation on the back of my hand then tap brush 187SE on to get liquid foundation on brush and then tap (not brush on) on my face. This way you are not caking your face with foundation. The effect is more like an airbrush effect. The brush bristles diffuse the foundation and allows for sheer yet buildable application. Also it cuts down foundation application to 30 seconds! I'm big on quick yet effective makeup. I'm a busy lady you know:)))
See MAC brush 197SE up-close…
Introducing MAC Spring 2010 Collections: MAC Mineralize Foundation SPF 15 : The world is made of precious minerals, the foundation for all living things….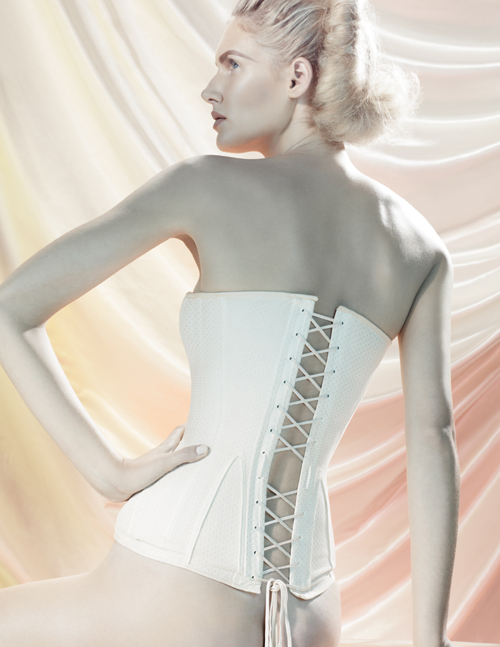 Mineralize Foundation SPF 15 is the synthesis of earthly essential elements in the form of a rich, luxurious solid cream compact with a liquid mineral infusion. This uniquely textured foundation delivers ultimate hydration while revitalizing the look of dull and dry areas. Medium buildable, smooth, even coverage and a feather-cloud comfortable silky feel with a natural finish. Add the essential 130 Short Duo Fibre Brush and SPF 15 for skin perfection with protection. Available Feb 4th, 2010 in the permanent collection.
Following an explosive first season together, MAC Cosmetics & Milk Studios will partner once again to offer an innovative New York Fashion Week experience. Both veteran and emerging designers will host their runway shows, presentations and special events at MAC & Milk during New York Fall/Winter 2010 fashion week (February 11– February 18).
New to this season, MAC Cosmetics introduces the exclusive online only MAC & Milk Collection – a selection of backstage essentials found in every makeup artist's kit. These show staples are consistently relied upon by the MAC PRO Team to create the key fashion week beauty trends throughout the world.
"Radiant skin, smokey eyes and beige lips seem to be a part of the beauty trends every season. The MAC & Milk Collection are the iconic products that create these trends. No makeup artist can live without these products during Fashion Week," says Gordon Espinet, Vice President of Global Makeup Artistry, MAC Cosmetics.
SKINCARE
Strobe Cream – $29.50 – The ultimate quick fix for skin. This cream brightens and clarifies with iridescent particles and antioxidants, enhancing the effect of light on the skin.

When MAC meets the lore and legend that is Lilly Pulitzer, you get a fabulous and funky fun new chapter: a bit of Mar-a-Lago, some well-to-do winky-wink, and a dash of retro-modern pop culture mayhem in prints and colours that make it hip to be in permanent happy land! A collaboration that feels like the best tongue-in-chic resort retort, with all the wonderful prints and Key West colour combinations Lilly has done so beautifully since, well, forever! Fly down to South Florida, with MAC in Lillyland!
Available January 7, 2010 through February 2010 at all MAC locations.

Brush 168 LARGE ANGLED CONTOUR
For expert application of cheek contour. This brush is a large angled contour. the fibres form a buff ed edge and are soft and firmly bundled. Suggested Retail Price $32.00 U.S./$38.50 CDN
239 EYE SHADER
Soft and dense to shade or blend eye shadow or emollient-based products. This brush has a tapered, rounded edge with smooth, firm, fine fibres. It can be used to build intense colour on the eyelid. Suggested Retail Price $24.50 U.S./$29.50 CDN
MAC Magic Mirth And Mischief
Brush Bags
The Magician's tricks are all in the bag – a sleight of hand that provokes the question, "How did you do that?" The answers have been gathered together in three different techniques, with three different effects: Do-the-Trick Buff and Line Brushes, containing 168SE, 187SE, 209SE, 219SE and 252SE tools; Wave Of A Wand Sweep and Define Brushes, holding 129SE, 190SE, 212SE, 227SE, 275SE tools; and finally, Morning, Noon & Knight Everything Eye Brushes with 194SE, 204SE, 224SE, 266SE and 275SE tools. All sparkle with the irresistible spirit and decorative shine of the season.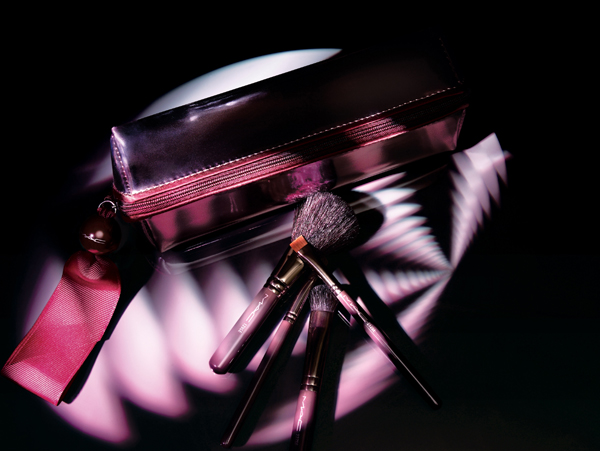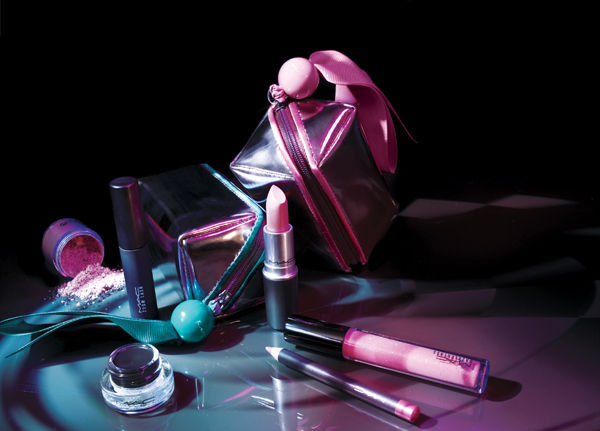 Lip and Eye bags
The Fete Set needs their party favours – little pick-me-ups and help-me-alongs that keep the swish in swing, the glamour going all night long. High-tone metallic bags for Lips and Eyes, everything you need to make mirth, all in one place. Get your hands on Put A Spell On You Pink or House Of Mirth Deep Lip Bags, all with Lipstick, Lip Pencil and Dazzleglass in tow. Add Naughty Noir and Alakazam! Chocolate Eye Bags, both with Fluidline and 209SE Brush, Pigment and Zoom Lash accoutrements. lip eye and face kits Eight precociously pretty new holiday kits, presented and packaged with bubbly optimism, sophisticated and amusing as a New Yorker cartoon. For Eyes: 6 Devil May Dare Warm Eye Shadows, 6 Mystic Cool Eye Shadows, 6 Smoke and Mirrors Eye Shadows, and 6 Sorceress Eye Shadows. For lips: Heavenly Dish Neutral Lip Kit and Possessed by Pink! Lip Kit. Finally for face: Hocus Focus Colourful Face Kit and Fab-racadabra Bronze Face Kit. Each a world of wonder, to collect and give – but only to the most delightful of the deserving.
MAC DSQUARED2: Every season the fashion crowd is up and on the run, crazy for the fierce and sexy fun we've come to expect from designers Dan and Dean Caten, the Canadian twins who know how to pack a punch – and throw a party! With their haute hi-jinx and body-beautiful clothes for boys and girls, a collaboration with MAC simply could NOT be avoided!
"DSquared² and MAC are on the same trip!" says Dan. It starts with a strong, sooty, blackest-ever wild-child eye… a new Greasepaint Stick also in blue and violet versions, and Pro Gloss to create it. Neutral and perfected skin will get more drama with highlighting and low lighting from Sculpt and Shape Powders and the 165 Tapered Cheek/Highlight Brush all the better to achieve it. And finally, the totally nude Pro Lip Erase does its stuff, followed by a light Lipstick and Lip Conditioner to put the lilt and lift back in…. But the cynosure of this season's scintillating collaboration is the daring, dramatic, slightly demented DSquared² eye. Have fun with it!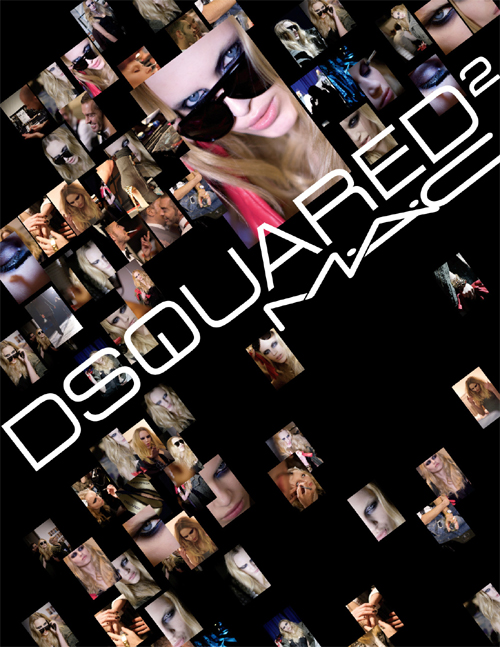 LIPSTICK
Nude rose Sheer light neutral pink (lustre)