All Posts Tagged With: "Makeup Videos"
Watch Marta's video blog for today talking about her favorite products from the latest MAC makeup collections: MAC Style Black and MAC Dazzleglass Creme.
Products mentioned in Marta's Vlog:
MAC Greaspaint Stick in black purple
MAC Dazzleglass Creme in Soft Dazzle
MAC Dazzleglass in Luscious Spark
MAC Style Black
MAC Style Black: MAC Young Punk Eye Shadow
I stumbled upon this vintage Jerry hall video commercial for Revlon Flex Shampoo from the 1980's. Which reminds me Revlon Flex Shampoo was probably the first ever shampoo I've used back growing up in Israel. It was revolutionary for us back in the days, LOL. I'm also very fascinated to see the different hair styles and looks women perceived as in style in those days. I'm a huge Jerry Hall fan. Before Kate Moss and Heidi Klum there was a beautiful supermodel called Jerry Hall. It is not just Jerry's looks that I like, it's her incredible charm and grace when she talks, and how she carries herself.
If you are a MAC lover and also looking for Halloween makeup inspiration, you don't want to miss MAC's video: MAC Not Afraid To Be Freaky!
Spooky-kooky to ga-ga gorgeous, the top looks of Halloween are here as five MAC Senior Artists demonstrate how monstrously fun and devilishly do-able our looks can be! For more inspiration, go to Photos tab http://www.facebook.com/MACcosmetics … and pick your look from our monster roster of 21 Face Charts.
Here are some highlights of how to get some of MAC's top Halloween makeup looks or faces: 
From the album: "TOP HALLOWEEN LOOKS + FACE CHARTS" by MAC Cosmetics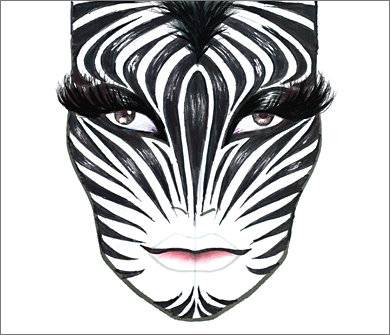 Exotic Zea (look featured in the video)
Look created by M·A·C Artist: Franklin Betancourt
Location: Shaumburg, IL, USA
Follow the step-by-step and M·A·C products listed below to achieve that look.
Click here for a printable version of this look to bring to a MAC Artist in a store near you; links to the products used are also included: http://www.maccosmetics.com/halloween1
Or visit http://bit.ly/maccosmetics  to purchase these products online or find a store near you. Pro products can be purchased in any MAC Pro store.
Step-By-Step Instructions:
Watch Marta's video blog for today and enter to WIN 3 items from the latest N.Y.C New York Color makeup line!! I say, it's amazing!:)
How To Enter To WIN:
1. Click here for Talking Makeup's YouTube Channel & SUBSCRIBE.
2. Once you are subscribed, simply leave a comment.
Good Luck!!:)
One lucky winner will get:
N.Y.C Metro Quartet Eyeshadow in Femme Fatale
N.Y.C Color Wheel Mosaic Face Powder in Plum Passion from NEW The Golden Girl Collection
N.Y.C Limited Edition self adhesive nail deco in Starlet
Visit www.newyorkcolor.com for additional product details.
Watch Marta's Video Blog: Hi guys! I'm excited about Talking Makeup's latest Q-Tips giveaway!! Have you seen the latest Q-Tips vanity boxes? They are SO beautiful! It's a whole new era for Q-tips!
I'm giving away 4 gorgeous Q-Tips boxes and a fabulous jewelry box to go with!! You don't want to miss this!!
How To Enter To WIN:
1. Click here for Talking Makeup's YouTube Channel & SUBSCRIBE.
2. Once you are subscribed, simply leave a comment.
Good Luck!!:)
I'm SO excited to discover that celebrity makeup artist Scott Barnes (think Jennifer Lopez aka JLO)  just created a YouTube Channel called: ScottBarnesTV. I'm a subscriber:)
Watch Scott Barnes Mascara tricks and make the best out your mascara application! I know I'm taking notes.
Also, make sure to follow Scott Barnes on Twitter for more pro makeup tips!
Watch: Daily Makeover's elite group of beauty bloggers, which includes Marta Walsh founder & editor of Talking Makeup.cm, dish the latest makeup, hairstyle and fashion trends for Fall. Learn what makeup and hair looks are hot, straight from the runway.
Watch: Introducing the Beauty Bloggerati, Daily Makeover's elite group of the top beauty bloggers from around the country, which also includes Marta Walsh and Talking Makeup.com.
Watch: Follow Marta Walsh founder and editor of Talking Makeup.com and the rest of the Daily Makeover Beauty Bloggerati through the beauty boutiques of New York City.
The bloggers hit Kiehl's, L'Occitane, Lancôme, Fresh, and Space NK.