All Posts Tagged With: "Marc Jacobs"
New York Fashion Week SS 2011. NARS was backstage creating the look at the Marc Jacobs SS2011 show. LEAD ARTIST: François Nars, Founder & Creative Director of NARS Cosmetics. Makeup Trend: Glossy green eyes & deep matte lips.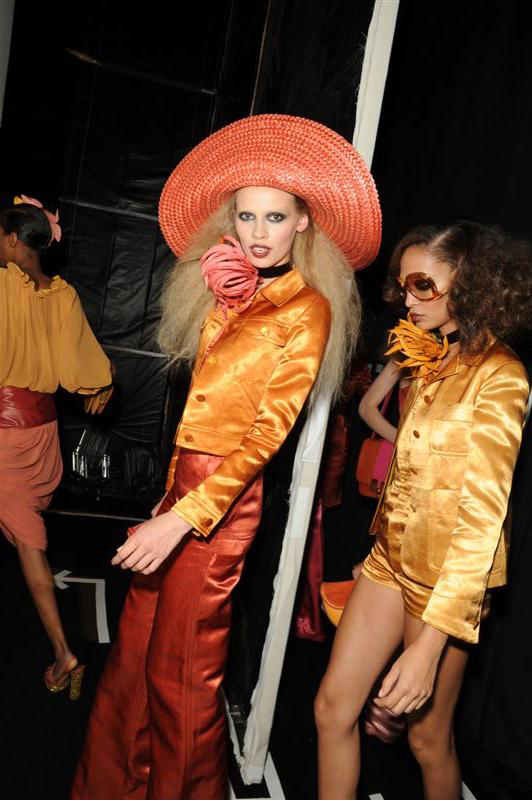 Makeup Look & Inspiration: "The look is very reminiscent of Angelica Houston in the 70s-the bleached brows and the deep eyes," said François Nars. "I wanted them to look like iconic models from the 70s with a modern approach. Marc had images of what he wanted the makeup to look like – mimicking the colors of the clothing but not matching exactly."
Watch: Anna Wintour and Marc Jacobs on the Late Night With Jimmy Fallon from last night, Wednesday, September 1st, 2010. It is quite funny because Anna mentions Lady GaGa and how she kept her waiting for 45 minutes because she was talking to God! Classic. 🙂
Sneak peek preview of Lady Gaga gracing the cover of V Magazine (issue #67): "The New York Issue," which features fashion and art in the most exciting city on Earth! Music legend Lady Gaga poses as the Statue of Liberty alongside designer Marc Jacobs for this cover, in which artist Dan Colen interpreted the iconic "V" using bubble gum as his medium. In total, V Magazine collaborated with 4 New York based artists for their creative take, and Colen's is the first to be released for this exclusive preview. V67 hits newsstands TODAY, September 2nd, 2010.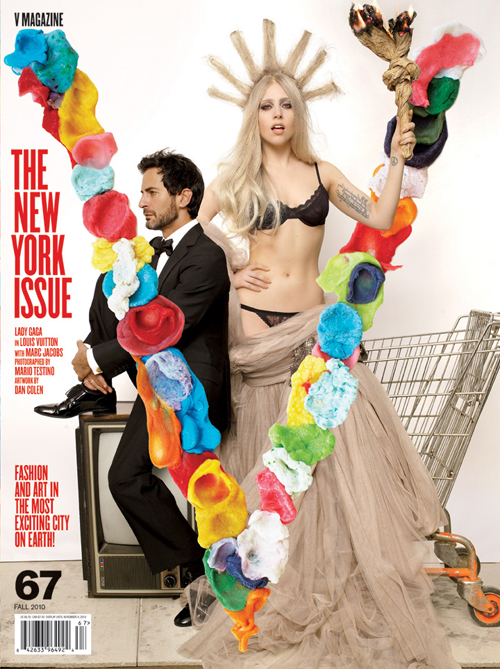 Watch: NARS for Marc Jacobs Autumn/Winter 2010 Fashion Week. Key Products Used: Enchanted Cream Blush, NARS D. Gorgeous Eyeshadow, NARS Nuits Blanches Eyeliner Stylo, NARS Black Moon Eyeliner Pencil, NARS Barbarella Lipstick.
The Makeup Look & Inspiration: "This look is what you would see on a girl from the East Village or St. Germain des Pres-an existentialist with a modern twist," said François Nars (Founder and Creative Director of NARS Cosmetics) whose application technique included using his fingers to achieve the faded effect. "These girls are sexy and cool. Their makeup looks dirty and worn out as if it has been on all night but still translates beautifully on the runway."
I stumbled upon this video and love it: Making of Louis Vuitton Fall/Winter 2010 Ad Campaign. Watch fashion designer Marc Jacobs talking about the photo shoot and ad campaign. Also models: Christy Turlington, Karen Elson, Natalia Vodianova. Other credits: Photographer: Steven Meisel. Stylisht: Karl Templer. Hair: Guido. Makeup: Pat McGrath.
Jessica Biel's makeup look: Revlon Brand Ambassador, Jessica Biel presented the award for Womenswear Designer of the Year to Marc Jacobs for Marc Jacobs at the 2010 CFDA Fashion Awards at Alice Tully Hall at Lincoln Center, on Monday, June 7th, 2010.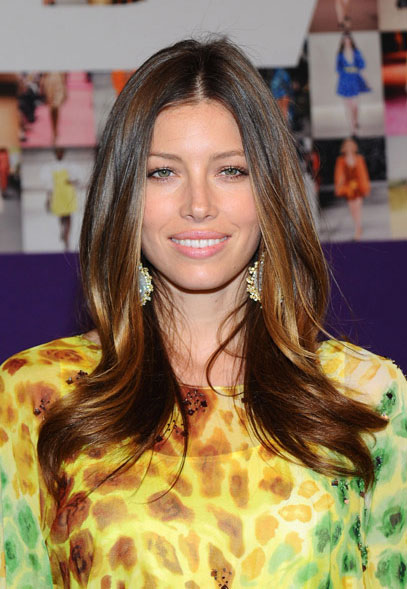 Here's how to get To Jessica Biel's makeup look. You can capture her glamorous look with the following Revlon products:
FACE:
Age Defying Moisturizing Concealer (under the eye area): Hydrates like an eye cream. The only concealer with Botafirm conceals imperfections due to aging, dark circles, and discoloration. ($ 13.99)
Marta's Latest Style Obsessions: Marc Jacobs Stam Quilted Frame Satchel in red ($1350) which I saw on www.nordstrom.com Aside from the dramatic and bold red color I really like the size of this handbag. So compact. I can wear it everyday or evening and everywhere. Everything about this handbag is genius. So Marta!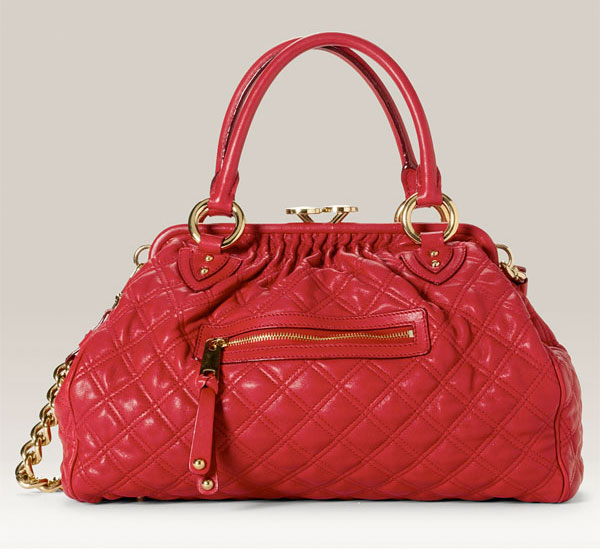 Marc Jacobs Bang is a new fragrance for men by fashion designer Marc Jacobs. But have you seen the ad?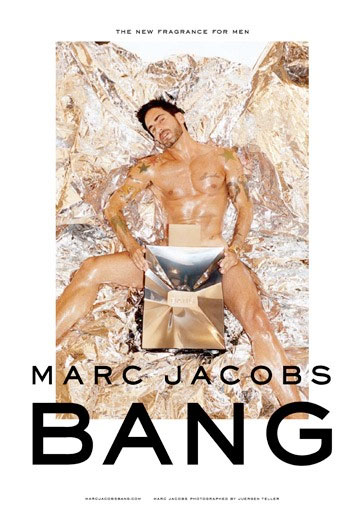 CND introduces Fall's limited edition Colour & Effect: "Texture adds to the strength of the look – and autumn is all about dimensional manicures," says CND Co-founder Jan Arnold. Nails take their cue from striking blue-greens, effervescent reds, and offbeat beige, camels and grays this season.

Steely Dan: Extravagant midnight manicures and tonal shades of heathered mushroom and gray nails complement this Fall's masculine palette of mossy greens, black leather and textured fabrics. To achieve Ruffian's (seen in image above) "Lunar Eclipse" manicure, pair deep blue Inkwell with Gold Chrome around the cuticle edge for a metropolitan look.
At the height of the Spring/Summer fashion season, NARS launches exclusive, behind-the-scenes video content from SS2010 New York Fashion Week. Feel the excitement of being backstage as you watch models transform from bare to beautiful with accents of theatrical dancer eyes (Marc Jacobs see video below), multi-textural skin (3.1 phillip lim), warrior-strength contouring (Thakoon), whimsical tribal makeup (Derek Lam), and couture feather lashes (Marchesa).

NARS for Marc Jacobs – Spring/ Summer 2010 Fashion Week video!
To watch more NARS Spring/Summer 2010 Fashion Week Behind The Scenes Videos visit their YOUTUBE Channel!