All Posts Tagged With: "Mark Townsend"
What a week for Bella Hadid! She worked the catwalk during Riri's fashion show, and now she's rocking the red carpet at tonight's 58th Annual GRAMMY Awards on the arm of nominee, The Weeknd. Dove Celebrity Stylist Mark Townsend is responsible for her gorgeous hairstyle this evening.
"For Bella Hadid's Grammy Awards look, we knew we wanted to go chic and sleek. We decided to keep her hair off of her face, and go for a bone straight moment with tons of shine. Here's how:
The Game of Thrones premiere is minutes away from starting and Dove's celebrity stylist Mark Townsend styled the tresses of the lovely Lena Headey for the red carpet premiere this evening in New York. Be sure to check out Mark's Instagram (@MarkTownsend1) for a behind-the-scenes look.
"For the Game of Thrones premiere it was all about relaxed glamour for Lena Headey. I loved her Jenny Packham dress and felt it was very pretty yet edgy so I wanted her hair to have the same feeling." – Mark Townsend
The look was easily created using two Dove Hair products:
1) Dove Oxygen Moisture Leave In Foam to give a natural voluminous wave
2) Dove Pure Care Dry Oil Nourishing Treatment to make the hair supple and reflective
See below for how to get the look in three easy steps:
1. I started by applying a large dollop of Dove Oxygen Moisture Leave In Foam to her damp hair and scrunched it dry with my hands and the diffuser on the blowdryer. I love keeping as much of Lena's natural wave in the hair and this foam doesn't weigh the hair down or get crunchy and it gives the hair tons of volume.
2. Next, I gave her a deep side part and sprayed Sally Hershberger salon Texture Blast Spray all over to give the hair great texture and light hold and then braided one side of the hair and laid the braid on top of the hair at the back and then tucked the end if the braid under the hair. I think the braid sitting on top of that heavily textured bob that makes this look so modern and fresh.
3. I finished by taking a few drops of the Dove Dry Oil Nourishing Treatment through her hair for lots of shine.
Revlon Brand Ambassador Jessica Biel attended the Celebrity Hairstylist Mark Townsend's launch of MARKTBeauty.com at the penthouse at Smyth Hotel Tribeca in New York City, Tuesday, June 8th, 2010.
Here's how to get To Jessica Biel's makeup look at the MarkTBeauty Event. You can capture her glamorous look with the following Revlon products:
FACE:
Revlon PhotoReady Makeup in Nude: Revlon's new PhotoReady line of makeup, powder and translucent finisher provides poreless, airbrushed skin in any light ($13.99)
Maggie Gyllenhaal's Oscars 2010: The Hairstyle
"I'm calling Maggie's look for the Academy Awards 'Muse of Spring."-Celebrity Stylist Mark Townsend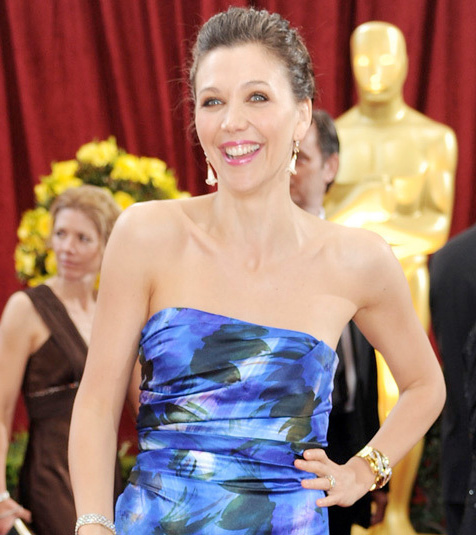 How to get Maggie Gyllenhaal's Oscars 2010 Hairstyle: Hair Tutorial
"I started by adding 4 or 5 drops of Moroccanoil Treatment The Original to Maggie's wet hair to keep the hair smooth and shiny and then added Sally Hershberger Style Primer for Thick Hair and blow dried with a round brush. I set the hair in barrel curls on top to keep some lift at the roots.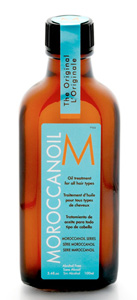 GET THE LOOK: Nominee Diane Kruger's glamorous asymmetrical Jason Wu gown (which BTW Marta loves Diane's dress! Best Dressed for sure!) was the inspiration for the soft, romantic side-chignon that celebrity stylist Mark Townsend created for the 2010 SAG awards.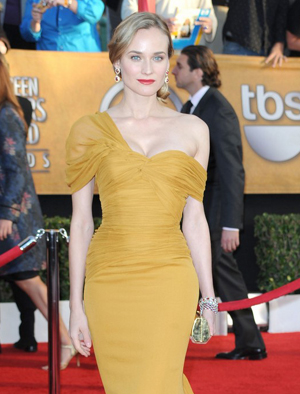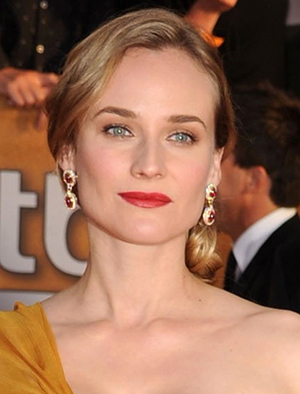 "I started by taking a small amount of Moroccanoil Treatment and finger combed it through Diane's dry hair" explained Townsend. "The original Moroccanoil is super light-weight and absorbs right in, to give the hair amazing shine without weighing it down.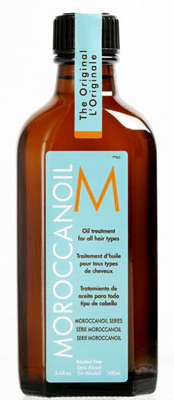 GET THE LOOK: January Jones' dramatic hair look at the 67th Annual Golden Globes Awards, created by top celebrity stylist Mark Townsend, introduced a new, modern take on red carpet style.
The Look & Inspiration: Inspired by her gorgeous black Lanvin dress, Townsend created a head-turning look that was boldly accessorized with a sleek black ribbon headband. "As soon as I saw the dress I knew I wanted to put her hair up," said Townsend, "and I think that adding the satin ribbon as a headband gave a classic French twist with a very modern edge."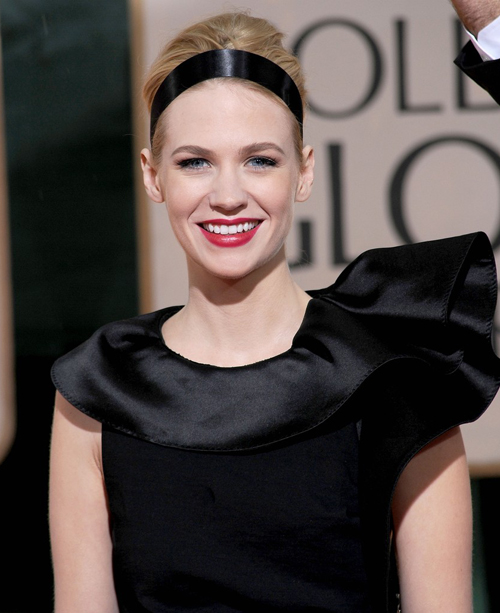 Here's Mark Townsend's hair tutorial on how to get January Jones hairdo at the 2010 Golden Golbes:
I started by applying a small amount of Moroccanoil Treatment to January's damp hair and blow-dried it with a round brush. This unique argan oil-infused formula gives the hair amazing shine and silky finish, an essential to the look I had in mind.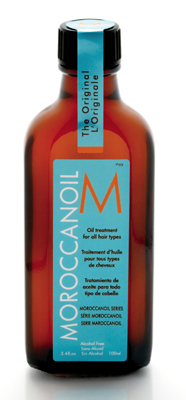 When the hair was dry, I took a dollop of Moroccanoil Hydrating Styling Cream into my hands and then finger combed the hair to give a soft hold and add even more shine and leave the hair extremely smooth.
Matrix celeb stylist Mark Townsend styled Natalie Portman for the Gotham Awards on Monday night and she looked amazing!!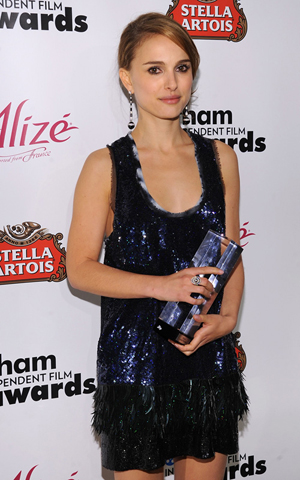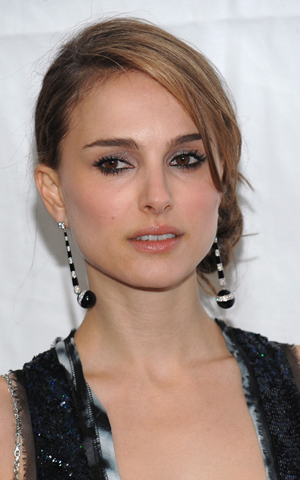 To get Natalie Portman's asymmetrical side bun for the 19th annual Gotham Independent Film Awards, Matrix celebrity stylist Mark Townsend sprayed Biolage Bodifying Spray Gel in Natalie's damp hair and blow dried it with a medium round brush. Next, he took 2 to 3 inch sections of hair and sprayed each with Vavoom Gold Heat Iron-In Control, wrapping the hair around a 1 inch curling iron.
Matrix celebrity stylist Mark Townsend created Amy Adams' beautiful red carpet hairstyles for both the Los Angeles screening and New York premiere of "Julie & Julia."
For the New York premiere of "Julie & Julia," Matrix celebrity hairdresser, Mark Townsend, wanted Amy's hair to be modern and glamorous to match her Carolina Herrera gown. "I've been very inspired lately by hairstyles from the 80s with lots of volume," said Townsend.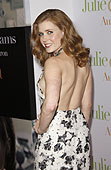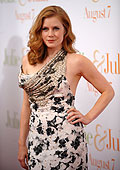 Mark started by spraying Biolage volumatherapie Bodifying Spray Gel into Amy's damp hair…

…and blow dried it with a medium size Spornette Mixed Bristle round brush to get a good deal of volume in her hair. Next, he set her hair with hot rollers, making sure to wrap the hair around the roller from roots to ends to give it a nice wave. Once the hair was cool, he removed the rollers and brushed out her hair with a flat brush, parting it to the side. To add some texture and shine, he sprayed Biolage Shine Endure Spritz into her hair and gave it a scrunch.
Celebrity Hairdressers Oscar Blandi & Mark Townsend get Hollywood's biggest stars glam for the 2009 Costume Institute Gala.
Calvin Klein (styled by Oscar Blandi, wearing Calvin Klein Collection).
With Brooke's hair, Oscar wanted to keep it very clean. "I decided to give her curls and keep them loose so that the look stayed soft." When her hair was still wet, he applied his Volumizing Spray to the root and then the Onde Wave Spray all over the hair to really lock in the curl. After drying the hair, he used both a medium and large barrel curling iron throughout. Using two different size barrels prevents the curls from all being the same size and ultimately blending together, so this way we avoid the blending and create more dimension. Once the curls were finished, he gently applied a small amount of Jasmine Oil on the hair to create sheen and sprayed Lacca hairspray all over.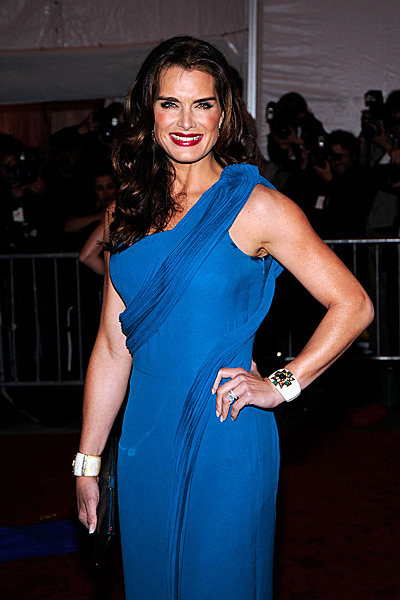 Rosario Dawson (styled by Oscar Blandi, wearing Diane von Furstenberg)
"For Rosario, I created what I like to call an abstract chignon." First Oscar blow dried the hair straight and then secured a low pony tail above the nape of the neck. Once the ponytail is set, you add medium and large size plastic rollers to the loose hair (again with both sizes to ensure texture throughout the hair). Then he sprayed Onde Wave Spray while setting the curl make sure the hair takes. Once he pulled out the rollers, it was easy to create a chignon with loose pieces– you just follow the curve of the hair and begin pinning sections in place with a bobby pin. Feel free to let hair hang and fall as it may and pull out pieces in the front to layer around the face. The final step was to spray the look with Lacca for hold through the night.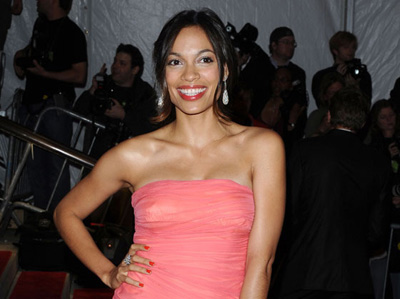 Ashley Olsen (styled by Matrix stylist Mark Townsend, wearing The Row)
Matrix celebrity stylist Mark Townsend recently cut Ashley's hair into an asymmetrical bob, so for the Met Ball they wanted to leave her hair down.
Talking Makeup's Top 10 celebrity hair stylist tips:
1. "I always use the same brushes: Mason Pearson for detangling and blowing out bangs and Spornett mixed bristle round brushes for blowouts. The mixed bristles grip the hair and create enough tension to get the hair really smooth without pulling on the hair"-Mark Townsend.
2. "There are so many to choose from now days so make sure you understand your hair type, etc. Do you have fine hair or thick hair or kinky hair….this makes a big difference in what shampoo and conditioner would be right for you. Fekkai has a very wide range of shampoos and conditioners that I love that would fit almost all hair-types out there…. Experiment till you find the one that makes your hair soft and shiny without leaving too much residue or buildup on your hair"-Adir Abergel.
3. "It is always important to apply strong volumizer on the roots to achieve a full and glamorous base. Polished, soft and natural curls always add to a glamorous look the without appearing too overdone. A good tip to make the hair fall glamorously around the face is to line the hair in proportion with the cheekbones. This tip emphasizes the beauty and the overall effect of the hairstyle"-Oscar Blandi.
4. "Moisture"-Jamal Hammadi.
5. "My number one hair care tip is: invest in good hair products and visit your hairstylist frequently. Don't be afraid of asking your hairstylist questions – that is part of their craft"-Omar Lopez.
6. "The Cutler Fly-Away Control Stick is definitely a must-have. It's easy to travel with and great to pull out to add shine and bring down fly-aways. Another great product is Redken's Workforce 09 hairspray it's lightweight and adds shine"-Rodney Cutler.
7. "Texture hair is always in need of moisture, conditioning, and a good stylist who understands their hair type. Most stylists are not trained to understand our hair, so a lot of Caucasian stylist will turn them away"-Kiyah Wright.
8. "The biggest mistake people make is going to the salon when they are emotional. It is important to explain to your stylist your lifestyle whether it is work, family or friends"-Kaz Amor.
9. "I cannot live without Vavoom Gold Heat Iron-In Control Protective Dry Mist! This is the product I used to create Reese's straight, sleek, shiny hair for the Globes. You spray the hair with this, then run a flat iron over the hair and it seals the hair and fights against humidity"-Mark Townsend.
10. " I love to use jasmine oil on my clients because I am usually working under fast turn around so it is easy enough for women to use it every day"-Oscar Blandi.
via: Beauty Interviews.