All Posts Tagged With: "Marta Walsh"
Hello loves:) If you haven't done so yet please follow me on Twitter. I REALLY appreciate your support:)

Marta Walsh on Twitter
In 2011 I met Salma Hayek during lunch at the Mandarin Oriental hotel New York City for the launch of her cosmetics line NUANCE for CVS Pharmacy…and I just came across this photo of me first row in the charcoal botton shirt…with Salma Hayek.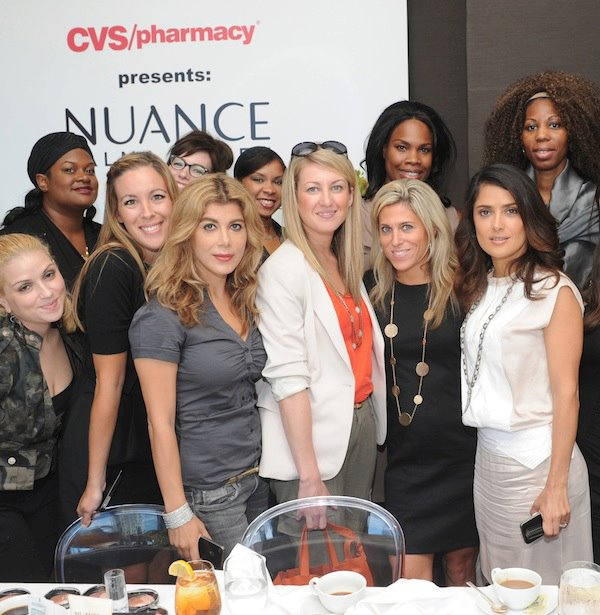 Marta Walsh Meets Salma Hayek
Last week I had an amazing opportunity to meet Salma Hayek during lunch in New York City..Read Full Story In TM.
Loving my Armani Exchange black zipper shirt & tuxedo inspired jacket…rocks every time 🙂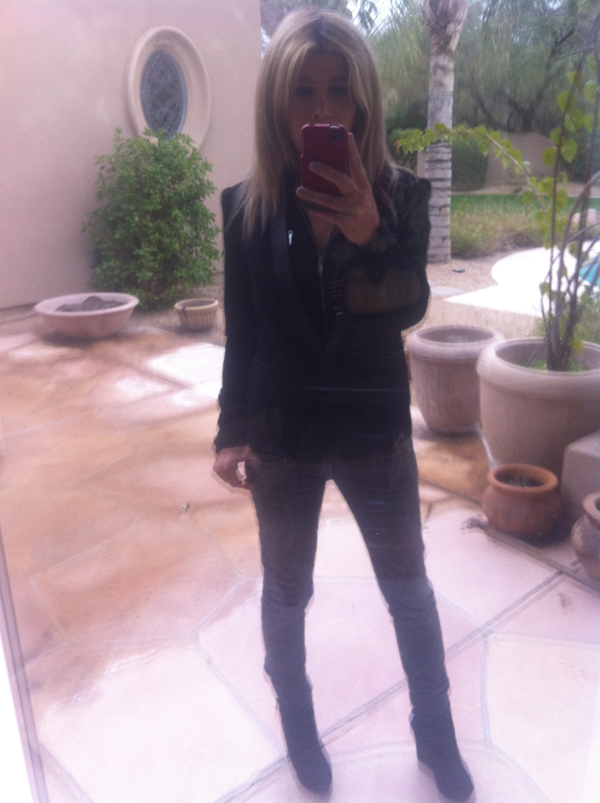 Marta Walsh In Armani Exchange aka AX
…and the close-up…
Read my column in DesertLivingToday…Take 5 for Beauty with Marta's Top 5 Picks this month with a couple of gift ideas for beauty lovers.

Marta Walsh Talking Makeup founder and Paradise Valley & Scottsdale Realtor in DesertLivingToday.com
Beauty brands and products mentioned this month are:
L'Oreal Magic Smooth Souffle Foundation
Check out my new column for Desert Living Today which is an online publication targeting the Southwest and Phoenix metro area. The article is titled: "Take 5 with Talking Makeup. Marta's top 5 beauty picks" and these are Marta Walsh's picks for this month…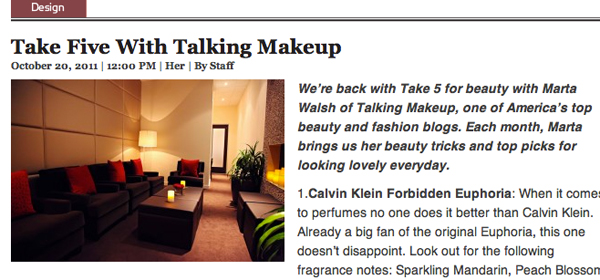 Marta Walsh Paradise Valley REALTOR and TalkingMakeup.com founder in Desert Living Today
"We're back with Take 5 for beauty with Marta Walsh of Talking Makeup, one of America's top beauty and fashion blogs. Each month, Marta brings us her beauty tricks and top picks for looking lovely everyday.
Last week I was invited to meet with Kate Somerville the skincare mogul and Hollywood'd best kept secret at the Neiman Marcus Scottsdale in Fashion Square Mall. I must say Kate is such a sweetheart and very cool in real life. I also got to interview her and you can watch it in this video:
In this interview Kate Somerville talks about the beginnings of Kate Somerville skincare line and the very famous boutique in Melrose Place, CA. Gives advice to all the entrepreneurs out there (it might be you?:). Introduces the new product additions to Kate Somerville skincare line, such as…
As you probably already know my name is Marta Walsh I'm a Scottsdale & Paradise Valley Arizona Luxury REALTOR. Aside from beauty and fashion Real Estate is my other passion. I'm a big fan of HGTV's Selling New York show and watch it religiously.  You can read all about my real state adventures on www.martawalsh.com but meanwhile here's a cool sighting of my favorite stars. On September 22nd, Divamoms.com hosted a party for Selling New York's Kleier family to celebrate their new book, Hot Property at Soigne K. Guest's mingled with the Kleier sisters, enjoyed the new fall fashion from Soigne K and received Henna tattoos.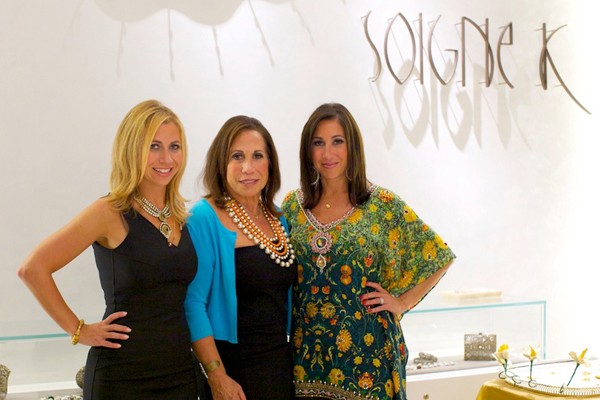 Selling New York's Kleier family
See more pics of the Kleier family…
IN THE PRESS. TM & Marta Walsh are featured in Desert Living Today woohoo. I wrote an article called Take 5 With Talking Makeup where each month I talk about my most favorite 5 beauty products. "Introducing Take 5 for beauty with Marta Walsh of Talking Makeup, one of America's top beauty and fashion blogs. Each month, Marta brings us her beauty tricks and top picks for looking lovely everyday.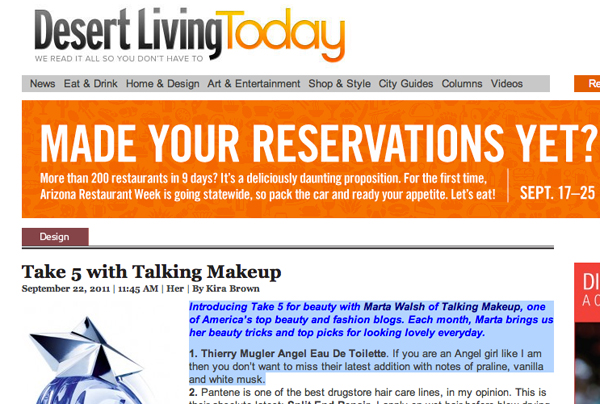 1. Thierry Mugler Angel Eau De Toilette. If you are an Angel girl like I am then you don't want to miss their latest addition with notes of praline, vanilla and white musk.
Check out what are my other must-have beauty picks for this month. Read Full Article in Desert Living Today.
Yesterday I had breakfast with Neiman Marcus at the Fashion Square Mall in Scottsdale Arizona. To me, the Neiman Marcus department store is associated with the best of the best when it comes to fashion and beauty. During breakfast I got a sneak peek to the hottest beauty and fashion brands that are available at Neiman Marcus Scottsdale. While all this fun my picture was snapped for Arizona Foothills Magazine together with Katherine Thornhill of sparklefarklediary.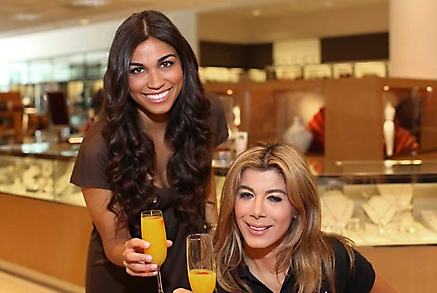 Breakfast with Neiman Marcus Scottsdale, L to R: Katherine Thornhill of sparklefarklediary and Marta Walsh North Scottsdale REALTOR & Founder of TM aka TalkingMakeup.com
Some of my all time favorite beauty brand and products were mentioned during my breakfast with Neiman Marcus, such as: Estee Lauder Advanced Night Repair, Kate Somertville ExfoliKate, Natura Bisse Diamond Cream, cle de peau most-wanted concealer & their gentle balancing lotion,  the super luxurious Beauty by Clinica Ivo Pitanguy Eye Contour Lifting gel…
I snapped this pic on my recent trip to San Diego for BlogHer 2011. At the CVS booth I got to sample the NEW NUANCE by Salma Hayek for CVS Mascara & I loved it. I've been a Salma Hayek fan for years now. One of the things I relate most about Salma Hayek is the accent, which I also have, and her contagious passion for everything she does.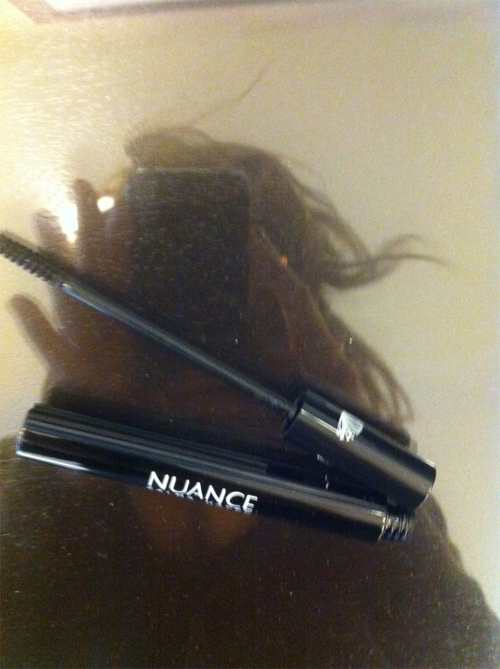 Marta Walsh & NUANCE by Salma Hayek for CVS Ultra Defining Mascara.
Also when I used to have dark brown hair in my New York City years people used to say I kinda look like her. Ha! Now with the blonde hair I get Jennifer Aniston. Funny. Anyways, let's go back to the subject in hand-this mascara adds volume, length, and the pigment is nice and bold. "Precision fibers hug lashes for extra length."-via www.cvs.com. I can't wait to try more from Salma Hayek's new cosmetic line with CVS, NUANCE. I will keep you posted.
See more pics from my San Diego BlogHer 2011 trip!