All Posts Tagged With: "Matte Foundation"
Introducing  laura mercer flawless fusion ultra-longwear foundation.  All the wear, all the coverage, without the weight. Laura's longest wearing foundation of flawless full coverage and 15 hours of wear fused into one weightless formula.
Best foundation of the day and on Marta Walsh's Best Foundation List of all times: L'Oreal Magic Smooth Souffle. It feels super light on the face yet it covers perfectly (like its slogan it looks like 'Magic') all imperfection on the skin. But the best thing about this foundation is that it's so matte you can even skip a face powder which is un-heard-of with some other brand foundations.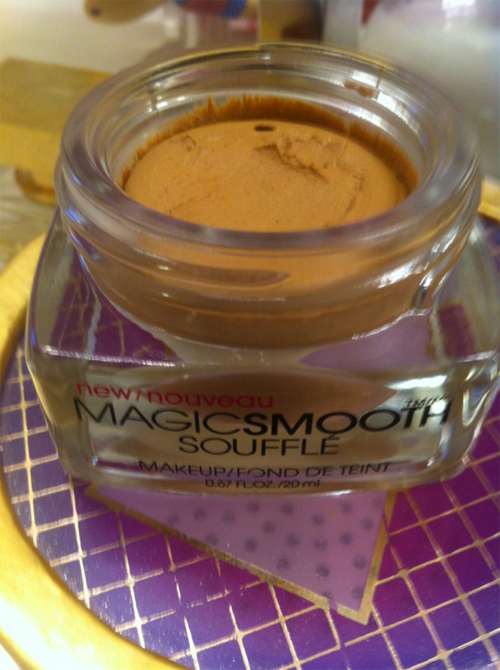 L'Oreal Magic Smooth Souffle Makeup Foundation in Sun Beige
Most of them I find feel are too shiny and wet after I apply…
Christina Ricci Wears NARS to the 2010 MoMA Event!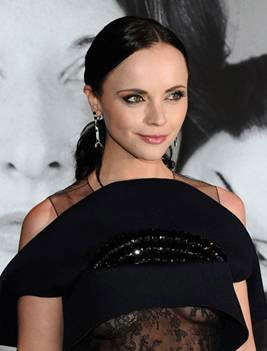 Christina Ricci attended last night's (June 1st, 2010) show closing celebration of Marina Abramovic's "The Artist Is Present" at New York's Museum of Modern Art. "I wanted Christina's look to exude edgy classic noir," says NARS National Makeup Artist Francelle . "It's all about the eyes. We kept them classic but infused edginess by adding green tones."
Multi-platinum singer and songwriter Beyoncé wore NARS cosmetics on the red carpet at today's Billboard Women In Music Awards, where she received the award for "Woman of the Year." Beyoncé's celebrity makeup artist Jackie Gomez explains her look: "I loved the color of her dress so much so I wanted to mirror the effect that it had against her skin- the Cleo Duo Eyeshadow (see image below on right) was perfect." And, Jackie informed us that Beyoncé is a BIG fan of NARS!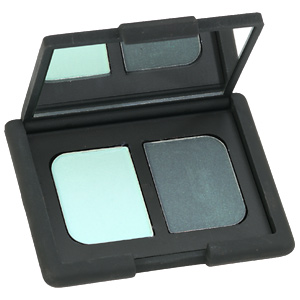 The following NARS products were used to achieve her look:
-NARS Sedona Sheer Matte Foundation
-NARS Sedona Powder Foundation
-NARS Albatross Highlighting Blush Powder
Show: Marc Jacobs Spring 2010
Lead Artist: François Nars, Founder and Creative Director of NARS Cosmetics
Trend: Theatrical Makeup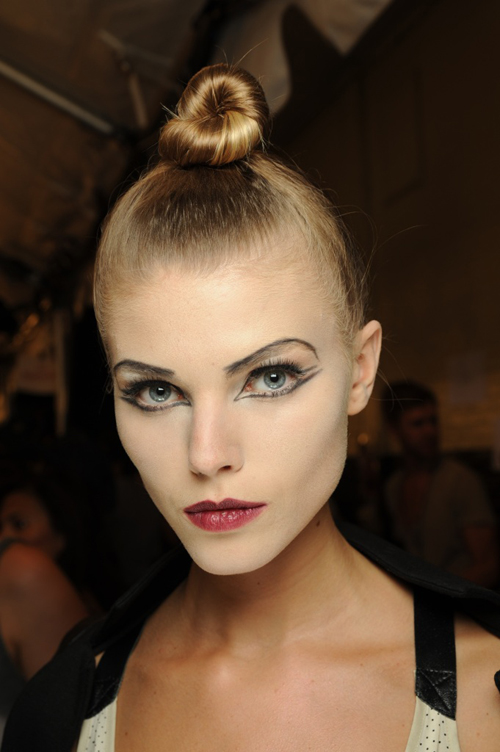 Inspiration: The look of the Marc Jacobs collection was inspired by the contemporary dancer, Martha Graham: Old-fashioned and theatrical but graceful and precise. At the same time, however, there was a darker side that was shone through: a quality of gothic romance. Ballerinas with a sense of mystery- as if part of them, along with some of their makeup, had been left behind on stage.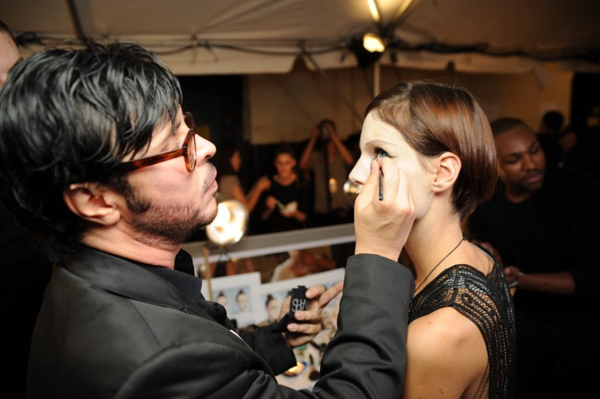 Look: Left-over stage makeup. The models weren't meant to have perfect makeup- rather, they were meant to encompass a "just came off-stage" effect. "Dancers in theater and opera always have white faces, pointed lips and an eye that is drawn outward, not upward-it's very theatrical, very ballet," said François Nars. He stressed the importance of the eye for this look, noting that "the shape of the eyeliner is important- it should open the eyes, especially underneath. The slashes of white is something they used to do in the 70s- it brings a 3-dimensional feeling to the makeup."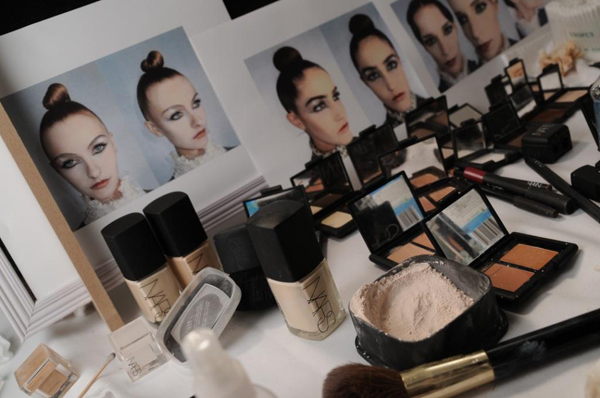 Below are some key products and steps for recreating the look:
The Show: Maria Grachvogel
Lead Artist: James Boehmer, NARS Cosmetics International Lead Makeup Artist
Trend: Bold Red Matte Lips and Strong Brows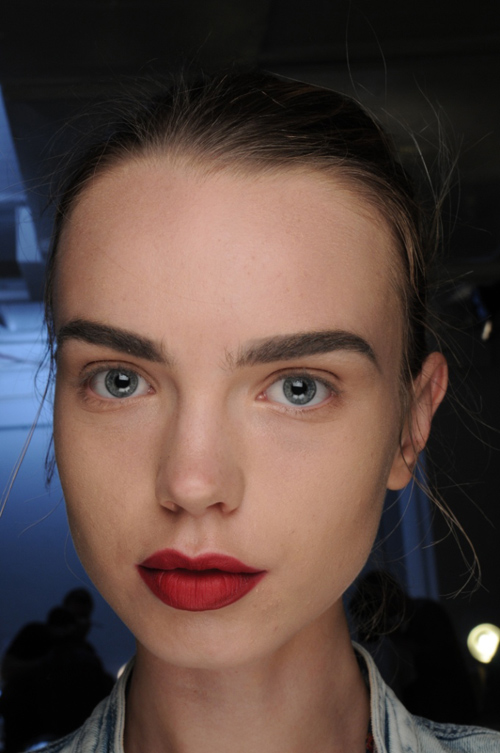 Inspiration: Maria Grachvogel used iconic references of Princess Margaret as photographed by Lord Snowden and Tippi Hedren in "Marnie" to convey the mood of her collection in a modern way- polished yet glamorous.
Look: The look is polished and strong- inspired by a glamorous and modern twist of Hitchcock's femme fatale. "This look is not about the glowing skin underneath- it's about the makeup- the brows need to be long and sketchy and the lips need to be rounded and bee-stung," said lead artist James Boehmer. A flat, matte lip paired with a strong brow was balanced by a bare eye. "The lip," James warns, "has to be really rich and vibrant- the focus is getting that rich lip otherwise the look can appear as if something is lacking."
Below are some key products and steps for recreating the look: