All Posts Tagged With: "Michelle Obama"
Michelle Obama's Dress. Talbots has earned its stripes once again as Michelle Obama sports the brand's Shoreline Striped Dress ($189.00) to host the Congressional Picnic on the South Lawn of The White House. This is the 14th time that The First Lady has worn Talbots…! The dress is available at select Talbots' stores nationwide.
Michelle Obama in Talbots see full dress here:
First Lady Michelle Obama wore a TOM FORD ruched, ivory, georgette evening gown with ribbon details to the State Dinner at Buckingham Palace in London, England on May 24, 2011.
First Lady Michelle Obama beat the summer heat in a Tracy Reese sundress when returning to the White House Sunday July 18th, 2010, after vacationing with the first family in Bar Harbour, Maine. The First Lady looked casual yet chic in the Tracy Reese Black Shadow Dots Draped Frock from the Spring 2010 collection.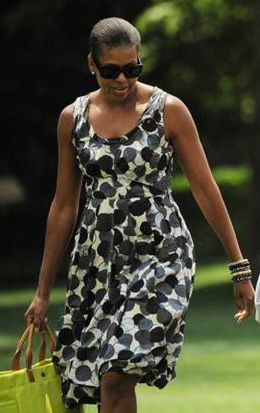 First Lady Michelle Obama in a Tracy Reese dress, so nice she wore it twice!
It's nice to know that even First Lady Michelle Obama repeats an outfit every now and then. First seen stepping off the plane at the Benito Juarez International Airport in Mexico on April 15th, 2010, the First Lady donned the Tracy Reese Shirred Frock in Indigo Placement Floral again yesterday, June 9th, 2010, while attending a picnic on the White House lawn.
The Tracy Reese Shirred Frock in Indigo Placement Floral dress as seen on Michelle Obama is available at: www.tracyreese.com
America's first lady Michelle Obama is absolutely beautiful and graceful, imo. Recently she got a new hair cut and I"m curious to hear if you love it or not.
I personally love medium to long hairstyles, maybe because I know what's works best for my face. I must say, however, Michelle Obama looks even more elegant with her new hair cut. Now, all we need to do is find out who's her hair stylist!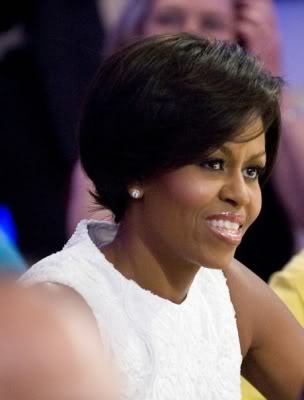 Image vis celebglitz.com
Michelle Obama, the First Lady, graces the cover of Vogue's March 2009 issue. For a second, I'm really enjoying living in our era seeing such elegance displayed by Michelle Obama. 
Michelle Obama's Vogue cover was photographed by the legendary photographer, Annie Leibovitz.
I love Michelle Obama's hair color, makeup, hairstyle, the dress, her smile. Beautiful cover!