All Posts Tagged With: "Milan Fashion Week"
After a busy New York Fashion Week, Redken Creative Consultant Guido is across the pond in Milan getting ready for a week of innovative styles, before heading to Paris to finish Fashion Month. Today Guido kicked off his week in Milan with the Alberta Ferretti show, and created a very 60s chignon with a boyish swoop over the eye and small pieces left out just in front of the ears.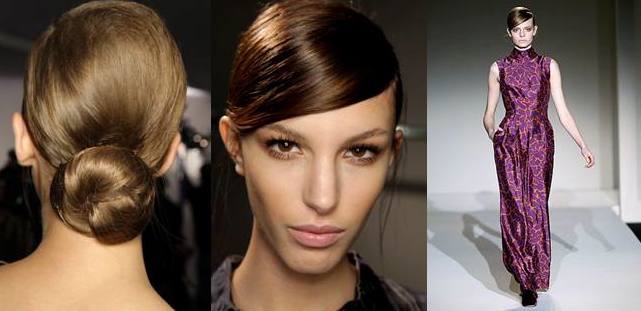 "Alberta has a very strong opinion about the woman she wants to send down the runway each season. This season we decided on a look that was simple 60s feel, yet stylized. Almost twiggy- like but with a boyish feel."
Redken Products & how to:
Milan Fashion Week. Show: Alberta Ferretti. Makeup by MAC Cosmetics.
The look and inspiration: "Its a monochromatic palette of beige, nude and gray Inspired by nakedness and nature, the girls are ethereal but not too fairy-like They've got an edge A 1950's/Jennifer Connelly inspired brow takes the focus." – LUCIA PIERONI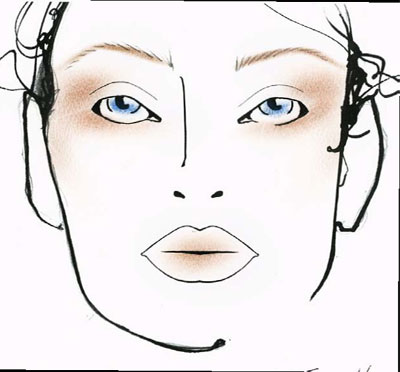 The makeup breakdown: Products are all by MAC.
Eyes:
CopperPlate eye shadow– blended along the outer corners of upper lids and from the middle of the lash line outwards on bottom – very faded
Eye Shadows in Copperplate and Typographic – brushed up and through the top line of the brow to elongate and exaggerate
No mascara, lashes curled
Milan Fashion Week. Show: dsquared2. Makeup by MAC.
The Look and inspiration: "Its the Helmut Newton strong woman circa 1982 She's tough and strong but beautifully feminine."-GORDON ESPINET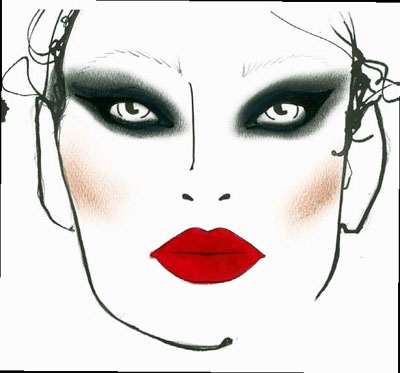 dsquared2 AW 2010 Makeup Face Chart by MAC Cosmetics
The makeup breakdown: Products are all by MAC.
Eyes:
Feline Kohl Power Eye Pencil – lining the inner rim and outer lash lines to create a dark focal point on the face
Carbon Eye Shadow – blended over Feline with brush 266, elongated in an outward, upward angle
Russian Blue Eye Shadow – blended into socket and over the Feline/Carbon line to create a softened, shadowed shape
Milan Fashion Week. Show: Gucci Fall 2010. Hair by John Frieda hair care professionals . The Look: Voluminous Hairstyle. Straight silky hair without comprising volume. Say goodbye to flat boring hair!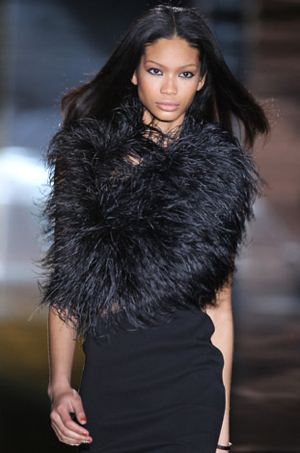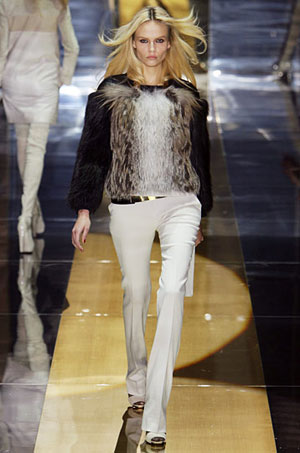 Get The Runway Look: To get this bouncy look, hairstylist Luigi Murenu worked John Frieda Luxurious Volume Mousse through damp hair, then blew it dry with a round brush. He then wrapped the hair in Velcro rollers ("Velcro rollers are back," he told us. "They give the hair that natural softness"), and then messed up each models' hair a little bit just before she hit the runway. Read Full Article in allure.com

Backstage Makeup at Dolce&Gabbana Winter 2011 during Milan Fashion Week.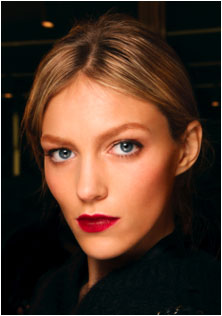 At the Dolce&Gabbana Winter 2011 Ready-to-Wear show in Milan, The Designers' showcased their Sicilian roots and fascination with "sartorialità" or tailoring, highlighting the jacket with keen focus on both perfection and sensuality. Dolce& Gabbana The Make Up added an aura of softness and seduction to each impeccable look, with washes of fresh, feminine color. On the runway, each model donned red lips and understated eyes created using Dolce&Gabbana The Make Up.
"This season, we took inspiration from our Sicilian heritage, and the art of traditional tailoring—sartorialità, " said Domenico Dolce. "The beauty look was all about modern feminine perfection, with impeccably pure, detailed touches, like the stained lip," added Stefano Gabbana.
Backstage at Milan Fashion Week with Eugene Souleiman, Global Creative Director, Wella Professionals creating the hair look for Blumarine A/W '10.
The Look: Glunge, a combination of Glamour and Grunge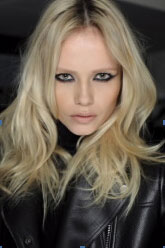 The AW '10 Blumarine show in Milan, "Street Deluxe," featured a contemporary, urban variety of casual luxe shapes with body conscious silhouettes and textured surfaces. This glamorous collection featured fringing which both concealed and revealed in a game of seduction. Sassy, super-tall models strode down the catwalk showing this eclectic collection to full effect.
Here are MAC Makeup Face Charts from Milan Fashion Week Spring 2010. Get a sneak peek to the makeup looks created backstage in Milan for fashion designers: Just Cavalli, Moschino Cheap & Chic, CNC Costume National, Alberta Ferretti, and Bluemarine.

Designer: Just Cavalli
MAC Lead artist: Maxine Leonard
Inspiration: "The look is Rock 'n' Roll to reflect the connection. The girls look a bit like they did their makeup themselves and had a great night out."-Maxine Leonard
Designer: Moschino Cheap & Chic
MAC Lead Artist: Sam Bryant
Inspiration: "The look is super pretty rosy pink girls on acid." – Sam Bryant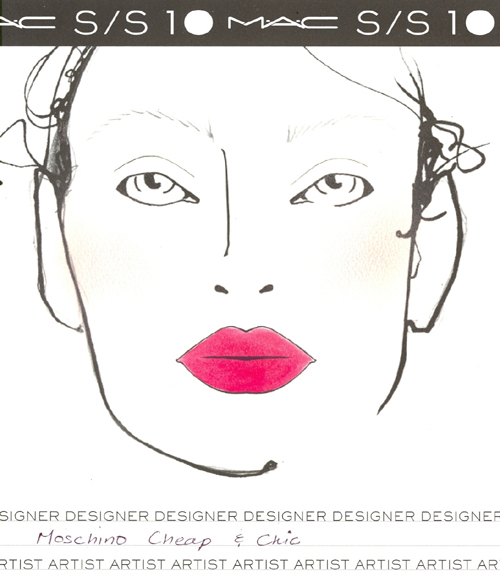 Domenico Dolce and Stefano Gabbana commissioned renowned makeup artist Pat McGrath to collaborate and consult on the development of the premier color collection Dolce&Gabbana The Make Up.
Pat McGrath will innaugurate the anticipated collection's U.S. debut at the Saks Fifth Avenue flagship location in New York City.
McGrath and her team of fashion week artists will conduct personal consultations with customers to illustrate beauty tips and application techniques focusing on the naturally enhancing and transformative elements of Dolce&Gabbana The Make Up, as first seen on the runway during Milan Fashion Week.
WHEN: Saturday May 16, 2009
One-on-one consultations by appointment only: 12:00 pm – 5:00 pm 
WHERE: Saks Fifth Avenue
12 East 49th Street at 5th Avenue
Dolce&Gabbana The Make Up Counter, First Floor
Contact: Customers may schedule an appointment by contacting: 212-940-4949
Waiting List Grows for Dolce & Gabbana Lipstick Fashion Week's Favorite Shade, Dahlia, Sells Out Before Debut at Saks Fifth Avenue.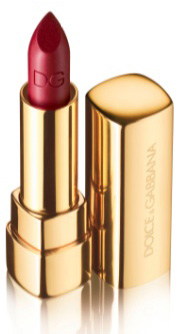 The debut of Dolce&Gabbana The Make Up during Milan Fashion Week has piqued the interest of fashion and beauty lovers prior to its U.S. arrival, and with this anticipation the collection's Classic Cream Lipstick in Dahlia has emerged as an instant favorite. The deep red shade premiered on Dolce&Gabbana's Fall/Winter 2010 runway and now Dahlia has garnered a wait list at Saks Fifth Avenue nearly a month prior to the official on-counter date of April 24.