All Posts Tagged With: "Milan"
Redken Creative Consultant Guido cut each models' bangs into a very extreme, short fringe that hit mid-forehead for the Fall 2012 Versace show in Milan yesterday, Feb 24, 2012.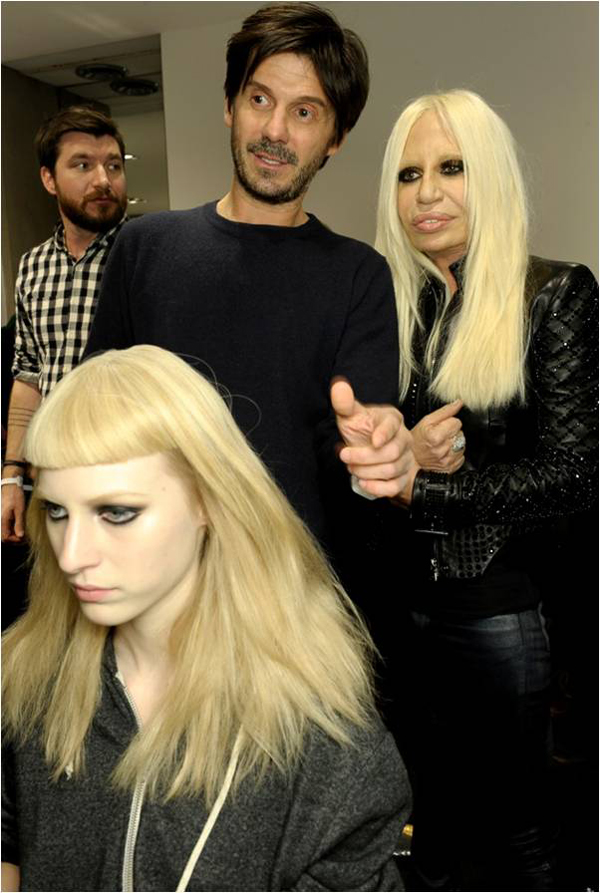 Guido and Donatella Versace backstage at Versace Fall 2012 Fashion Show in Milan
Versace Fall 2012
"The Versace girl is very rock 'n' roll, very cool and very Donatella. It's a very strong look that compliments the collection. It's a shaggy sort of texture which makes it a younger look, and a lot less blown out than we've seen in past seasons."–Guido, Redken Creative Consultant
Milan, 20th of June 2011. D&G MEN SUMMER 2012. I wish I was there:) My dream is to go to a Dolce & Gabbana fashion show in Milan, one day. Stefano Gabbana can you hear me? 🙂 xxx. Meanwhile here's a sneak peek:

D&G Men Summer 2012 Fashion Show
FOULARD-The whole collection is characterized by the use of foulards as the central element in the making of blazers, bomber-jackets, t-shirts, trousers, shorts and accessories. NEW PROPORTIONS-Both volume and fit get softer for a more relaxed style. FABRICS-Apart from foulards, denim, washed linen and touches of leather have been used. ACCESSORIES-Hand-stitched moccasins in foulard-printed suede. Raffia or foulard-printed hats. FINALE-Foulard-printed swimming trunks. SOUNTRACK-Kiss Sex Machine remix by Prince vs James Brown.
At Sunday's, February 27th, 2011, during Milan Fashion Week, Dolce & Gabbana show in Milan, Redken Creative Consultant Guido finished Milan Fashion Week by creating two separate looks – one feminine, a Sicilian-inspired loose twisted chignon and the other a bit more masculine, a French twist quiff.

Dolce & Gabbana Show Milan 2011 the hairstyle
"The looks at Dolce & Gabbana were a classic play on femme fatale, where women played with their masculine and feminine sides, it is very fun and liberating. The feminine look is how I would imagine a Sicilian woman to put her hair up for the day in a soft updo – very matronly and womanly."
Redken Products & how to hair tutorial
Continuing Milan Fashion Week, Redken Creative Consultant Guido created an effortlessly sophisticated low airy ponytail, nodding to the 60s, at the Gianfranco Ferre show. "This is an ultra flattering look on any woman in an almost sporty kind of way. When you tease and create height at the crown it throws the face forward."

Redken Products
satinwear 02 ultimate blow dry lotion
shine flash 02 glistening mist
Create the Look
Straight from Milan a sneak peek to Dolce&Gabbana Spring Summer 2011 ad campaign. One word: hot.
Milan Fashion Week SS 2011. Designer: Max Mara. Makeup by Tom Pecheux for MAC. The Makeup Look:  "It's nineties Helmut Lang, very minimal, monochromatic and about the contrast of matte satin skin against gloss to bring out the lips and eyes."-Tom Pecheux.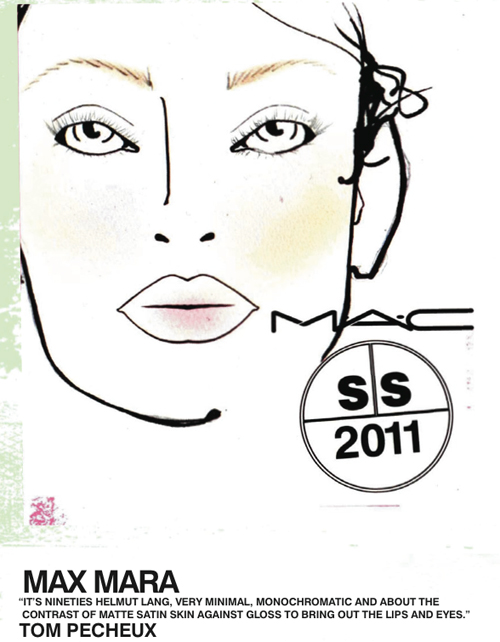 Max Mara MAC makeup face chart SS 2011
How-t0 using all MAC:
Milan Fashion Week SS 2011. Designer: Emilio Pucci. Makeup by Lisa Butler for MAC. The Makeup Look: "She's the chicest, richest hippy you've ever seen in your life! Fabulous, rich, expensive…think Jane Birkin in a palette of warm browns to give a south of France glow."-Lisa Butler.

Emilio Pucci MAC makeup face chart SS 2011
How to with all MAC products:
I wish I was in Milan right now to celebrate Dolce&Gabbana 20th Anniversary and watch their MEN SUMMER 2011 fashion show (one day). Until then we can always watch it on YouTube. Surprise performance by Annie Lennox. The collection, the show, and models all breathtaking! Bravo D&G. We love you:)
DOLCE&GABBANA MEN SUMMER 2011 FASHION SHOW part 1
SICILIAN SENSUALITY SUMMERTIME Extra light washed silk. Linen and raw hemp woven like baskets. TAILORING Shirts in poplin and washed muslin cotton. Extra light, washed and rubbed-down cotton. Sandblasted denim. Sweaters in jute or in interwoven jute and leather. Extra light silk sweaters. Open-work leather shoes or made with new techniques to hand-sew leather. Interwoven Sicilian style leather sandals. String or leather sandals like those worn by Sicilian fishermen. Interwoven leather bags that take inspiration from those used by the farmers in the South of Italy. Soft volumes and sensuality: everything is made in the most classic and traditional summertime tailoring TRADITION.
DOLCE&GABBANA MEN SUMMER 2011 FASHION SHOW part 2
WATCH: Your exclusive chance to take a peek at Dolce & Gabbana's forthcoming spring/summer 2011 menswear collection before its debut Saturday, June 19th, 2010, at the Metropol theatre, in Milan.

via: swide.com
On Friday, June 18th, 2010, Hollywood migrates to Milan for a day: Matthew McConaughey, the charismatic Texan actor whose name has repeatedly made the hottest men lists, will be at laRinascente Piazza Duomo, in Milan, at 7 p.m.
Matthew McConaughey is the face of the advertising campaign for Dolce&Gabbana's fragrance The One for Men, shot by Jean Baptiste Mondino: a combination of elegance, sensuality, and virility with an essence reflecting a mysterious soul – both classic and modern.