All Posts Tagged With: "Modelinia.com"
New York, New York (February 2011) – MODELINIA.com is launching the History of Models, an original concept television show that spans 80 years in the evolution of models. From the socialites who doubled as models to the faces that launched international brands, History of Models reflects and investigates how models represent the changing values of the general public.

See more videos on modelinia.com
The show will air on NYC life (channel 25), the flagship station of NYC Media, the official television network of the City of New York, on February 10 at 8:30pm EST and will encore on February 14 and February 17 at 8:30pm EST.
Modelinia.com scored an exclusive look at Lara Stone's latest editorial in the brand new September issue of W Magazine, which not only marks the always note-worthy fall fashion issue, but also Stefano Tonchi's first full issue.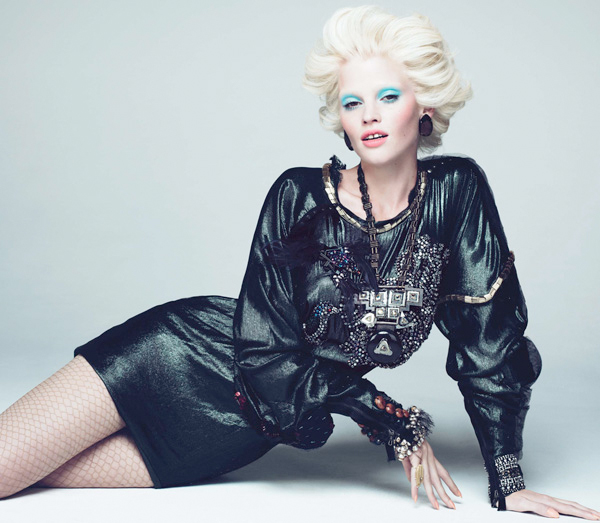 © Mert Alas and Marcus Piggott
Modelinia.com interviewed Heidi Klum on being Mother. Check out the exclusive baby photos and home videos from when Heidi was a baby! Find out what advice she has for new mom's that she learned from her own!

See more videos on modelinia.com
Modelinia.com goes behind the scenes and gets exclusive interviews with designers, Jason Wu and Christian Siriano as they chat with the world's first eco-model, Summer Rayne Oakes, about their participation in Aveda's clean water initiative at New York Fashion Week.

See more videos on modelinia.com
Decked in her Victoria's Secret undies, Lorraine Schwartz ring and a sequined mini-dress and minus one obvious partner (eh-hem, Ken), a 11.5 inch Heidi Klum Barbie headed to Mercedes-Benz Fashion Week to get a different viewpoint of the backstage happenings. Her 5 foot 9-and-a-half-inch counterpart was awaiting the birth of her fourth child, so Heidi Klum Barbie offered to make the trek to New York. From designers to old friends to gossip girls, Heidi Klum Barbie mingled with the best of them at Mercedes-Benz Spring 2010 Fashion Week:

Visit www.modelinia.com for more videos
• Heidi Klum Barbie congratulated fellow Project Runway judge Michael Kors on a great show
• She sat front row at the Ann Taylor Fashion Show with Amanda Bynes and Gretchen Mol
• She compared bling with Blake Lively at Marchesa
Watch this fantastic makeup tutorial on how to get Megan Fox inspired eyebrows with Johnny Lavoy from MODELINIA.COM: 

See more videos on modelinia.com
With fall approaching, Modelinia.com is here to give you tips on the hottest makeup trends. For the Fall 2009 season, it is all about bold eyebrows; playing up the shape and intensifying the natural brow color. Precision brows were seen on the runways of Derek Lam and Jason Wu and on celebrities like Megan Fox, Brooke Shields, and Jennifer Connelly.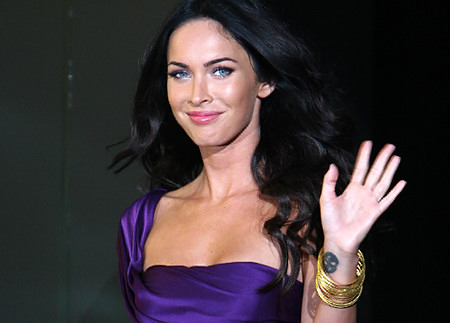 Johnny Lavoy, Maybelline's resident makeup experts and the host of Modelinia.com's series Get the Look, gives step by step instructions on how to get this bold, confident look that is sure to make a statement for Fall!
1. PREP: Prep your face with foundation and blush.
2. EYEBROW PENCIL: Take an eyebrow pencil and create little hair like strokes. Don't go too heavy!
3. BROW COMB: Blend in any heavy or harsh lines with a brow comb.
Thanks to modelinia.com we have this cute video of Heidi Klum interviewed by Canadian supermodel, Coco Rocha.
In this video Heidi Klum gives Coco Rocha tips on camera presence:
This past Monday, May 4th, 2009, Modelinia.com, Margherita Missoni, Arlenis Sosa, Brooklyn Decker, Hilary Rhoda, Joy Bryant and Rachel Roy hosted an ultra-exclusive VIP Party at 1OAK to benefit OrphanAid Africa.
Fashion icon Margherita Missoni hosted an ultra-exclusive VIP Party at 1OAK with Arlenis Sosa, Brooklyn Decker, Hilary Rhoda, Joy Bryant, Rachel Roy, and Modelinia.com to benefit OrphanAid Africa, a non-profit, non-governmental organization aimed to support orphans and vulnerable children in Ghana.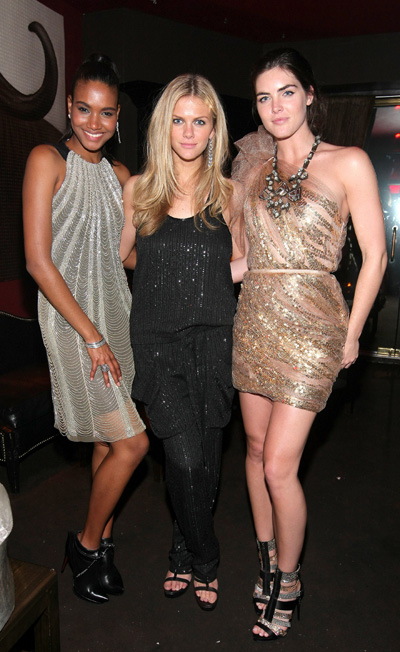 Arlenis Sosa, Brooklyn Decker, & Hilary Rhoda.
Valextra and Margherita Missoni collaborated to design and launch a personalized passport holder in support of OrphanAid Africa. The passport holder, a gift idea for travellers, will be launched internationally in May 2009 and available online at yoox.com and at select retail outlets with a portion of the revenues given to charity.