All Posts Tagged With: "Moisturizer"
Actress Ali Larter made her mark looking absolutely stunning at the Friends Without Borders Gala in Los Angeles. Ali was absolutely glowing in a creamy beige dress from Calvin Klein.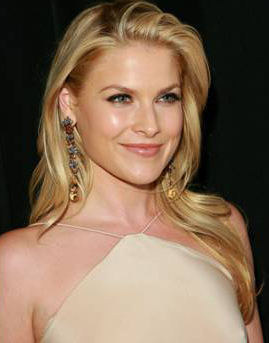 Here is how to get Ali Larter's red carpet makeup look thanks to mark Celebrity Makeup Artist Mai Quynh!
Eyes
"I used mark Keep It Going Longwear Eye Liner in Solid Gold (available Spring 2010) to rim the bottom of her eyes, and Jet Set to line her top eyelid. Next, I mixed mark I-mark Custom Pick Eyeshadows in Corset and Java and applied them on her lids using the mark All Over Eye Shadow Brush. I finished with mark Make It Big Mascara in Raven."
As the holiday season approaches, we prepare ourselves for Christmas and New Year's Eve celebrations. As seen backstage for Tamara Pogosian Holiday 2010 fashion show in NYC, it was all about colored cheeks or bold lips. Makeup Artist Stephanie Flor created the makeup look. It was fun and original, and perfect for any occasion.
Inspired by the movement of Twilight: New Moon, Stephanie muted the colors on the face to add a dramatic effect with an intense dark red lip and angel white eyes.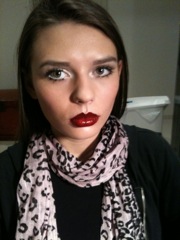 Using a rich white shadow (Cover Girl Golden Sunset) Stephanie covered the upper lid and blended it to the brow bone. The eyebrows were combed upward with clear gel. White liner (Covergirl starlightening white) was applied to the inner rim of the models eye's to add that special touch.
Wonder what Marta uses on her skin? Well, recently I've discovered Lierac Paris Crème Mesolift Anti-Aging Radiance Cream and Lierac Paris Diopticrème Age-Defense Cream eye cream. The face cream is super hydrating yet doesn't feel heavy or greasy. It smells really fresh, a bit citrusy. And the Lierac eye cream penetrates into my skin quickly and it doesn't leave white creamy residue under my eyes. Know what I'm talking about here? It's when my eye cream doesn't absorb into my skin fast it just sits over my skin, so when I sometimes forget to look I have funny white cream under my eyes. And, the good news Lierac Paris skincare products are available in CVS!!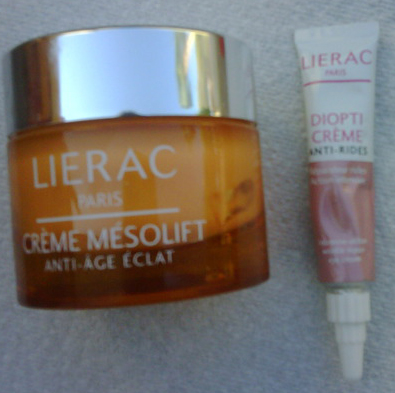 Company description: Lierac Paris Crème Mesolift Anti-Aging Radiance Cream was inspired By Facial Mesotherapy, a technique developed in 1952 by French Doctor Michel Pistor involves injecting nutrients directly into the skin activating collagen production and lymphatic drainage. Backed by validated scientific research that confirms the impact of nutritional elements on skin metabolism, mesotherapy can deliver an undeniable benefit in facial rejuvenation through a technique called Mesolift. The laboratories at Lierac Paris have taken this technique and adapted it to a highly penetrating topical daily moisturizer called Crème Mésolift that's non-invasive and with effective results.
Red carpet beauty scoop: get the look of Christina Applegate at the 2009 Emmy awards. Christina 's look was created by Makeup Artist: Joanna Schlip for Clarins.
The Makeup Look: Joanna was inspired by Christina's dramatic, sweeping gown by Basil Soda when creating her makeup look. The vintage glamour of the navy stunner called for simple makeup that still made a statement. With her hair pulled back in a chic chignon, Joanna was able to play up Christina's eyes with a sexy retro smolder, while keeping her skin fresh and lips softly pink. Like the dress, Christina's makeup exuded a Brigitte Bardot 60's cool, with a modern twist.

Emmy nominee Christina Applegate, nominated for Lead Actress in a Comedy Series for "Samantha Who" at the 61st Primetime Emmy Awards. Nokia Theatre, Los Angeles CA, September 20, 2009. Photo Credit: Mathew Imaging/WireImage.com
Skincare: To create a radiant glow, Joanna prepped Christina's skin with three steps: First she cleansed with Clarins Water Comfort One Step Cleanser. She then applied Clarins Multi-Active Day moisturizer, followed with Clarins Beauty Flash Balm for smooth, hydrated, radiant skin.
Last summer I had am amazing phone conversation with Khloe Kardashian. The interview was for Talking Makeup's celebrity beauty section: www.beautyinterviews.com
Khloe Kardashian and I chatted about her experience on her role on the show "Keeping Up with the Kardashians," and she even shared with me some of her best kept beauty secrets!
I would like to share with you my interview with Khloe Kardashian, just in case you've missed it last time.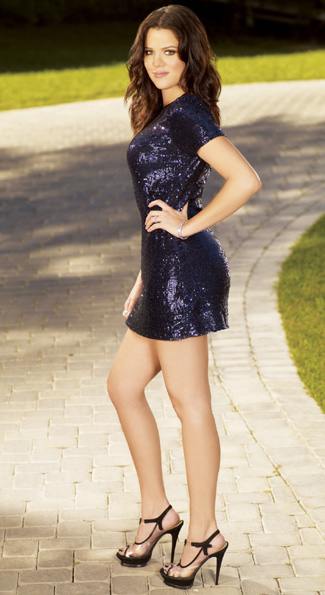 Khloe Kardashian is the youngest of the three sisters, Kim Kardashian and Kourtney Kardashian, who co-owns DASH, a high-end women's boutique, and SMOOCH, a children's clothing store in Calabasas, California. You might also know Khloe from her role on the show "Keeping Up with the Kardashians," which has quickly become an E! Entertainment fan favorite. In this interview Khloe talks about some of her beauty secrets: from her signature smokey eyes look to the lip gloss her and Kim Kardashian are obsessed about, her favorite city in the world, and future career plans.
Marta Walsh: How do you I keep your hair so beautiful?
Khloe Kardashian: I love Kerastase and all of their products. Once a week I use a deep conditioner on my hair by Kerastase because I get my hair done so much. I have naturally curly hair and I always blow it out.
MW: What are some of your favorite skincare products?
KK: I love Crème De La Mer. It's a really thick moisturizer and it's also good for your skin and body. And for soft moisturized lips I use The Lip Balm by La Mer also.
MW: Who came up with your signature smoky eyes look and what products do you use to achieve it?
KK: I don't really know when we came up with the smoky eyes look, but we were doing the smoky eyes forever. What we like to do a lot is to fill underneath the eye with a green or purple eyeliner, something fun so it's not so harsh. You can do smoky eyes with color, you don't always have to use black. We use MAC eye shadows, because they blend so well. I also like using navy eye liner so it's not so harsh as black. And it lasts forever. It's fun to do smoky eyes, it always looks so sexy. In daytime you can use a brown and make it darker with a charcoal or a black, and it keeps all day
Amp up products' effectiveness by applying serums, creams and treatments in the right order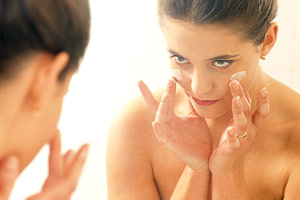 Do antioxidant serums go before acne treatments? Eye cream before moisturizer? Does it matter? Read up to see what experts had to say about your morning and evening regimens.