All Posts Tagged With: "Moroccanoil Treatment"
Moroccanoil Treatment wins Stylist Choice Award for "Favorite Product You Can't Live Without." Fifth Consecutive Win.
Wins Stylist Choice Award
Moroccanoil, the originator and leader in luxury, professional argan oil-infused products for hair has once again won the coveted Stylist Choice Award in the influential "Favorite Product You Can't Live Without" category. This is the fifth annual win for the breakthrough Moroccanoil® Treatment formulation that created a new oil treatment category for hair within the beauty industry.
Moroccanoil Treatment Wins Stylist Choice Awards
The vote is in– and Moroccanoil has won!
Stylists from across North America have made their voices heard – and voted Moroccanoil Treatment the winner of 2009 Stylist Choice Awards in two leading categories: "Favorite
Prestige Styling Product," as well as "Favorite Product You Can't Live Without."
Katy Perry's hair looked edgy-elegant and movie star fabulous for the Grammys last night. Mix-up a cool blend of Marilyn Monroe from "How to Marry A Millionaire" and a touch of Elizabeth Taylor and they were Katy Perry for the night.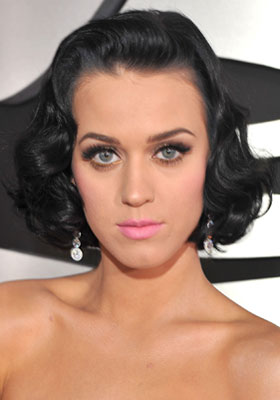 Award-winning celebrity stylist Enzo Angileri styled the glam-noir look. Enzo's favorite black and white Italian films and thoughts of La Dolce Vita were all part of the inspiration. Angileri styles the hair of the world's most beautiful women including Charlize Theron, Jennifer Lopez, Nicole Kidman, Faith Hill and Demi Moore, and has won numerous awards for his film work.
"Katy's black hair looks fantastic on her," says Angileri, "and the dress she wore was pure glamour. This look shows off her beautiful face and features, and emphasizes high-energy shine and the silky texture of her
hair."
For this season's Golden Globes, celebrity stylist Robert Vetica created two of the most glamorous looks on the red carpet: Salma Hayek.
Salma Hayek's Sleek and Sexy Style: To create Salma Hayek's sexy and slicked-back style, Vetica started with wet hair. "I worked Moroccanoil(tm) Treatment through to detangle and smooth out split ends and then dried the hair straight using Moroccanoil Hydrating Styling Cream to give added shine and smoothness," he explains.
Salma Hayek wore a Boucheron $250,000 diamond hair wrap which was specially made for her, and the key was to keep the hair looking sleek.
How to get Salma Hayek's hairstyle: Vetica pulled the hair back into two ponytails, the first one from ear to
crown to opposite ear and pulled it back low at the nape of the neck.