All Posts Tagged With: "Napoleon Perdis"
From her love of diamonds and the men who gave them to her, to the classic roles that she immortalized on the silver screen, the glamorous Elizabeth Taylor was known for many things. In homage to the violet eyed Hollywood icon, Napoleon Perdis reflects upon the lasting legend of this timeless beauty and offers a way to celebrate her glamorous looks.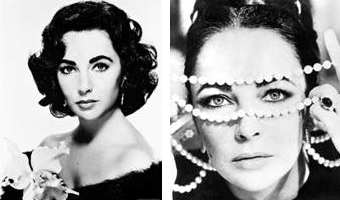 Elizabeth Taylor
"I was deeply saddened by the news of Elizabeth Taylor's passing. The legendary icon has always been a personal idol of mine. Her style epitomized that Old Hollywood glamour, and she's been the driving influence behind many of my campaigns and collections. Her arresting violet eyes, signature alluring red lips and strong brows captivated the world. She always knew the power of a sultry winged eye liner!"
New York Fashion Week Report. Fashionistas gathered at New York City's Soho Grand, February 9th, 2011, to view a selective runway presentation showcasing the What Goes Around Comes Around collection for Fall 2011. The collection, with its obvious bohemian influence, channeled a "gypsy jetter." Using his Auto Pilot Pre Foundation Primer ($39 at NapoleonPerdis.com) to perfect model's faces, Napoleon Perdis added a smoky eye to create makeup looks inspired by the sixties with a timeless twist. Marta Walsh has the sneak peek photos.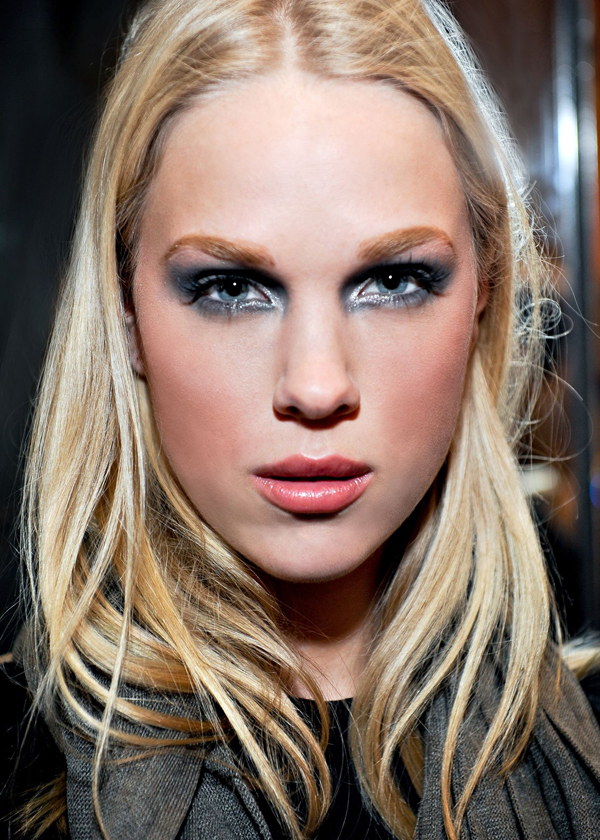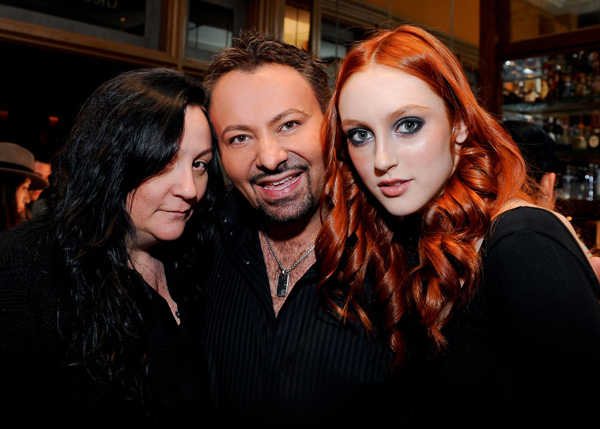 L to R: Kelly Cutrone, Napoleon Perdis, and Model
Hair & Makeup: Get the look from the gorgeous Lela Rose 2011 Resort Presentation with Beauty.com. Michael Shaun Corby for Alterna (hair) and Napoleon Perdis (makeup) helped beautify the presentation with a coral lip, peachy/nude eyes and a casual faux bob.
Hair Care products used at Lela Rose 2011 Resort Presentation:
Alterna Caviar Anti-Aging Rapid Repair Spray
Alterna Caviar Anti-Aging Working Hair Spray
Alterna Caviar Anti-Aging Dry Shampoo
Spring Makeup: This spring gather your friends and your crush together for an afternoon of fun! Re-live your favorite childhood memories of playing games such as Simon says, Red Light/Green Light, Hide and Seek and TV Tag. This spring, Napoleon Perdis challenges you to a game of Napoleon Says on how to wear the latest pastel colors this spring and look fabulous!
To achieve a beautiful golden face, Napoleon says: Using a basic skin care regime on a daily basis will help eliminate dry and dead skin cells that can make the skin look dull. Next, apply a primer like my Auto Pilot Pre-Foundation Primer. Not only does primer keep your makeup looking smoother and lasting longer, but many of ingredients promote skin hydration and will keep your skin looking fresh and radiant. Iridescent creams and liquids are the perfect tool to promote skin luminosity.
Sneak Peek: Watch behind the scenes video clips from Napoleon Perdis' latest photo shoot.

Napoleon Perdis Behind the Scenes is featured in www.misslush.com
Napoleon Perdis Blush Patrol is a new 2-in-1 Blush and Bronze Powder created by Napoleon Perdis, Australia's leading makeup artist.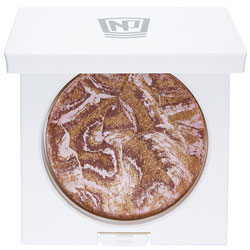 Napoleon Perdis Blush Patrol is made of a baked and pressed powder and can be used both wet and dry. One of the main ingredients include antioxidant Vitamin E.  Cost: $50. 
   
Napoleon Perdis Love Bite Lip Plump is a pain-free way to plump your lips. 
Napoleon Perdis Love Bite Lip Plump contains capsicum pepper and cinnamon to stimulate and swell up lips, soothing menthol and hydrating jojoba. Cost: $22.
Try Napoleon Perdis Mosaic Powder And Puff it is absolutely gorgeous.  Napoleon Perdis is Australia's leading makeup artists.  Napoleon Perdis makeup line was established in Sydney in 1993.  Napoleon Perdis brings runway makeup available to all of us while keeping it true to yourself and natural.  Today his makeup line is one of Australia's leading names in color cosmetics.  According to Napoleon Perdis slogan:  "Makeup Is Self-Expression".
Napoleon Perdis Mosaic Powder And Puff  comes in three shades: Bronzing, Blushing and Gleamer. This powder is also rumoured to be Teri Hutcher's favorite.  Pat on nose, cheeks and forehead to get the sun kissed look or pat anywhere you dare to bare. Want more… go back for seconds. Alternatively use Napoleon Perdis Bronzing Brush, $35, for best results.  Don't rub puff everywhere, it gives a dirty look. Pat and add as you wish.  Cost:  $35.