All Posts Tagged With: "Neiman Marcus Scottsdale"
Last night TM and Marta Walsh were invited to attend the Neiman Marcus Scottsdale Fashion Square Arizona celebration of Fall and Back To School. Also was the highlight the CUSP boutique which is Neiman Marcus' contemporary designer store.
If you're into fashion and into dressing well, and even if you're on the budget, it's worth taking a visit just to learn about all the great designs and hot fashion trends straight from the runways of New York City. CUSP knows what's hot right now, ha!
Last week I was invited to meet with Kate Somerville the skincare mogul and Hollywood'd best kept secret at the Neiman Marcus Scottsdale in Fashion Square Mall. I must say Kate is such a sweetheart and very cool in real life. I also got to interview her and you can watch it in this video:
In this interview Kate Somerville talks about the beginnings of Kate Somerville skincare line and the very famous boutique in Melrose Place, CA. Gives advice to all the entrepreneurs out there (it might be you?:). Introduces the new product additions to Kate Somerville skincare line, such as…
Yesterday I had breakfast with Neiman Marcus at the Fashion Square Mall in Scottsdale Arizona. To me, the Neiman Marcus department store is associated with the best of the best when it comes to fashion and beauty. During breakfast I got a sneak peek to the hottest beauty and fashion brands that are available at Neiman Marcus Scottsdale. While all this fun my picture was snapped for Arizona Foothills Magazine together with Katherine Thornhill of sparklefarklediary.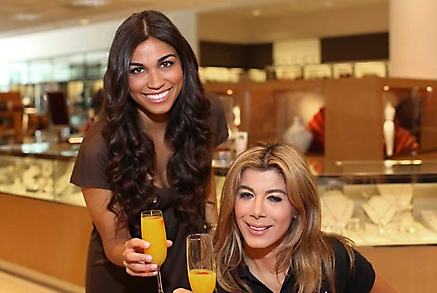 Breakfast with Neiman Marcus Scottsdale, L to R: Katherine Thornhill of sparklefarklediary and Marta Walsh North Scottsdale REALTOR & Founder of TM aka TalkingMakeup.com
Some of my all time favorite beauty brand and products were mentioned during my breakfast with Neiman Marcus, such as: Estee Lauder Advanced Night Repair, Kate Somertville ExfoliKate, Natura Bisse Diamond Cream, cle de peau most-wanted concealer & their gentle balancing lotion,  the super luxurious Beauty by Clinica Ivo Pitanguy Eye Contour Lifting gel…