All Posts Tagged With: "Nicolas Degennes"
Givenchy's Artistic Director, Nicolas Degennes, imagined a "Romantique" mood when he created the makeup collection for Autumn 2009.
The dominant theme is vivid pink, a translucent, shimmery version that elevates the girly tone to an utterly chic and decidedly elegant effect, contrasted with shades of grey, beige and gold. A fresh, natural complexion recieves a texure contrast with uber-glossy lips and shimmery eyes. This dichotomy is also reflected in the striking packaging. Classic black cases are accented with the collection's signature pink tone and metallic silver touches. The final result is simintounsly modern and timeless.

I'm so excited to share with you my interview with Nicolas Degennes, Givenchy's Le Makeup Artistic Director for Beauty Interviews. Here it is:
Nicolas Degennes is Givenchy's Le Makeup Artistic Director. Nicolas is the brilliant mind behind Givenchy Spring 2009 Maharani Makeup Collection and of Givenchy's many other beautiful makeup. I met Nicolas at a Givenchy breakfast in New York City and was absolutely mesmerized with his speech. Nicolas made me fall in love with Givenchy, makeup, beauty, and being a woman. I had to share my life changing experience meeting Nicolas with you.

Nicolas Degennes.
In this interview Nicolas Degennes takes us back to Paris at age 16 where the love for art and beauty began for him, his philosophy about makeup, memorable celebrity collaborations such as with Monica Bellucci, Kristin Scott Thomas and Liv Taylor. Some of the must-have Givenchy products in every woman's makeup bag, and where he finds his biggest inspirations in life.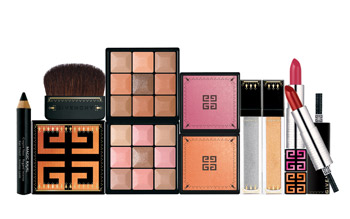 Givenchy Spring 2009 Maharani Makeup Collection.
Marta Walsh: When did your fascination with beauty begin?
Nicolas Degennes: My passion with makeup and the arts began when I was a child. I left Paris at the tender age of 16 to follow my dream to study the arts, music, theater and photography. While exploring my fascination with arts in a fresh and inspiring environment, I befriended a great makeup artist in New York who introduced me to the world of makeup. Beauty and makeup became my newfound passion, and I have been working in this field ever since.
Watch Marta's video blog for today presenting the new Givenchy Spring 2009 Makeup Collection also knows as: Givenchy Maharani Spring 2009 Makeup Collection.
Givenchy Maharani Spring 2009 Makeup Collection was created by Nicolas Degennes, Givenchy's Le Makeup Artistic Director.
Products:
Givenchy Prismissime – 22 Maharani Apricots.
Givenchy Magic Kajal Eye Pencil.
Givenchy Sari Glow Iridescent Blush in 44 Maharani Orange.
Givenchy Pop Gloss Crystal in Rose By Night (Givenchy Holiday 2008 Collection).
Givenchy Rouge Interdit Satin Lipstick in 40 Maharani Rose.
Givenchy Precious Sari Glittering Eyeshadow in Maharani Silver & in Maharani Gold.
On my recent trip to New York City, I had breakfast with Givenchy! Yes, Givenchy, sounds a bit like 'breakfast at Tiffany's' right? Needless to say, that day changed my life. I know, I'm a bit over dramatic, but it's true. If you had the opportunity to meet and hear Givenchy's Le Makeup Artistic Director Nicolas Degennes I'm sure you too would  fall in love…with Givenchy, with makeup, beauty, and being a woman.
Nicolas Degennes presented us with Givenchy's Spring 2009 Makeup Collection or the Maharani Spring 2009 Collection and walked with us through his inspiration journey when creating this beautiful collection. Which in case was India.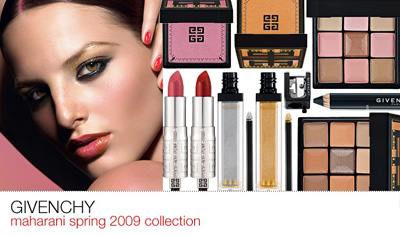 Nicolas' philosophy about makeup and beauty is all about freedom. The freedom to express yourself with makeup and be what you want to be, and the freedom to play with makeup. He told us many times at the meeting to please touch the makeup, feel it, don't be afraid to play with it and make it your own!
I'm wearing Givenchy today: Prismissime – 22 Maharani Apricots. Shade #5 from left to right on my eye lid and a bit on my crease, and shade #1 from left on my brow-bone and inner corner.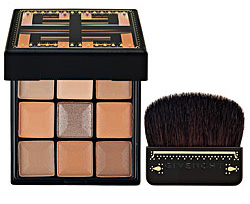 I've lined eye lids with one of the best eye pencils I've ever tried, Magic Kajal Eye Pencil! It is rich in pigment, glides on easily on skin, and lasts all day. Really, you have to try this! Nicholas Degennes told us at the meeting that in India both men and women wear an eye liner such as the Magic Kajal Eye Pencil to protect them from the sun!
 Talking Makeup is excited to give you a sneak peek to the new Givenchy Holiday 2008 Collection.
Nicolas Degennes has captured the brilliance of a starlit night in his sweet sexy and dazzling Holiday 2008 Makeup Collection, designed for women who like to get all dressed up for a sophisticated evening.
The collection offers a porcelain complexion sculpted by touches of glowing light; silky, sensual, shimmering skin; shades of fresh pink and provocative purple; and intense, bewitching black eyes.
Even the customized boxes and cases sparkle, with golden graphics on a lilac-colored metallic background. This variation on purple evokes the intensity of the night, creating real fireworks!
Prisme Again! Blush Glow
Liven up dull skin with a pop of vivid color on the cheeks. Each shimmering color cube, in shades of pink and coral, are enhanced with white and pink shimmer particles to create a rosy glow. Shades: 71 Glowing Rose (Limited Edition) Price: $40.