All Posts Tagged With: "Nylon Magazine"
NYLON Magazine's former cover girls, including Paris Hilton, Mischa Barton and Lindsay Lohan joined Editor-in-Chief Marvin Jarrett and Publisher Jaclynn Jarrett to celebrate the magazine's 11th Anniversary issue featuring cover girl Zoe Saldana at LA hot spot Trousdale. Celebs were spotted loving their drugstore favorite and lash-enhacing, volume-boosting beauty must-have, the CoverGirl Lash Blast mascara ($7.50 at drugstores nationwide), in their gift bags and at the beauty suite.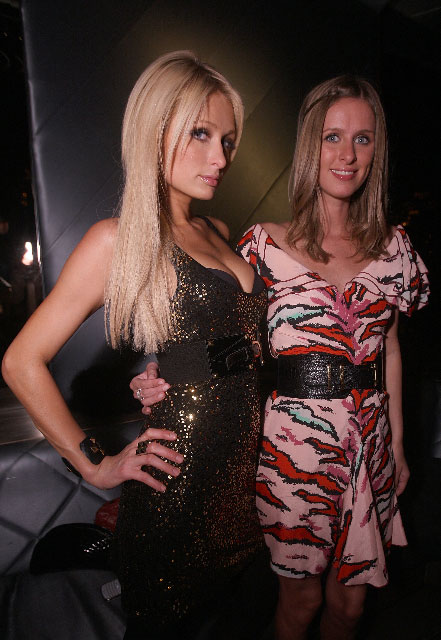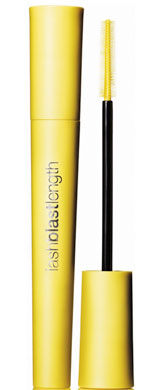 See who else spotted at the NYLON's Magazine 11th Anniversary issue party!
When I think about Rock Stars all I see is amazing parties and lots of fun. But have you  ever wondered what it's like to be a rock star's daughter? America's version is Nicole Richie and Britain's versions are the following beauties. Which of Britain's It Rock Star Daughters is your favorite?
Peaches Geldof is the daughter of British rock star Bob Geldof and British television presenter and writer Paula Yates. Peaches seems to get tons of press in the UK for being a party girl. However, Peaches is not just all about good times. She writes a column for Nylon Magazine. In 2009 Peaches was signed to a six-figure modeling deal to become the face of the Miss Ultimo collection. She is also a DJ and a TV reporter. Peaches reminds me a lot of her mother who has passed away in 2000 with her beauty, charm, and journalism talent. You can even follow Peaches Geldof on Twitter.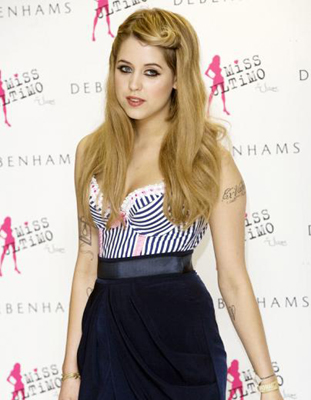 I love Nylon Magazine! Did you know that British rock star Bob Geldof's daughter Peaches Geldof writes for Nylon Magazine? Nylon's covers are so rock and roll and Taylor Momsen's spread in Nylon Magazine Japan 2009 is no exception. Taylor's makeup (see images below) was done by Beau Nelson using Beaute Cosmetics makeup products.
Taylor Momsen wearing "Sex" Lip and Cheek Stain coming out in Spring 2010 and named by Taylor herself.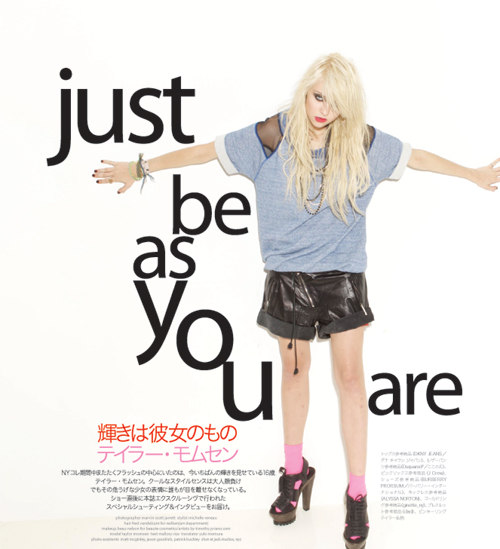 Tracey Cunningham, Redken Creative Consultant for Color, colors Lindsay Lohan for the April 2009 issue of Nylon Magazine. 
To achieve Lindsay's cover look, Tracey Cunningham customized a formula using Redken Shades EQ Equalizing Conditioning Color Gloss 09AA Papaya, 08C Cayenne and 09G Vanilla Crème.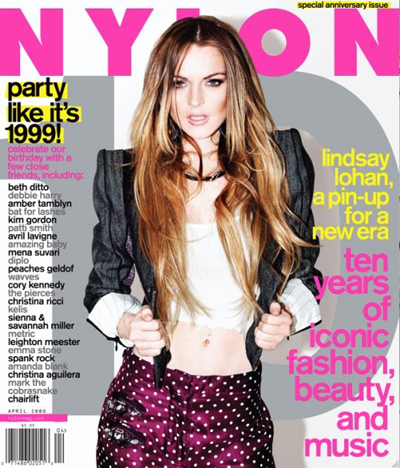 REDKEN SHADES EQ is the #1 long-lasting, no-lift, non-ammonia, demi-permanent haircolor in the U.S., and has won BehindTheChair.com's Stylist Choice Award for the past seven years. It is one of the most versatile haircolor brands colorists can use – it provides healthy, shiny results, incredible conditioning with an amazing number of mixing possibilities. Shades EQ is used as a glaze, color refresher, and also color correction.
If you have a question for Tracey, visit her Expert page and your question could be selected as Tracey's Question of the Month! – www.redken.com/whats-hot/ask-the-experts/tracey-cunningham
Lindsay Lohan the wild child we love to follow is featured in Nylon Magazine's latest April 2009 edition, looking pretty as usual. Lindsay is blessed with an incredible talent and beautiful looks and the camera loves her!
What do you think: Does Lindsay Lohan look too skinny in these photos or it's just photoshopped? And which one of her outfits do you see yourself wearing?
Lindsay Lohan is gracing the cover on Nylon Magazine April 2009, and here are the photos: