All Posts Tagged With: "Paris Fashion Week"
Paris Fashion Week SS 2011. Designer: Balmain. The look at Balmain is really my style I want every outfit please:) via: style.com
Paris Fashion Week SS 2011. Designer: Nina Ricci. Hair by Guido for Redken. The Hairstyle: In order to complement the soft Spring/Summer collection at Nina Ricci, Guido, Redken Creative Consultant, created a low, loose knot at the nape of the neck that nods to both the Edwardian and 1970s eras – for a look that is feminine, wearable, and effortless.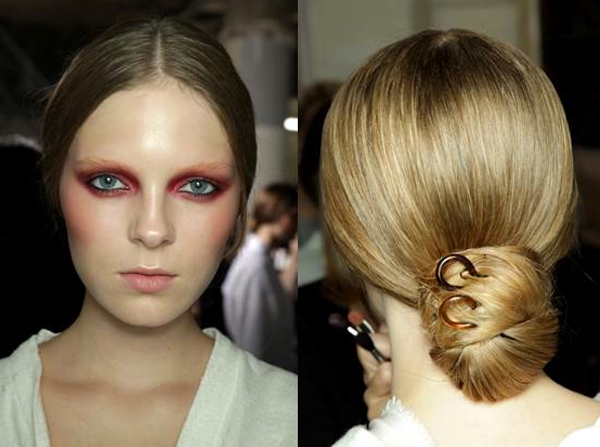 *Photos by Matt Lever for Redken
"The clothes at Nina Ricci are always very feminine so we wanted to create a soft look, something that is very wearable for a woman and that she can create on her own. " –Guido, Redken Creative Consultant
Redken products & how-to:
Paris Fashion Week. Show: Emmanuel Ungaro Fall Winter 2010. Makeup by MAC Cosmetics.
The Makeup Look and Inspiration: "She is a young French girl going out at night. As natural as an evening look can be."-Carole Lasnier
Emmanuel Ungaro Paris Fall/Winter 2010 MAC Makeup Chart
The makeup breakdown. Products are all by MAC.
Eyes
Face and Body foundation in White as a base to the lids to highlight the eye
Porcelain Set Powder to highlight the inner corner of the eye
Eye Shadow in Kid on the outer corner of the eye and blended outwards
Studio Fix Mascara in Black on top lashes only
Brow Set Clear combed through the brows
Paris Fashion Week: Rounding out Fashion Week Fall/Winter 2010, Guido, Redken Creative Consultant is backstage in Paris creating hairstyles that are both eye catching and inspirational. Find out about the inspiration and products used today in Paris at the Balenciaga and Nina Ricci shows to complement the designers' Fall/Winter 2010 collections!
BALENCIAGA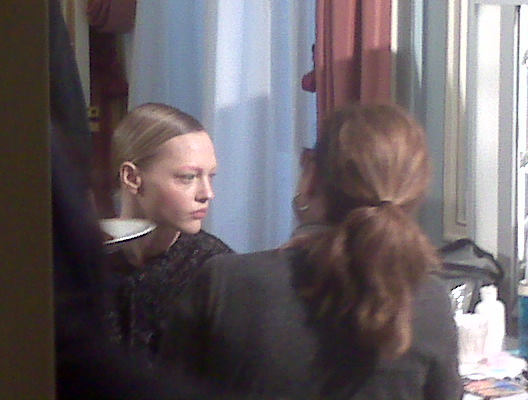 Wanting to the look to appear slightly futuristic, Guido created a sophisticated look at Balenciaga to compliment, not compete with the clothes. "Balenciaga design house is very forward thinking and great to work with, which allows me to create a vision for the hair that compliments the clothing." – Guido, Redken Creative Consultant
Products: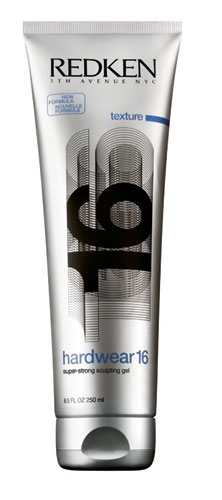 It goes like this: Christmas and the New Year and then it's an Awards and Fashion Week season. Talking Makeup is ready for New York Fashion Week this February, but meanwhile we have Paris. Here's Dita Von Teese all in black leather at the Christian Dior runway show as part of Paris Fashion Week Haute Couture Spring/Summer 2010. I don't really get Dita's "shtick" ("Talent" or "Act" in Yiddish) nevertheless she always manges to look beautiful. I love the leather outfit, very different. Do YOU?
New York Fashion Week seems just yesterday, but things move fast in the fashion world. In less than a month London, Milan, and now Paris fashion weeks been happening.
Talking Makeup would like share with you some of the makeup looks created by MAC Cosmetics backstage during Paris Fashion Week Spring/Summer 2010. A little inspiration anyone?
Designer: Rick Owens
MAC Lead Artist: Inge Grognard
Inspiration: "The look is inspired by Irving Penn and Avedon but in a Rick Owens way. Weird but beautiful." – Inge Grognard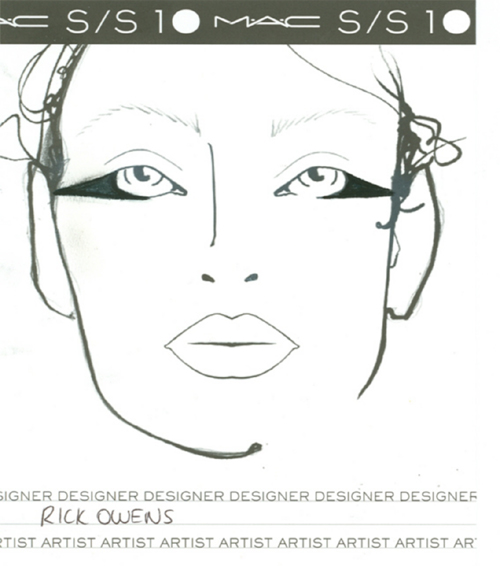 Designer: Balmain
MAC Lead Artist: Tom Pecheux
Inspiration:  "The look is fresh and natural, working each element of the face ."-Tom Pecheux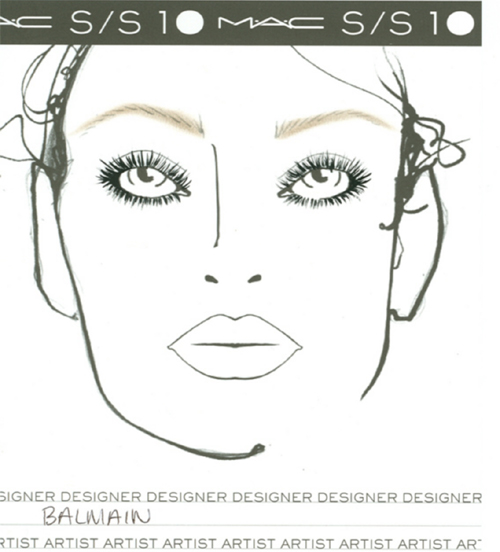 I haven't seen Ungaro's Spring 2010 collection which was debuted during Paris Fashion Week this weekend, but I must admit, I'm very curious. Lindsay Lohan was recently appointed to be Ungaro's Creative Director and this was Lindsay's first presentation. Lindsay collaborated with Spanish designer Estrella Archs for this show.
What do you think guys, would Lindsay Lohan make a brilliant fashion designer or she should just stick to acting?
Rihanna was seen out for the Dior show in Paris few days ago dressed up in black in a very dramatic, some might even say an OTT outfit. I actually love Rihanna's dress and would wear it myself. Hey, you are learning more about the Marta! I just love black, and I'm 5'2, so short dresses and skirts are my best friends. I also love fashion shows especially when they take place in the city of lights!  YES, I even would wear the hat.
This is a bit off topic, what is this rumor I hear Rihanna is now dating Justin Timberlake? WHAT!?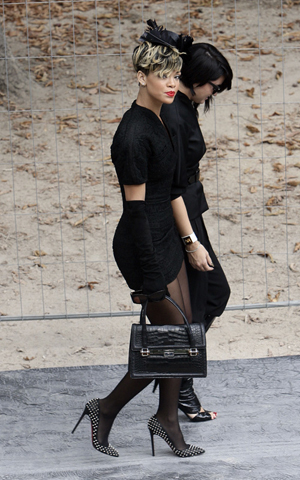 Megan Fox was caught without makeup!
Tell us what you think: Megan Fox is foxy without makeup or just mousy?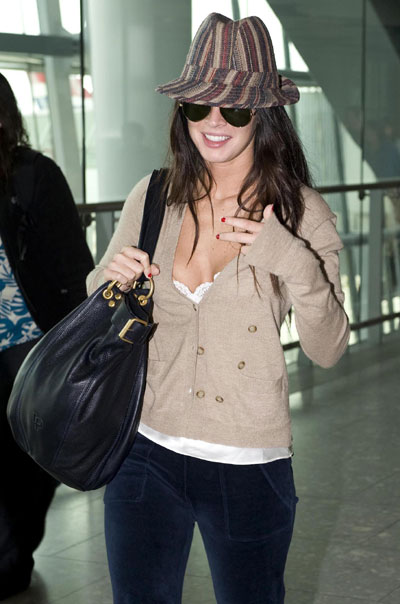 Here is Megan Fox all done up with hair & makeup as she arrives the Giorgio Armani Prive Fashion show as part of Paris Fashion Week this week.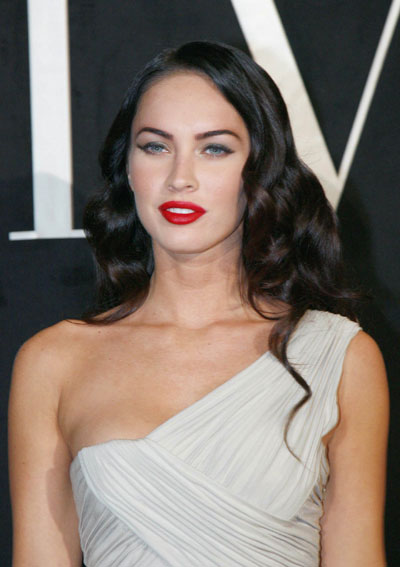 Celebrity images via: www.hollywoodtuna.com
Megan Fox arrives the Giorgio Armani Prive Fashion show as part of Paris Fashion Week in red lips and old Hollywood waves, Veronica Lake style.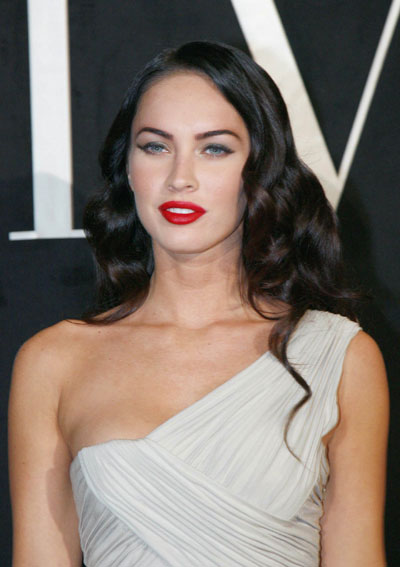 To get red lips like Megan Fox try:
For a red pout that lasts all night, plumped, and super glamourous go for The Infallible Never Fail Plumping Lip Gloss in Plumped Red by L'Oreal Paris

Also try, Lancôme Color Design Lipstick in Candy Apple ($22)