All Posts Tagged With: "Pop Beauty"
POP Beauty Takes a Bite into the Big Screen!
With the inspirational Audrey Hepburn in mind, POP Beauty Makeup Artist Victoria Rowe created a delicate twist to Ashley Green's mysterious character. Armed with POP Beauty products, a vintage dress and a gorgeous day, they created magic through the photographer's lens, and channelled the legend.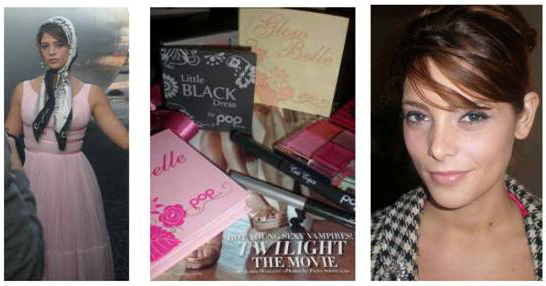 The POP Beauty products used include:
Rose Belle Blush, the sheer pink glow of Glow Belle, Cat Eyes in Onyx and In-Liner in Black for the infamous Audrey Hepburn eyes, the light nude and lighter shades from Little Black Dress, the taupe brown shades from Little Brown Dress, Magnet Eye Primer, and a combination from Kiss Mix in Berry.
Pop Beauty is available at sephora.com and ULTA.com!
Meet Sara Strand the founder of Pop Beauty makeup line. In this interview Sara Strand talks to Marta Walsh about what drove her to create Pop Beauty, Eyecakes- the first product she conceptualized and developed as part of Pop Beauty, how Pop Beauty is perfect for anybody who is ready to experiment and move a little bit out of their comfort zone, her talent for singing, and her very exciting move to sunny California.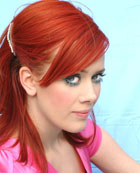 How was the idea for Pop Beauty makeup line born?
As a makeup artist and a woman – pop where the pieces that were missing in my makeup bag. Pop represents everything that I love about life, zest, energy, playfulness, and originality. Also there really was a gap in the market for fun colorful makeup of great quality! I also wanted fabulous products that would really stand out on stage. 
How does the name Pop Beauty reflect its makeup collections?
The name says it all! A pop of color, to make your eyes pop. Pop culture, pop art. Just like the collections the name sums up what I love about makeup with an added edge and a touch of femininity!
What was the first makeup product you have conceptualized and created for Pop Beauty?
The eyecakes was the first product formulated for the first collection. The shades harmonize and are put together specifically to make green, blue and brown eyes pop. It's a makeup artist's advice in a cute retro tin! And the colors look amazing on!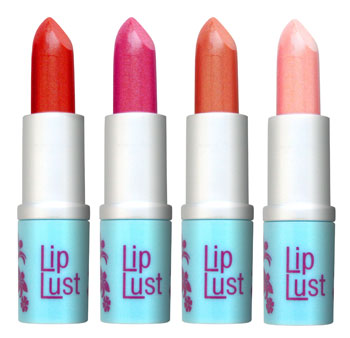 Get sexy siren cat eyes in an instant with POP Beauty Cat Eyes!
Think old Hollywood glamour starlets, such as: Elizabeth Taylor, Sophia Loren, and Bridget Bardot!
I've tried the Cat Eyes slanted eyeliner by Pop Beauty in N0.1 Black Onyx and I added it to Talking Makeup's best eyeliners list. It makes applying eye liner super easy and super clean. It doesn't smudge while applying and lasts all day.
POP Beauty introduces CAT EYES, their uniquely slanted eye crayon. Simply press into skin following lashline and flick will automatically appear perfectly formed and exactly the same on each eye! Stay on, smudge proof formula with intense pigment payoff.
Price: $ 16.00.
Exclusively sold in Sephora and www.sephora.com  
 POP Beauty Paints LA Fashion Week at the Maggie Barry Spring/Summer 2009 Fashion Show!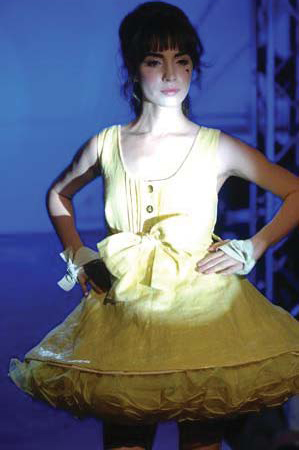 Pop Beauty London Style: Pop Beauty, the British cult makeup brand encapsulates all that makes London "Swing"; Silky, long-lasting, uber flattering textures in punchy, punky must-have shades. Pop pushes the boundaries and creates trends with its maverick style. Pop appeals to all, Pop is a state of mind, an appreciation of award winning makeup and an innate sense of style. 
I met my dear friend Victoria Rowe, who also happens to be a very talented makeup artist, backstage at the Maggie Barry show during LA Fashion Week.
Victoria Rowe created the makeup looks at the Maggie Barry fashion show using products by Pop Beauty. And this is a photo of us together.

Victoria Rowe (left) Marta Walsh (right).
I met up with celebrity makeup artist Victoria Rowe backstage at the Maggie Barry fashion show during LA Fashion Week. Victoria gave me a sneak peek to the makeup look for the runway which was achieved by Pop Beauty!
Here is a video of my interview with Victoria Rowe where she explains the makeup look backstage at the Maggie Barry show during LA Fashion Week, using makeup products by Pop Beauty.  It was super loud backstage since it was in a club, so the video is also a bit loud. But, you can see the model's look wearing all Pop Beauty makeup and few tips here and there.
Want a flirty, funky shade to make your eyes pop? Coming right up. How about glittering eyeliner for a night on the town? Consider it done. Pop Beauty's irresistible range of juicy color fulfills every order-from kiss-worthy lip pouters to eye shadows with a glittery finish to sparkly, all over shimmers that add a delectably enhancing glow to any look. Keep your finger on the beauty pulse and your makeup bag on the cutting edge with Pop Beauty's deliciously loud, yet totally wearable shades.
Pop Beauty founder Sara Strand has never had a problem getting noticed. From her signature scarlet mane to her extraordinary talent in singing, Strand caught the ear of music executives at Sony at the young age of 11-after she left them singing messages into their answering machines.  
Pop Beauty makeup is available in Sephora and Ulta.