All Posts Tagged With: "roots"
Hi guys! Hope you're all having a wonderful Friday. Today I did my fist video entry for the John Frieda Root Awakening Video Blogger Contest and talked about the beginning of my hair transformation using my favorite John Frieda Root Awakening Strength Restoring hair care line. The products and styling tools used for the video were provided to me by Kao Brands Company to help me use them in my video and to enter the contest.
Curios to find out what were my first 7 days like using the John Frieda Root Awakening Strength Restoring Hair Care Line? Watch it here:
BTW starting June 22nd, 2010 samples of the John Frieda Root Awakening Strength Restoring Hair Care Line will be available online for YOU to try at: www.johnfrieda.com/VideoBloggerSample
And please, please, let me know your feedback and comments about your John Frieda Root Awakening experience. Love you all! Thank you:)
Frederic Fekkai Partners with CFDA/VOGUE Fashion Fund to host the LA Runway Show for the 2009 Designer Finalists.
While the top designers in America were vying to win the 2009 CFDA/Vogue Fashion Fund Award (which will be announced tonight), what really wowed the crowd were the two hair looks designed by celebrity stylist, Renato Campora for Frédéric Fekkai. As the exclusive beauty partner for the event, the Fekkai team worked closely with Vogue and the 10 Designer Finalists to create two special hairstyles, the Wet Look and the Dry Look, to compliment each of the collections.
Frederic Fekkai's Lead Stylist, Renato Campora Creates Two Signature Hair Styles with an Emphasis on Texture:
The first look is a sculptural and edgy ponytail. It's modern, young and sexy. The texture tells a story through the wet and twisted hard hair. Pieces are left in front for an effortless feel, inspired by some of the graphic trends shown in the collections.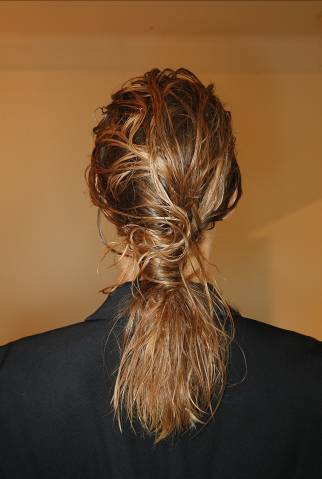 I can't wait to get my hands on the new Jimmy Choo for H&M shoe collection! Did you know that Aveda did the Rocker Chic hair for Jimmy Choo for H&M launch party? Talking Makeup has the scoop on how you can get the look at home.
Show: JIMMY CHOO FOR H&M
Lead Hair: Ginger Boyle for Aveda, Planet Salon, Beverly Hills, CA
The Look: The look is very rock and roll—edgy and imperfect with thick, ruffled texture. A new flat-iron technique creates square-shaped waves for easy, rocker chic style.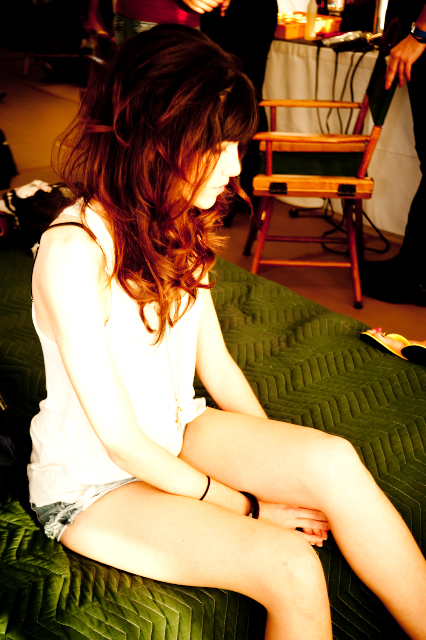 Get the Look/Step-by-Step:
Step 1: Separate hair into top and bottom sections, creating a horizontal line from ear to ear. Further divide the top section into two to three layers, depending on the amount of hair. Twist and secure each layer at the top of the head with a hair clip.