All Posts Tagged With: "Scarlett Johansson"
Scarlett Johansson's Makeup: On Sunday June 7th, 2010, at the MTV movie awards actress Scarlett Johansson, donned in a Dolce&Gabbana dress, debuted a sexy beauty look on the red carpet courtesy of Dolce&Gabbana The Make Up. Celebrity makeup artist Matthew Vanleeuwen shares with us the steps to get Scarlett's makeup look.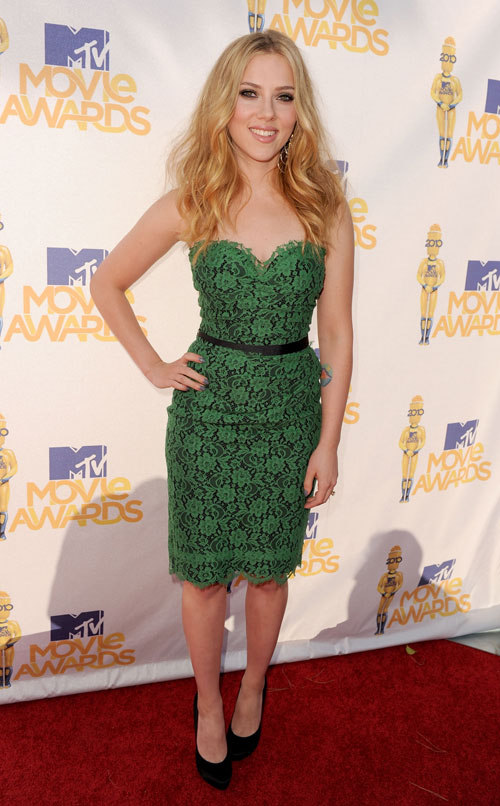 To create the look, make up artist Matthew Vanleeuwen prepped skin with The Perfect Finish Foundation in Natural, and added a touch of The Bronzer in Desert for a radiant glow.
Sneak Peek: The cover for the next V Magazine (issue #65) which hits newsstands Tuesday, May 11th, 2010: "The Summer Scorcher issue," starring gorgeous actress Scarlett Johansson. Scarlett stars in Iron Man 2 which opens in theaters today, May 7th, 2010. The 21st century starlet was shot by famed photographers Inez van Lamsweerde and Vinoodh Matadin, and discussed her transformation as a woman with the various challenges she has faced throughout her career as an actress.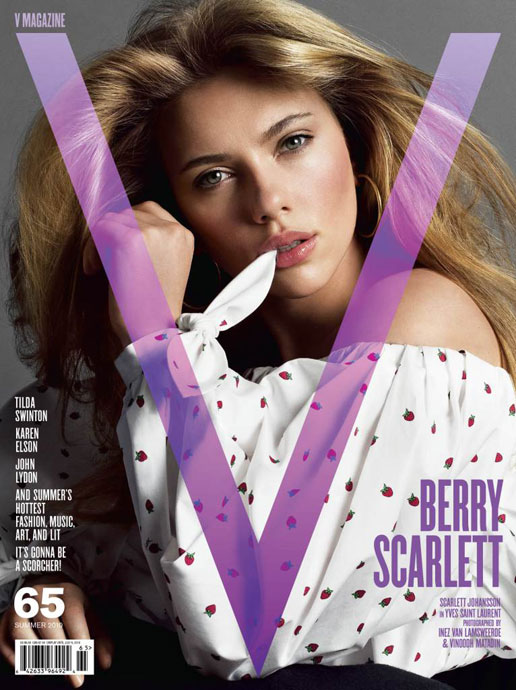 "Working with these incredible hair and makeup teams, you go in looking like a schmoe, and you come out like a movie star."-Scarlett Johansson
Scarlett Johansson at the Iron Man 2 premiere. Hair by Stylist David Babaii using Morocccanoil hair care products.
Scarlett Johansson' fresh, softly textured updo, created by leading celebrity stylist David Babaii for the International Premiere of her new film Iron Man 2 looked extraordinary. A perfect complement to the flowing waves and graceful lines of her ice blue Armani Prive dress, the look emphasized a flowing cascade of smooth, well-conditioned waves pulled back into a graceful bun.
Babaii used Argan Oil-infused Moroccanoil products to create the fabulous effect. "I started with wet hair, working in Moroccanoil Intense Curl Cream for gentle hold and to create a texture that was soft and smooth. With my hands, I then scrunched her hair and manipulated it to get the desired shape that I was looking for. I also used a diffuser to help shape the curls.
Scarlett Johansson plays Natasha Romanoff / Black Widow's character in the film "Iron Man 2" which is scheduled to be released on May 7, 2010. Also staring in Iron Man 2: Robert Downey Jr., Mickey Rourke, Gwyneth Paltrow, Samuel L Jackson and Olivia Munn. The film is directed by Jon Favreau.
Scarlett Johansson in Iron Man 2 film poster. Do you love?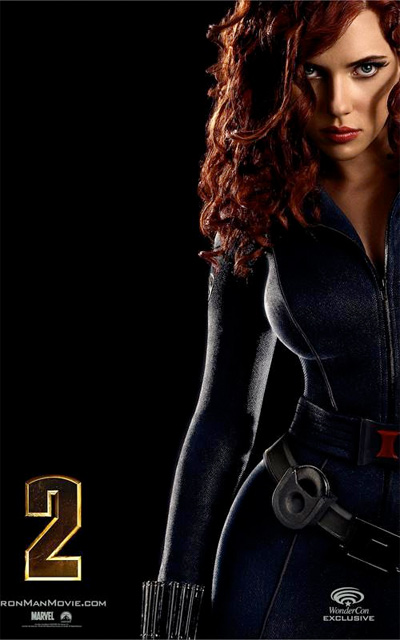 Dolce&Gabbana Spring 2010 Collection Makeup.
Just as the S/S 2010 runway collection embraces the voluptuous floral prints of Domenico Dolce's and Stefano Gabbana's beloved Sicilian heritage, the Intimate Sensuality Collection embodies Sicily's traditional wild roses coupled with all of nature's nuances and eloquence. The balance shifts as Hollywood's flamboyant glamour makes room for the slyly seductive powers of the Mediterranean.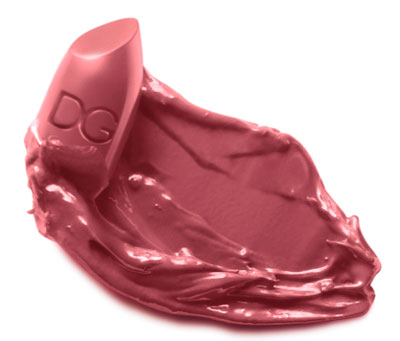 the lipstick: Classic Cream Lipstick in Petal 145 (new) $30USD
"We wanted an even more intense exploration of another side of femininity," says Domenico Dolce, "A new flavor that's more Sicilan, Mediterranean… romantic. There are so many facets of women just as there is such a variety of wild roses, each one so unique." "The rose is a symbol of everything we love about woman," adds Stefano Gabbana, "and what we love most about our favorite woman, Scarlett Johansson, who is more than just a muse; she is the Dolce & Gabbana woman, someone who has so many layers."
Love Scarlett Johansson's trench coat dress in her latest Mango ads. I also approve Scarlett's voluminous waves and and smoky eyes. However, Scarlett's stare is little lifeless and makes her look like a mannequin. Pretty but cold. Do you love?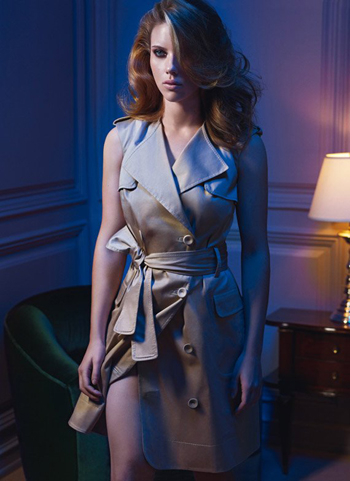 Introducing the Romantic Collection for Fall 2009 and the Golden Beams Collection for Holiday 2009: two new collections showcasing new colours, new attitude and new direction. Inspired by Dolce & Gabbana's gravitation toward surrealism, each palette embraces a bold insouciance and a sexy spontaneity that challenges the archetypal face of beauty with the revolutionary Dolce & Gabbana aesthetic.
Created for the Dolce & Gabbana woman who seeks a look that's at once disarmingly assertive and simultaneously seductive, The Make Up captures implicit femininity and explicit sensuality, specially designed for the woman who chooses a life of passion, full-on glamour and ultimate luxury. She aspires to perfection and achieves it; takes risks and succeeds.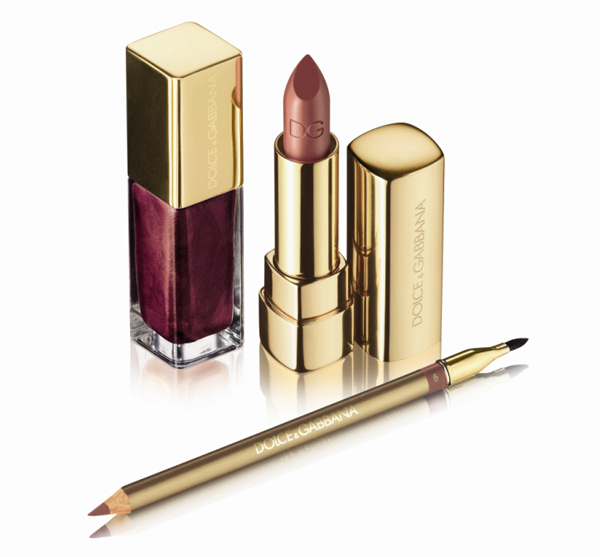 The Romantic Collection – Fall 2009
Inspired by Surrealism, the Dolce & Gabbana A/W 09 runway collection echoes both revolutionary sensibility and rebellious spirit. Just as the Surrealists eschewed the conventional to embrace the unpredictable and explore the unimaginable, Dolce & Gabbana break the rules both on the runway and with a new collection of Make Up for fall, tracing the fine line between dreams and reality to create an innovative glamour that teases and provokes.
"We worship the surrealists; they pushed the limits-and proved that anything is possible," says Stefano Gabbana, "With the Romantic Collection, the idea is to break away from the expected to transform beauty, creating a look that is about ultimate fantasy."
I absolutely love Scarlett Johansson's look at the Moet & Chandon "Tribute To Cinema". The hairdo is old Hollywood glamour done to perfection (yet looks so effortless). I am also, intrigued by Scarlett's super smoky cat eye. Definitely a wow factor! You know how much Marta loves the 'wow factor' lol:)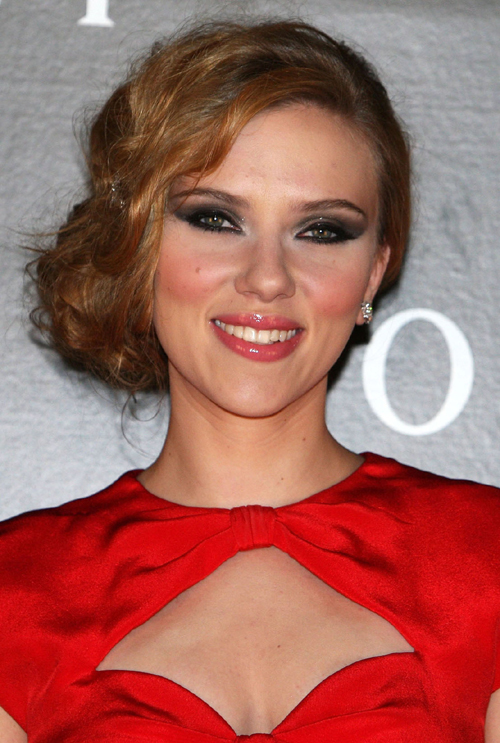 Scarlett Johansson is looking absolutely beautiful at the Mango photoshoot. Scarlett is another one of Marta's very favorite Hollywood starlets: gorgeous and talented! I love watching Scarlett in the latest Woody Allen films. I know everyone is all about Angelina Jolie's lips, but have you seen Scarlett's lips? Wow factor!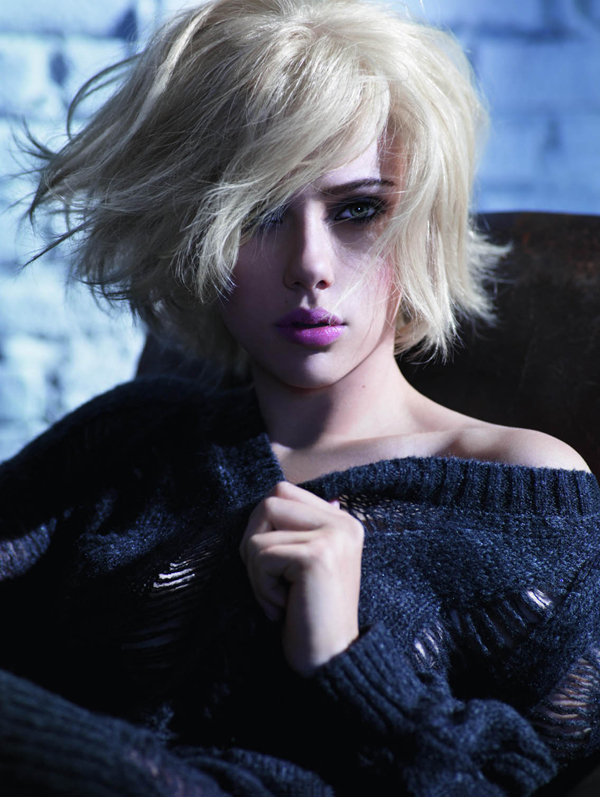 Scarlett Johansson on Glamour Magazine November 2009 in red hair. Is red hair in? Jessica Alba just died her hair red too.
Scarlett talks on body image in the magazine: "There was this rumor mill cranking out stories that I had lost 14 pounds—I could never lose 14 pounds…I hate seeing these ridiculous articles where [tabloids] guess someone's weight…I can't look at somebody who is 6 feet tall and 120 pounds and say, I'm going to get that body. That's just never going to happen. You have to work with what you've got."
Scarlett on the red carpet: "I have a tumultuous relationship with it because I love to get ready for the red carpet, but being on it is very uncomfortable. It's so freakish and weird. I get flop sweats, dry mouth, heart palpitations, allover panic!"