All Posts Tagged With: "Sebastian Professional"
ELLE and Sebastian Professional invite you to experience Sebastian Professional's NEW Volupt line for hair-raising volume. Enjoy cocktails and Hors d'oeuvres while you receive a complimentary hair consultation from a professional stylist. WHEN: April 8th, 2010 6-8 PM. WHERE: Riccardo Maggiore Salon 136 East 57rh Street at Lexington Avenue New York City. Kindly RSVP to 866 283 3711. Have fun:)
Rachel McAdams Oscars 2010: The Hairstyle
For Hollywood's biggest night of the year, Sebastian Stylist Design Team Member Thomas Dunkin styled actress Rachel McAdams' tresses to complement her pastel watercolor-print strapless couture gown. The voluminous texture of Rachel's bun evoked a spring-time look that is effortlessly chic and breathtakingly beautiful.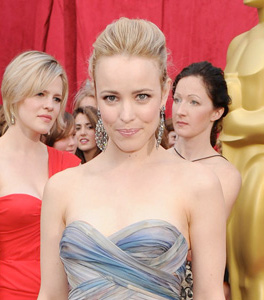 Hair Tutorial: Thomas shares styling tips for recreating Rachel's red carpet look at home
1) Start by applying Sebastian Professional Liquid Gloss to slightly damp hair.
2) Blow dry hair straight with a large round bristle brush to give hair a smooth, polished base and voluminous texture from which to start styling.
3) Brush hair back and put in a ponytail just above the occipital bone. Secure with bobby pins.
New York Fashion Week. Show: Betsey Johnson Fall 2010. Hair by Sebastian Professional.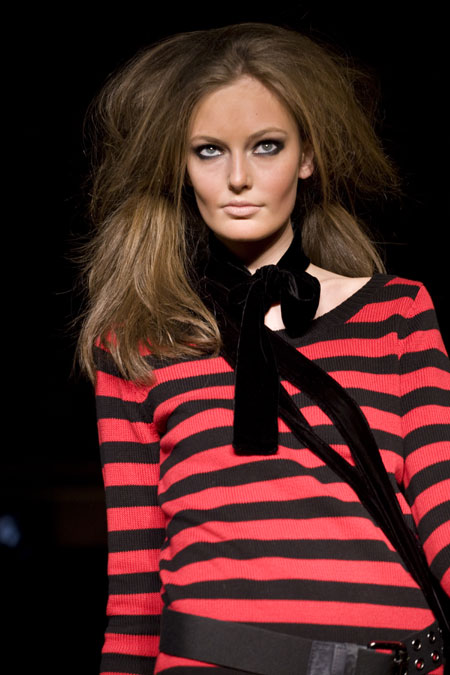 Inspiration: Betsey Johnson's Fall 2010 beauty look was inspired by the sexy, superstar actresses in the cowgirl "French" western film, Las Petroleras (1971). Betsey's own gang of bad girls channel Brigitte Bardot's lust for adventure, exhibiting unassuming sexiness that's as captivating as it is liberating.
Hair Tutorial:
For a windblown, cowgirl look that's playful and sexy, Sebastian Professional lead stylist Thomas Dunkin suggests the following steps:
1. Generously spray Sebastian Professional Volupt Spray throughout damp hair for workable volume and texture.
I absolutely love Eve Mendes outfit at the premiere of Sherlock Holmes at the Alice Tully Hall, Lincoln Center on December 17, 2009 in New York City. It's refreshing to see a white lacy dress underneath her boyfriend's jacket. I'm totally inspired! More white goes into my closet because at the moment I'm the black queen. I also love the updo. And if you agree with me, I have tips on how to get Eva's hairdo thanks to Thomas Dunkin from the Sebastian Professional Stylist Design Team.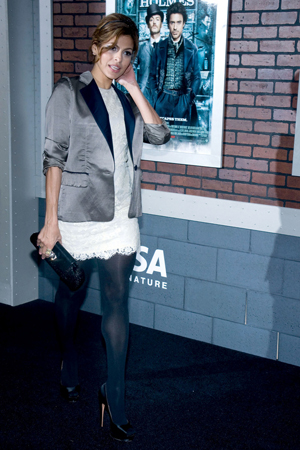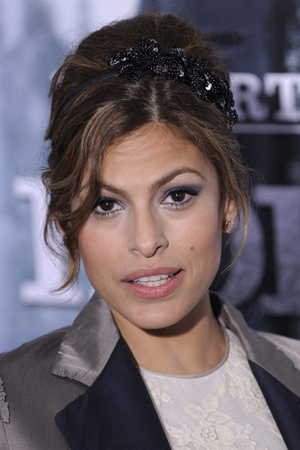 Thomas shares his styling tips for recreating Eva's red carpet look at home:
1) Start by dampening the hair and pulling through a small amount of Sebastian Professional Potion 9 Lite. Take a 4″ section of hair at the crown and saturate it with Thickefy Foam before blow-drying. Then put in approx. six medium-sized velcro rollers.
New York Fashion Week Spring 2010 Hair Trends Report: 
Designer: Costello Tagliapietra Spring 2010 Collection
Hair by: Sebastian Professional
Hair Trend: 40s inspired faux bob.
Inspiration: Costello Tagliapietra's Spring '10 beauty look is a seamless combination of elegance, youthfulness, natural beauty and romance. The hair, both feminine and fresh, is loosely inspired by the traditional roll style from the '40s with soft curls that sit just above the shoulder.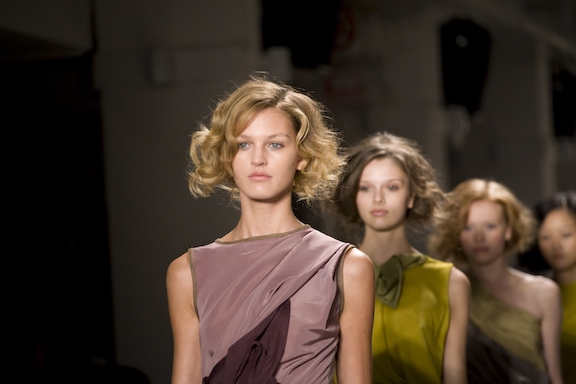 To put a modern twist on a '40s staple, Sebastian Professional lead stylist Thomas Dunkin recommends a method of building texture and shape with techniques that keep the hair looking soft, romantic and not too "done." Finish with an elastic touchable texturizer or flexible shine spray to create a look that's elegant yet playful. Here's how to create your own '40s inspired faux bob:
1) Apply Sebastian Professional Texturizer to damp hair; distribute evenly throughout.
2) Blow hair out straight with a medium to large-sized round brush.
3) Spray hair with a flexible hairspray for added texture, section hair, curl it with a medium-sized barrel curling iron and set.
4) Take out pins, gently brush out the curls and then roll hair under, section by section, fastening it under at the neck with bobby pins.
5) Apply Microweb Fiber to hands and gently work through the front of the hair to create an imperfect, lived-in effect. Finish by misting with a strong-hold hairspray.
New York Fashion Week Spring 2010 Report: Michael Angel spring '10 – September 10th Hair by Sebastian Professional
Inspiration: Taking inspiration from strong influential women like Nancy Cunard, Josephine Baker and Schiaparelli, Michael Angel directed a Spring '10 beauty look that's meant to replace the depressing, dark days of yore with a revived, empowered and reenergized youthfulness. A fresh, healthy "just come back from holiday" look subtly complements the collection's energy-packed, color-rich and cool designs that Michael is famous for.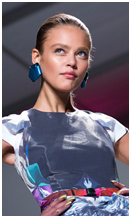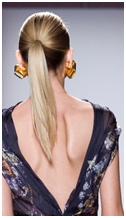 The Hair Look: To keep this ponytail from looking cold and severe, Sebastian Professional lead stylist Thomas Dunkin kept the crown soft and clean, allowing some of the hair's natural texture free reign for a played-in feeling.
Here's how to create your own perfect pony:
1) Apply Sebastian Professional Thickefy Foam to damp hair; blend evenly throughout
2) Blow hair out straight with a medium to large-sized round brush
3) Neatly brush hair back with a comb or flat brush and fasten with a hair tie just below eye level to avoid looking too "sporty"
4) Smooth the first half of the head with Shine Define for a shiny finish or apply Microweb Fiber to entice rogue wisps for a more lived-in look
5) Mist the length with Halo Mist and leave smooth and straight
Love AnnaLynne McCord's hairstyle at the 11th Young Hollywood Awards?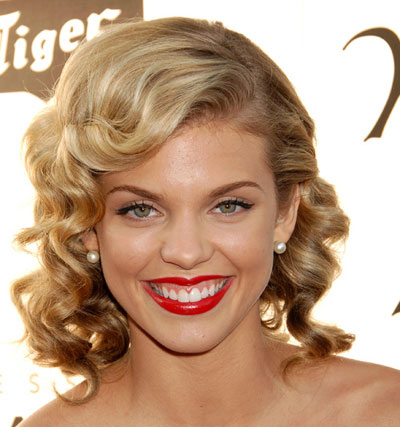 Here is how to get your own award-winning look with the following Sebastian Professional products!
• For a look that shines, spritz Sebastian Professional Trilliant on hair before styling for thermal heat protection and light-body and soft conditioning

As a sponsor of Hollywood Life magazine's 11th Annual Young Hollywood Awards this past Sunday, Sebastian Professional and the expert hair styling team from the cutting-edge Hollywood salon, Hairroin Salon, got stars red carpet ready with pre-event treatments, personal styling appointments and backstage touch-ups.
Sebastian Professional styling team touched-up American Idol runner-up Adam Lambert in an exclusive backstage lounge that was a talent hangout all night.
Led by Sarah Jenkins, Master Stylist at Hairroin Salon, the Sebastian Professional styling team created and perfected show-stopping looks for celebs like:
Shawn Johnson, Olympic Gymnast and Dancing With The Stars Winner
Joely Richardson, Nip/Tuck
Monique Coleman, High School Musical
Q'Orianka Kilcher, The New World
Anna Maria Perez De Tagle, Fame
Name: Thomas Dunkin
Hometown: London, England
Training: John Frieda salons, London
Living Now: New York, NY
Signature Style: A contemporary mixture of glamour, punk and rock and roll.
Definition of Fearless: Having the inner strength to face the future with an optimistic point-of-view
#1 Styling Tip: Get the right haircut for you and then everything else will work

Thomas Dunkin's work or portfolio.
Bold Experiences: Discovered by fashion photographer, Nick Knight, on a photo shoot for French Vogue which lead to collaborations with other photographer legends such as Luis Sanchis and Gilles Bensimon.  
• Has styled celebrities including Nicole Kidman, Demi Moore, Kate Bosworth, Claire Danes and Helena Christensen
• Editorial work has appeared in Vogue, BlackBook, Harper's Bazaar, Elle and i-D
• Worked backstage at Badgley Mischka and Marc Bouwer shows
On the heels of a fiercely successful relaunch of the Sebastian Professional brand in July 2008 comes the latest wave of breakthrough product innovation from P&G Professional Care: the new Flaunt Collection. This four-piece collection of Shine Stylers is the birth child of extensive consumer and stylist research and the answer to the demand for multi-functioning products that eliminate trade-offs.
In January 2009, the Flaunt Collection will join the newly reinvented range of more than 30 powerful Sebastian Professional care and styling products to offer a unique set of benefits that masterfully complement the brand's portfolio of versatile, inspirational and style-amped products.
Charlotte Ronson: In addition to new products and sleek packaging, Sebastian's new advertising campaign will feature unexpected style visionaries in their own right – whether tapped from fashion, film, music or any other untapped well of inspiration. London-born and NYC-raised, Charlotte Ronson (Samantha Ronson's sister) represents the spirit of Sebastian Professional as a multi-tasking designer, a brand builder and master of expressing her personal style. And now, Charlotte will parlay her identity as fashion innovator and style icon into the beauty world as the fearless face of Trilliant, the star product of the new Flaunt Collection.