All Posts Tagged With: "Shimmer Body Lotion"
Looking for a last minute Holiday gift? You can't never go wrong with philosophy Party Girl Pomegranate Bubbly Scented Gift Set, $35! The cutest gift ever. A black makeup bag titles: philosophy: life is a party! contains: 4.0 oz Pomegranate Bubbly Exfoliating Shower Gel, 4.0 oz Pomegranate Bubbly Shimmer Body Lotion, and 0.5 oz Pomegranate Bubbly Lip Shine (sheer plum).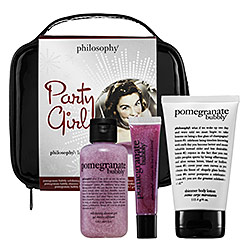 Ring in 2010 with the bubbly that packs a pomegranate punch and guarantees a hangover-free New Year's Day. Whether you give it as a gift or decide to treat yourself, philosophy's Party Girl pomegranate Bubbly Scented Gift Set is the perfect way to get ready or your New Year's Eve celebration. The reusable party pouch comes stocked with an exfoliating shower gel, body lotion and lip shine, which may even help you snag a romantic kiss at midnight.