All Posts Tagged With: "Simple skincare"
One of my favorite skincare brands, Simple Skincare, just launched their brand new blog – Making Sense of Skincare. This blog a place to talk and learn about how to take care of even the most sensitive skin. In the blog you will find everything you need to embrace healthy living and healthy skin, as well as news and updates about all things Simple. Click here for a first look – they just launched!
Simple skincare new blog: From their welcome blog post
"Whether it's designing new products, researching what's important to you or ensuring the highest quality ingredients, I'm here to share what I know – friend to friend – so you can feel amazing and knowledgeable about your skin. You'll also be hearing from my colleague Michelle, who will be updating you on the latest happenings with the brand here in the US and how you can get involved. Not only that but we'll be featuring guest posts from some of our famous, skin fabulous friends. No matter what your skin type, join the fun and remember that happy skin is healthy skin. Happy skincare" – Leslie, Simple Team Member.
Remember back in the day when we just looked at products in the stores? They felt so unreachable and removed from us! Now anyone and everyone can connect with a brand and interact… and Simple hopes you will! They're looking to hear from you with feedback about their products, their voice, or anything! So make sure to visit Simple's blog and get connected with the Simple Skincare family.
This post was created in connection with my appointment as an ambassador in the Simple® Skincare Program. Visit www.facebook.com/SimpleSkincare to share your story on sensitive skin. For more tips and deals from Simple, join the Simple VIP community.
Spring is officially here! It's exciting to finally see more sunshine, and to, of course, look good. So here is a sample of what's in my beauty bag to help me feel good.
For my skin, and especially the skin on my face, I love Simple Skincare products. I don't believe you need to use fancy or expensive skincare products to keep your skin in shape and looking amazing. I like to wash my face with Simple Moisturizing Facial Wash in the shower or to help remove makeup and dirt. It feels very creamy, yet light, refreshing and super gentle to my skin. I also love the Simple Eye Make-Up Remover Pads. This one is a must-have. Just wipe and go. I seriously can't function without these. Both products are fragrance free, which is a god sent, ha. Don't like perfumes on my skin.
For my hair I've discovered U Luxury, aka United Luxury Shampoo & Conditioner – a UK brand. It smells light and very moisturizing without weighing my hair down.
SPRING MAKEUP. Spring is around the corner, and all I'm thinking is new and fresh. In beauty terms it means what hot new products I can use this Spring that are so 2013. Here are my picks of the hottest beauty products this Spring, from good skincare for sensitive skin to makeup, perfume, and hair.
SKINCARE
I can't live without the Simple Skincare wipes. The NEW Simple Radiance Cleansing Wipes are perfume-free and so good at removing my makeup without irritating my skin! There's nothing worse than heavily-perfumed facial wipes that compete with my perfume… it almost doesn't make sense. These wipes from Simple are a must-have! They are great for travel, work and anytime you want to refresh.
I also love the NEW Eye Makeup Remover Pads for removing my eye makeup, which I'm addicted to. They are also good to correct makeup mistakes in the morning when I'm lining my eyes with a black liquid eye liner. It's Simple: wipe, correct, and start over. And lastly from Simple is the NEW Protecting Light Moisturizer with SPF 15… did I mention it's oil free? I need this moisturizer every day to help protect my skin from the sun. It's light, fragrance free and it does the job: it hydrates perfectly. It helps to my powder foundation set nicely by making my skin dewy and moist.
One of my go-to skincare brands to achieve natural, healthy-looking skin is Simple Skincare. This year Simple introduced a bunch of fun new products to their skincare range, and of course I had to try them! I believe your skincare routine shouldn't be complicated OR expensive. This is why I choose Simple – it's easy, accessible, affordable and yet effective.
For my face I typically just clean, wipe and moisturize. That's it. I feel it works, and I do often get lots of compliments and even asked what the 'secret' is for a 30-something to achieve glowing skin, ha! The truth is I try to have a healthy diet (i.e. not a lot of junk food), I try to keep smiling and stay positive, cleanse my skin & hydrate. Pretty easy. Scroll down to check out Simple's new product additions for some skincare inspiration:)
"My skincare routine includes Simple (pun intended) "-Marta Walsh[/caption]
Simple has a brand new panel of experts for 2013 called the "Skincare Advisory Board," which includes a psychiatrist, fitness expert, makeup expert, dermatologist and nutritionist. All of these elements of our lifestyle are important in maintaining optimum skin health and a happy life: good diet, exercising, healthy mind, good skin and great makeup. Simple believes there is more to great skincare than just products, a philosophy with which I totally agree. Your skin is also impacted by your lifestyle, diet, fitness, health and well-being. This is why I would like to introduce to you the women behind Simple's Skincare Advisory Board-a panel of leading industry experts who together offer you a complete approach to your skin, inside and out… or what I like to refer to as the total package.
Simple Dermatologist, Dr. Debra Luftman
Dr. Debra Luftman is a Board Certified Dermatologist who has always felt that there is an important link between skin health and emotional wellbeing. She abides by the mantra that when it comes to skin it is important to "keep it simple."
Hey girls & boys. Valentine's Day is right around the corner, and you know what that means… it's time to look fabulous! Just like relationships, being both sexy and fabulous can sometimes require a little bit of effort. In my opinion, "trying" is an underrated word… trying is good! When you stop trying is when you start looking like you have lost a bit of joy for life, and it shows. Please, please don't go down that un-fabulous and drab route, ha! Instead, check out some must-have beauty products that make my skin look beautiful, make my body soft, give me smooth and sexy hair, and of course make me smell good! I'm also super excited to introduce to you some of Simple Skincare's new product additions. Anyone, and I mean anyone, can be sexy and fabulous. Why not start now? Check it out.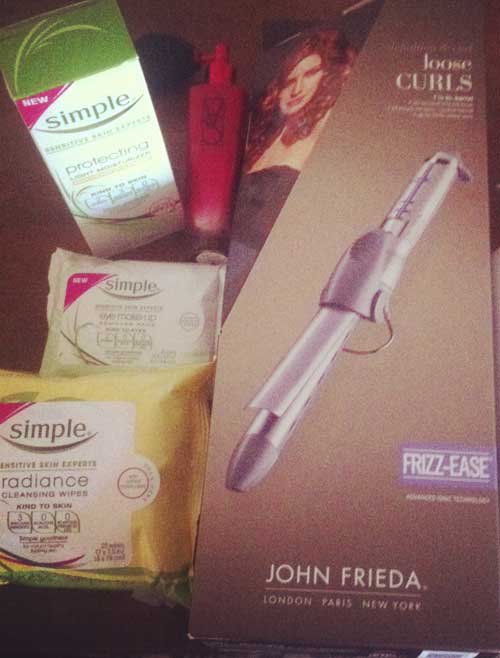 Valentine's Day Must-Have Beauty Products: Simple Skincare, John Frieds, Victoria's Secret etc.
My star beauty products, L to R, Top to Bottom: NEW Simple Skincare Protecting Light Moisturizer with SPF 15, NEW Simple Eye Make-Up Remover Pads removes waterproof mascara, NEW Simple Radiance Cleansing Wipes with added moisturizers: Mango extracts, Glycerin, Bisabolol, no alcohol, no oil, non drying, no greasy residue, no perfumes or dyes.
Sometimes some of the best beauty and skincare products are found in your local drugstore. I get great quality products with great 'don't-break-my-bank-account' prices. One of the reasons I started to write a beauty blog is my obsession with products in drugstores… I always wanted to try new stuff, read the labels and, of course, buy. These star drugstore products work! Here's my list of must-have drugstore products, and of course it includes my very, very favorite: Simple Skincare. Check it out.
L to R, Top to Bottom:
Just because you are a Soccer Mom doesn't mean you need to let go and stop making yourself look attractive and glamorous. You need to approach looking good as something you do for yourself and not for anyone else; it will make all the difference in helping you to feel motivated putting the time in. Looking good and vibrant should almost be second nature to you… not an effort, but effortless. After all, you we know you'd rather be a "cool" soccer mom than a boring one. Drop all your ideas about age and just enjoy being young! (I hear so many thirty-something moms who talk as though their youth is over… change that today!). This is how I get to keep the glow as a soccer mom. Here's my list of makeup and skincare products that do the trick.
Top to Bottom L to R:
Simple Exfoliating Facial Wipes are the BEST to use in the morning to get that good clean feeling of freshness that inspires to get on with your day. I like to use these Simple wipes after my shower and before my moisturizer and makeup.
Travel & jet-setting are some of my favorite things in life. I love going places and exploring the world. I love getting out of a routine into the fun adventures of the unknown. But I only like to travel when I'm feeling fresh and pretty. These are the skincare and makeup products that are my best travel company. My routine? I get to the airport showered, well dressed and with the perfect makeup. The challenge, however, is to stay like this for hours during a tiring flight with a flight full of dry air.
How do I stay fresh and pretty when I travel? Well, Simple Cleansing Facial Wipes are a MUST for a fresh travel. I actually remove all my makeup before landing and re-apply my Simple Skincare Vital Vitamin Day Cream with SPF 15 and Simple Skincare Soothing Eye Balm. Then I use matte moisture tint SPF 15 & oil free because I hate looking shiny and oily anywhere, including on a flight. Then Jouer Cosmetic brightener in neutral is like concealer – it's easy to use and fragrance free, so it conceals redness and skin imperfections on the go. Plus, it's so small it fits perfectly in my makeup or travel bag.
I'm very big on the concept of, 'you are what you eat.' That is why I've been always attracted to drinking lots of water (in fact it's my favorite drink) and "eating the rainbow." The right balance for achieving quality of life is when every aspect in our life is looked after: mental, physical, social etc. The balance is not always easy to attain with our busy lifestyles, but we can try to be our best possible selves. This is why I find Dr Segal's, Simple Skincare's Dermatologist video on Foods To Feed Your Skin worthwhile to watch for a quick inspiration on living a healthy life and enjoying the fruits of your labor and having nice skin in return. What's your favorite skin loving food? WATCH.
THE VIDEO:
Foods to feed your skin: http://www.youtube.com/watch?v=o9XZLi0DCI8
Did you know that the foods you eat affect your skin? Learn what foods can help you care for your skin with tips from Consulting Dermatologist Dr. Jennifer Segal. For more information, visit Simple at Facebook.com/SimpleSkincare. For exclusive offers, expert advice and skincare tips, sign up to become a Simple VIP!
This post was created in connection with my appointment as an ambassador in the Simple® Skincare Program. Visit www.facebook.com/SimpleSkincare to share your story on sensitive skin. For more tips and deals from Simple, join the Simple VIP community.