All Posts Tagged With: "Smoky Eyes"
Smoky Eyes: I'm loving my eyes smoky these days. I feel a bit 1960s nostalgic, edgy, and playful with smoky eyes. For the longest time I've been using black purple eye shadow or dark brown. I'm now addicted to black eye shadow. My favorite is: Bobbi Brown eye shadow in Caviar, $20 (see image below). I apply to both the upper and lower eyelids, and add a black liquid eye liner by Maybelline to wing my eyes for an extra dramatic and wow factor effect. Promise, I will update with photos very soon!:)
I also LOVE:
I just discovered a gorgeous way to get smoky eyes with NARS Single Eye Shadow in Night Breed. The shade: black with silver glitter. The black pigment is pretty strong and you can skip the black eye liner on lower lids. I also use two other eye shadows: MAC Reflects Antique Gold which is part of the MAC Glitter Brilliants collection (your eyes will sparkle like diamonds) and stila kitten eye shadow for highlighting.
I then add MAC Rapidblack Penultimate Eye Liner (a liquid eye liner) and wing out my eyes for a bit of cat eyes. And finish with MAC Studio Fix Lash mascara. The result: dramatic, sexy eyes! To complete my look I add Chris & Tell lipstick by Lancôme which is THE prefect pink coral shade. I'm addicted to Chis & Tell! Every woman should have one pretty red lipstick and one pretty pink coral lipstick such as Lancome's version.
WATCH: Lancôme Chris & Tell Lipstick backstage at Chris Benz New York Fashion Week Spring 2010.
2010 Golden Globes Beauty Trends: Another big trend of the evening was long, dramatic lashes set against smoky eyes as seen on True Blood's Anna Paquin, actress Emily Blunt, and Glee's Lea Michele. BTW-I love Anna's Stella McCartney gown.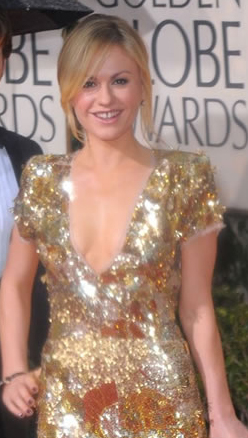 To get the look, try Dolce & Gabbana The Make Up Smooth Eye Color Quad in Champagne—the ideal palette to attain a smoky eye, along with the Crayon Intense Eyeliner in Black and Volumized Lashes Mascara in Black.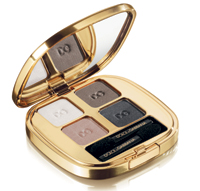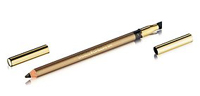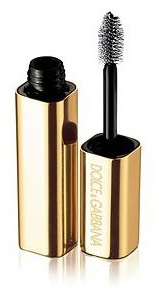 Ring in the New Year and revamp your look for 2010 with pre and post party essentials from Estée Lauder…
The Eyes Have It. Add a little drama to capture that sultry, mischievous look with dark hues and smoky eyes. The Blacker than Black collection was made with the dramatic girl in mind and includes our six mascaras in an intense, jet black shade for maximum impact. Add a layering of the Signature Eyeshadow Quad in Black Smoke for eyes that will be the center of attention.

Lancôme and Lollipop Theater Network celebrated the launch of La Collection Lollipop last week at Bellacures in Beverly Hills. Jordana Brewster and Jennie Garth hosted the festive soiree, where guests were treated to champagne, cupcakes and manicures using the nail polishes from the collection.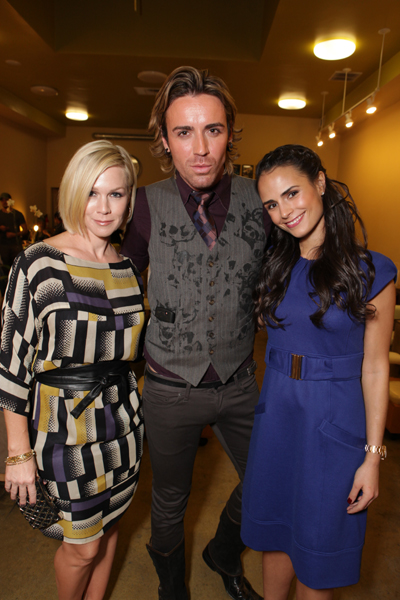 From left: Jennie Garth, Darais, and Jordana Brewster
Watch Marta's video blog for today talking about her favorite products from the latest MAC makeup collections: MAC Style Black and MAC Dazzleglass Creme.
Products mentioned in Marta's Vlog:
MAC Greaspaint Stick in black purple
MAC Dazzleglass Creme in Soft Dazzle
MAC Dazzleglass in Luscious Spark
MAC Style Black
MAC Style Black: MAC Young Punk Eye Shadow
Sandy Linter, celebrity makeup artist and Lancôme's Beauty at Every Age Expert, has told us that her bridal clients always ask to look like a Kardashian on their big day. Well, now that Khloe has tied the knot with L.A. Laker Lamar Odom, Sandy has a true blue Kardashian bride to reference.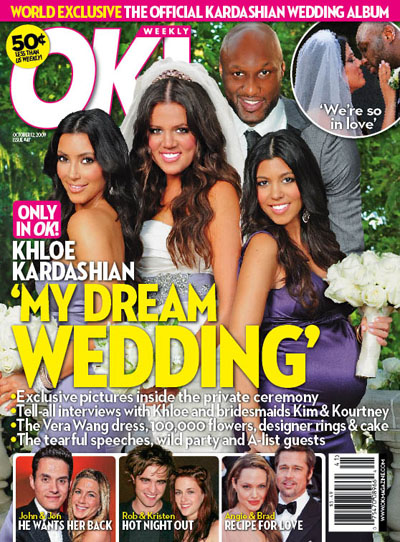 We thought Khloe looked beautiful and now we know why. Khloe's makeup artist Mario Dedivanovic told  that he finished the bride's smoky eyes with Lancôme Hypnôse Custom Volume Mascara mascara. "It's Khloe's fave!" raved sister Kim, OK!'s contributing beauty editor. "He wanted her youthful look to shine through and kept her makeup natural and dewy," added Kim. We say mission accomplished!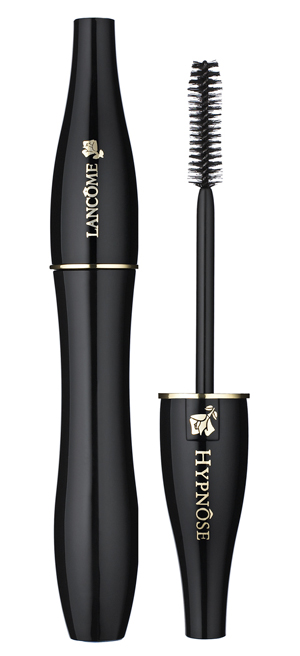 Not surprisingly, Hypnôse Custom Volume Mascara, $24.50, remains one of Lancôme's best-selling mascaras. Its patented brush and fluid, vitamin B5-enriched formula deliver six times the volume, all without a clump or a smear.
Please check out http://www.lancome-usa.com/makeup/mascara/hypnose.htm  for more information.
I can tell you enough how much I LOVE the new Dior JazzClub Total Eyelook Makeup Clutch. This all about the eyes kit or palette is a must-have for all makeup lovers and addicts. If you never bought an eye shadow before then this is where you need to start!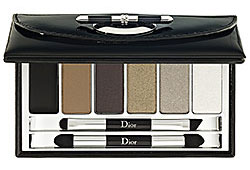 Dior JazzClub costs $65 but you get SO much for your money! You get an eye liner, brow powder, 1 matte eye shadow, and 3 iridescence eye shadow all in extremely wearable, classic, day or night colors. The kit even comes with the right makeup brushes. Needless to say, the Dior JazzClub Total Eye Look Makeup Clutch looks super glamorous in your purse and is easy to travel with. Also great as a present or gift. You just can't go wrong with this Dior, lol:)
Watch Marta's video blog  talking about Dior JazzClub:
Here is the official description: A makeup clutch packed with all you need to create a smoky jazz look. This limited-edition Jazz Club Couture Eye Palette features Dior's signature silver toggle on a black patent clutch, which is the must-have accessory for the season. Inside, you'll find four eye shadows, a brow-shaping powder, and a cream-to-powder eyeliner—all are perfectly coordinated to create a sultry, smoky-jazz harmony.
Dior JazzClub Total Eyelook Makeup Clutch is available at www.sephora.com
Sienna Miller wearing CHANEL Beauté at the international premiere of G.I. Joe, Monday, July 27, 2009, Tokyo, Japan.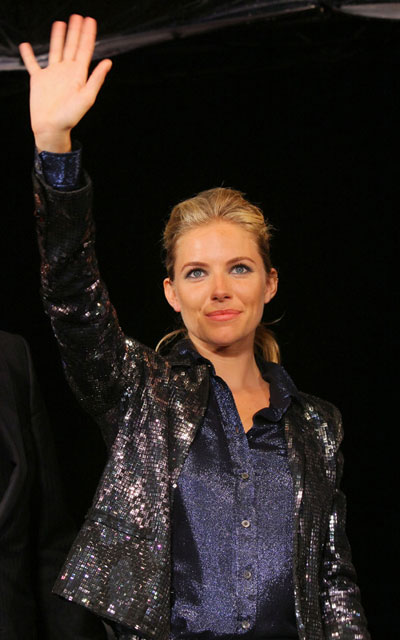 Get Sienna Miller's Look: Sienna Miller's makeup was done by Makeup Artist Kate Lee for CHANEL Beauté, and here is how to get the look:"For the Tokyo premiere Sienna wore a Gucci suit. Her hair was up and in a modern/ chignon type ponytail, so I decided to make the look more of a subtle version of Jerry Hall/ Helmut Newton by gently smoking out the eye with a mid grey matte shadow. Inside the eye I used CHANEL Intense Eye Pencil in Graphite to add intensity, and the silvery grey reflects the light. I wanted to balance the look without conflicting with her amazing suit. On the lids I used the grey shadow from the CHANEL Smoky Eyes Quad, with the CHANEL Eclat Lumiere in Beige Rosé as a base. On her lashes I used several coats of Exceptionnel de CHANEL Mascara. I sculpted the cheek bones with CHANEL Powder Blush in Fresque. Final touch… the lips were CHANEL Rouge Allure in Instinctive."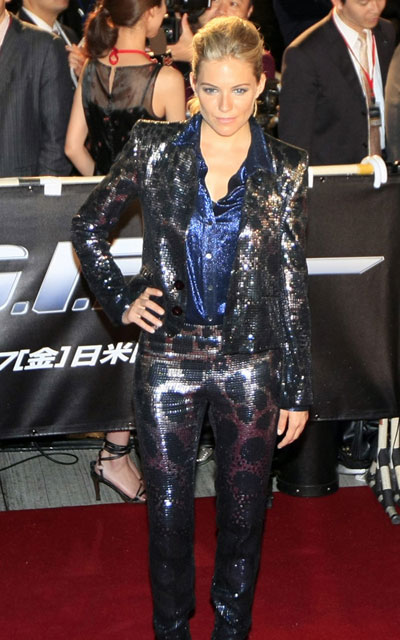 Images via: celebrity-gossip.net
Thanks to the editors of DailyMakeover.com we bring you the scoop about the makeup look at Nicole Miller Fall 2009 fashion show.
Eyes were the focus of the beauty look for Nicole Miller at New York Fashion Week Fall 2009. "I wanted to show you can do a colored smokey eye and it can be very wearable and not look weird," says makeup artist James Kaliardos for MAC who chose to work with dreamy shades of blue.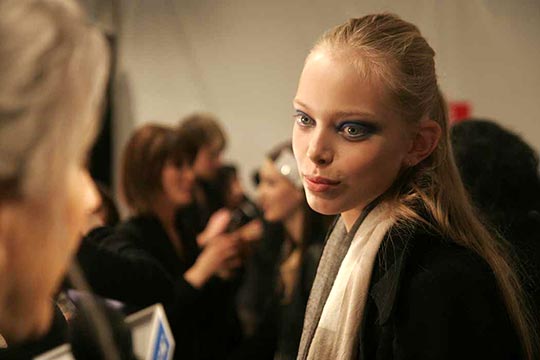 First, Marine Ultra Paint Stick was applied all over the the lid and up into creases. Next, a lighter Freshwater Eye Shadow was placed on the center of the eyelid and under the lashline. Finally, a deep Atlantic Blue Eye Shadow was swept in crease for depth.