All Posts Tagged With: "Space NK Apothecary"
Liz Earle Naturally Active Skincare, Britain's best kept beauty secret, was founded in 1995 by Liz Earle. Its main philosophy is to create products that really work on every skin type, using the finest quality naturally active ingredients. Liz Earle Skincare offers a simple, no-fuss routine yet very pampering or spa quality skincare routine for everyone.
The first time I encountered Liz Earle's products was in Space NK Apothecary in Cheltenham, England, where I used to live few years ago. And last week was the first time I actually tried Liz Earle skincare products, and I'm surprised at myself for not trying them earlier. Liz Earle is my special treat skincare, very luxurious yet easy and simple to use. In fact Liz Earle's Cleanse & Polish Hot Cloth Cleanser made me clean my face every morning and every night religiously! For women with a very hectic lifestyles, this concept is quite revolutionary:)
These are the Liz Earle products Talking Makeup tried and loved:
"The most wasted of days is one without laughter"-E.E Cummings.
Laughter, Space NK's best selling fine fragrance, is available in a choice of indulgent gifts this holiday season. Rooted in Nicky Kinnaird's personal memories of childhood, Laughter is an uplifting fragrance inspired by the Spanish Mediterranean Costa del Azahar, where the sun drenched orange groves sweep down to the sea.
Fresh citrus top notes of bergamot, grapefruit and lime are invigorated by the tonic effect of juniper berry, angelica root and verbena with refreshing aromatic notes of rosemary, fennel and coriander. The sensual woody base of patchouli, amber and musk is enlivened by a sweet, spicy bite of ginger.
Laughter Eau de Toilette, $80.00 (50ml)
Laughter Eau de Parfum, $95.00 (50ml)
A Cleaner and Greener Lifestyle… It's in Your Hands. Introducing Nicky Kinnaird's new concept for hands.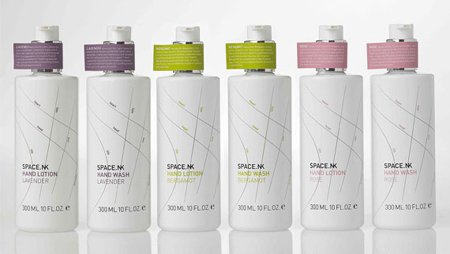 Space NK founder Nicky Kinnaird has pioneered a revolutionary range for hands under her own Space NK label that are gentle on your hands and kind to the planet. Simply called Space NK Hands, the range is more than 95% natural and comprises of Hand Washes and Hand Lotions fragranced with three organic essential oil blends.
The mild, gentle, clean formulas are made with naturally derived ingredients and are completely free from parabens, sulfates, glycols, mineral oils, petrolatum, PEG, DEA, TEA, synthetic colours, silicones, Phthalates and synthetic fragrance.
Harsh chemicals have been replaced with the finest natural ingredients to cleanse, moisturise and to leave skin feeling silky smooth.
Inspired by some of the most unforgettable travel destinations, Nicky Kinnaird introduces four new Space NK fine fragrances for Autumn/Winter '08. To celebrate the festive season, these new fine fragrances will be offered in a beautiful selection of gifts.
"Fragrance is one of life's great pleasures. Personal fragrance and passion are all irrevocably intertwined – the ultimate sensory experience is also a highly sensual one." Nicky Kinnaird.
The Fine Fragrances: Each fragrance explores the connection between scent and memory, combined with the spirit of travel and discovery.
Tuberoli
Reminiscent of a romantic weekend in Rome, Tuberoli evokes a sense of indulgent femininity and intrigue. A flirtatious, white floral blend of tuberose, neroli and ylang ylang envelop a sensuous base of blackcurrant leaves and luscious peach.
Champaca
Inspired by the breathtaking majesty and exoticism of Rajasthan, Champaca is deliciously earthy and sensual. This beguiling blend of the revered champaca flower and aromatic vetivert is spiced with cedar wood, rich amber crystals and black musk.
(June 4, 2008-New York New York) Space NK, the UK beauty destination that opened their US flagship location on Greene Street in SOHO just under a year ago, now brings Face Value (Berkley Books-a division of Penguin USA) to New York-the latest book steeped in the world of beauty.
Just as Space NK began in the UK, so did author Kathleen Baird-Murray, who is best known for her time as a Beauty Director for Tatler Magazine. In her new book, Face Value, just out this week at Borders, Kathleen brings together the best of beauty, plastic surgery and publishing.
While a work of fiction, Kathleen takes inspiration from her days in the beauty department at Tatler, providing an insight into her "beauty closet"-from the labels, products, tips and trends that we all crave to make ourselves beautiful.
Last night Space NK honored Kathleen with a cocktail soiree and book signing, celebrating the launch of Face Value and the world of beauty.

Kathleen Baird-Murray.
Notable attendees included: Georgina Chapman, Keren Craig, Pascal and Sarah Dangin, Tierney Gearon, and Jane Larkworthy.