All Posts Tagged With: "Sue Devitt"
I'm so excited to share with you my interview with Molly Sims the supermodel, actress, and now the creator of an exquisite jewelery collection Grayce by Molly Sims. The official www.graycebymollysims.com website is launching this Wednesday, April 21st, 2010, where the collection will be sold.
Sims is best known for her appearances in the Sports Illustrated Swimsuit Issues and her role as Delinda Deline in the NBC drama Las Vegas. She is also an ambassador for Operation Smile.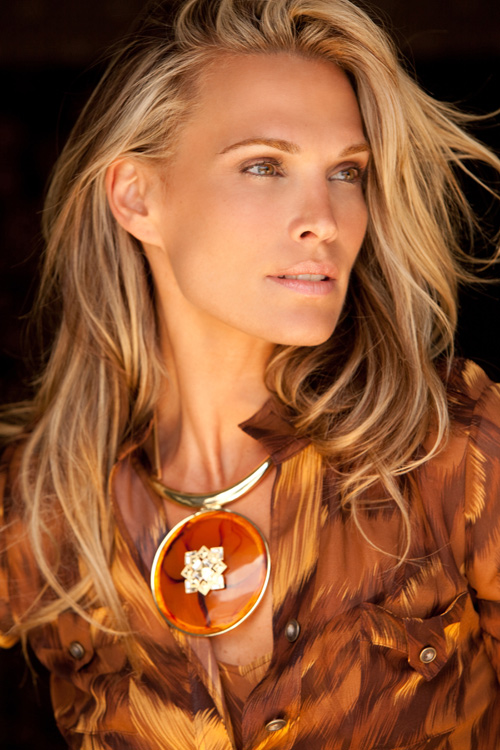 Molly Sims
In this interview Molly Sims talks to Marta Walsh on how she keeps in such impeccable shape. Gives advice to aspiring models. The creative process behind her jewelry collection Grayce By Molly Sims. What's in her makeup bag. Who would be on the guest list of her ultimate dream dinner party. And, future plans.

Marta Walsh: Where do you call home?
Molly Sims: Los Angeles because my two puppies love the house and it is home to them.
MW: You appeared in Sports Illustrated "Swimsuit Issue" many times. How did you and still do manage to keep in such impeccable shape?
MS: Tracy Anderson and Bikram Yoga. 4-5 days a week.
The Sue Devitt Mini Lip Gloss is designed to give your lips a transparent color. It's infused with Primrose Oil for intense hydration. Protective essential oils heal and nurture delicate lips while providing shine. Designed to mix and match with lipstick or to wear alone. Convenient, compact size is perfect for touch-ups during a night out.

Enter to WIN: Want one? Sue Devitt Beauty has been kind enough to give away a Mini Lip Gloss (retail $18) in the shade Costa Del Sol to five (5) lucky Twitter-peeps. All you have to do to enter is follow @SueDevittBeauty on Twitter and tweet the following: @suedevittbeauty I hope I win the Sue Devitt Mini Lip Gloss Giveaway via @TalkingMakeup (5 winners)
That's it! Enter once, the giveaway ends on Sunday 3/21/2010. Five (5) winners will be chosen and contacted via Twitter to claim their prize…so make sure you're watching your tweets!
The Sue Devitt makeup line was created by Sue Devitt, a celebrity makeup artist from Australia.  Microquatic Pro Marine Tinted Moisturizer SPF 30 by Sue Devitt is a lightweight, tinted moisturizing cream with sunscreen. 
This tinted moisturizer by Sue Devitt will give you a sheer coverage and a natural, healthy glow. It hydrates, evens out skin tone and provides a radiant satin finish.  Microquatic Pro Marine Tinted Moisturizer SPF 30 by Sue Devitt is oil-free and is recommended for all skin types.  It comes in a slim-line compact with a sponge applicator for portable use.  Available in three shades: Santorini/light, Sardinia/medium and Ibiza/dark.  Cost: $35.