All Posts Tagged With: "Svedka"
Rebecca Taylor's Fall 2010 Fashion Week after-party co-hosted by Carmen Electra.
Attendees Included: Rebecca Taylor, Carmen Electra, Maggie Rizer, Alexis Dziona, Top Chef Judge Gail Simmons, Selita Ebanks and Ramona Singer.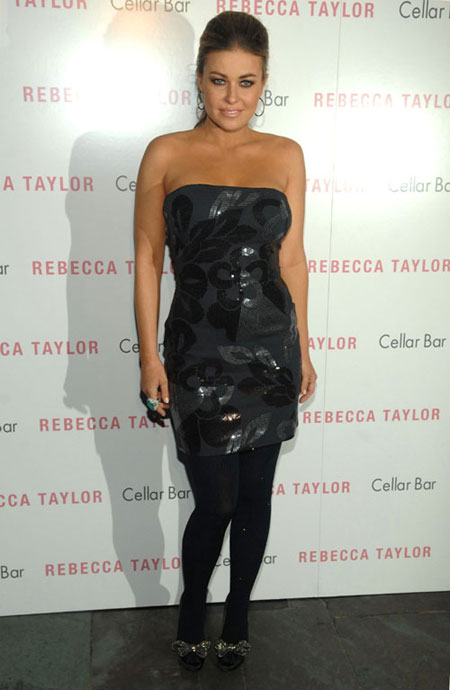 Carmen Electra
In honor of Rebecca Taylor's Fall 2010 Collection, actress Carmen Electra co-hosted an exclusive after-party at The Cellar Bar in the Bryant Park Hotel, situated directly across from New York City's storied Bryant Park, and steps away from the media, fashion, retail and transportation centers in Manhattan. The Bryant Park Hotel is party to New York's semi-annual Fashion Week and hosts innumerable events and functions celebrating industry elite. Rebecca Taylor will launch her latest collection at this chic venue with close friends, VIPs, and industry leaders.
Blue&Cream's mid-summer trunkshow on the Bowery for UES brought out a mix of who's who in NY nightlife drinking Svedka mixologist Alex Ott's Summer Melon concoctions. For those underage NYC prep kids, Jessie Leavitt, PC, and Aaron Reid (son of LA Reid)- Mister Softee and the nice old Delicio Coco Helado man was on hand to serve ice cream and icey fruit treats.Eleanor Lembo started the event looking svelte in a black jumpsuit only 3 weeks after giving birth to prodigal son, Allistair. Allistair got his first taste of Blue&Cream — and he is so cute.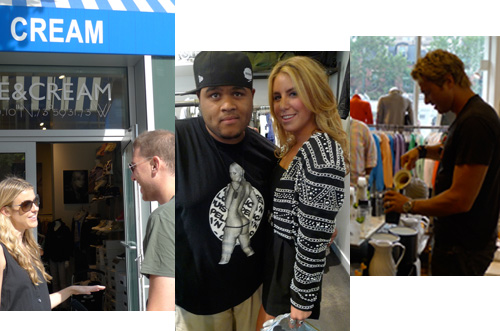 NYC prep kids:Jessie Leavitt (center)
Socialites Alexandra Richards and Laura Katzenberg posed under the picture of Patti Hansen (Alex+Theo's mom) which is hanging from Patrick Mcmullan's Big Picture photo exhibition. Later Alexandra met Nick Cohen at the dj booth to spin a set.