All Posts Tagged With: "The Japanese Skincare Revolution"
Japanese women seem to be always stylish and have beautiful skin. I often wish for that porceline skin myself. Now we can all find out the secrets to their beautiful skin thanks to a new book by Chizu Saeki The Japanese Skincare Revolution How to Have the Most Beautiful Skin of Your Life -At Any Age.
Japan's top beauty expert and lifelong aesthetician Chizu Saeki reveals some quick and simple skincare techniques from her new book The Japanese Skincare Revolution (Kodansha International, March 2009. $19.95). Available at amazon.com and barnesandnoble.com.
The Japanese Skincare Revolution by Chizu Saeki is the Japanese woman's skincare bible. Auther and beauty guru Chizu Saeki shares with the world, for the first time, the natural, low-cost techiniques she developed over a career spent in the beauty industry. With it, you'll learn what today's Japanese women do to keep their skin looking young and healthy.
Here is an interview with Leading Beauty Expert Chizu Saeki Author of The Japanese Skincare Revolution.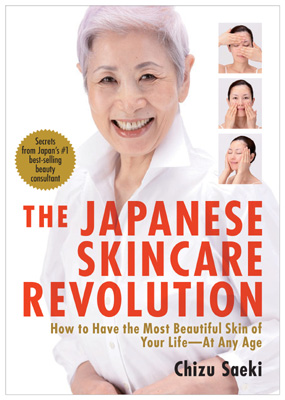 Why did you choose the skincare industry for your profession?
When I was 13 years old, I saw Audrey Hepburn in a film catalog, and I was amazed that such a beautiful person could exist. This is what aroused my interest in beauty. I began imitating her looks, and gradually I realized what a wonderful thing it is to become beautiful. I quit the clerical job I had been working and enrolled in a beauty school to help others achieve beauty.
How are Japanese and American women different in their approaches to skincare?
Japanese women generally want to whiten their skin. When I lived in the U.S., I got the impression that Americans are more interested in hair design and don't get hung up on details-brown spots, open pores, and such. They look to a more holistic kind of beauty.