All Posts Tagged With: "The Shaw Center"
As you probably already know I'm based in Scottsdale Arizona a place I love so much. This is why I was excited to take part in this year's Scottsdale Fashion Week (SFW) and get to know my fashionable neighbours. Last night I was invited to attend a fabulous designers party at the equally fabulous Intercontinental Montelucia Resort & Spa in Paradise Valley Arizona. Wow, what an evening. The weather couldn't be any more perfect and the Montelucia resort where the party took place was breathtaking. I was trying to take photos, but couldn't capture how beautiful it was around there last night. Just imagine, beautiful clear dark sky, lots of palm trees, fire features around amazing pools, chocolate desserts, and beautifully dressed people.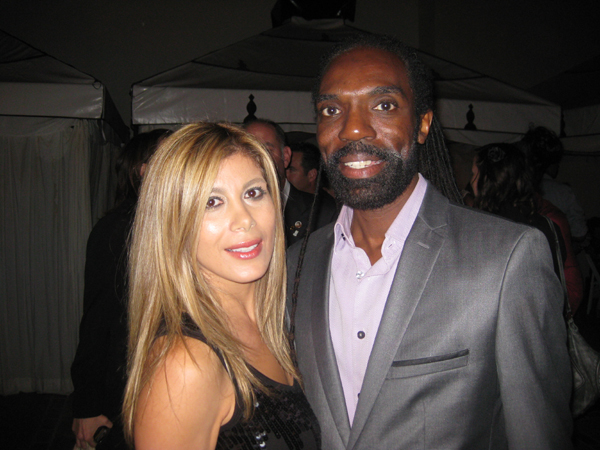 Marta Walsh founder of Talking Makeup (left) Kevan Hall fashion designer (right)
The highlight of my evening at the SFW was finally getting to chat with LA Fashion Designer Kevan Hall who his sleek eveningwear was worn by a distinguished coterie of celebrated artists- including Celine Dion, Sharon Stone, Angela Bassett, Charlize Theron, and Salma Hayek. I've been at his show over a year ago during LA Fashion Week and was so glad to bump into him. After I introduced myself to Kevan I asked why Scottsdale Fashion Week? He said that Scottsdale is known to be a city who is into fashion and he has clients from Scottsdale who fly to LA especially to shop in his studio. He also agreed with me how gorgeous Scottsdale is. Kevan also talked to me about the colors he likes to use in his designs, and he mentioned that he likes to use unexpected colors and unique shade of colors. I had to ask him if he approves my outfit. I went for a rock chic look because I can't afford to buy Kevan Hall, yet, I told him. He said yes, and I felt like the cat who got the cream. LOL.