All Posts Tagged With: "Theodora & Callum"
Christy Turlington was spotted wearing the Theodora & Callum Orange Multi Bodrum Wearable Art Gauze Scarf supporting Every Mother Counts while out in NYC today. Just in time for Mother's Day, Theodora & Callum has partnered with Christy Turlington and is donating a portion of sales for the month of May to Christy's charity, Every Mother Counts.
Private Practice star, Kate Walsh was photographed on Monday afternoon, April 18th, 2011, wearing a Theodora & Callum scarf while leaving the Kate Somerville Skincare Clinic in Los Angeles.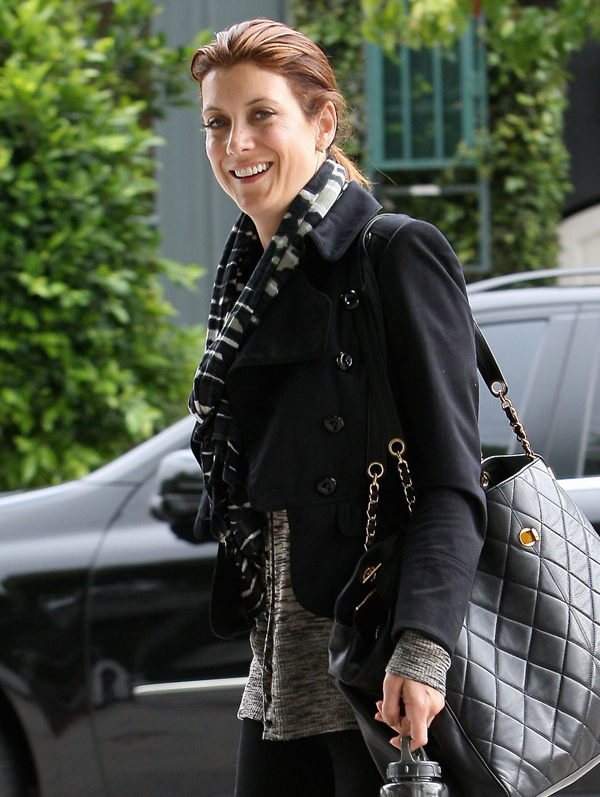 Kate Walsh
Recently celebrities, Alyson Hannigan, Britney Spears, Elisabeth Hasselbeck, Emmy Rossum, Heidi Klum, Kate Hudson, Selita Ebanks, and Selma Blair have all been seen sporting fun spring/summer scarves from the line.
SEE PICS:
Britney Spears was photographed yesterday (Thursday, March 24th, 2011) at LAX with boyfriend Jason Trawick wearing the Theodora & Callum Bali Fringe Wearable Art Scarf ($145 available at www.theodoraandcallum.com)
Britney and Jason were surrounded by bodyguards as they made their way through LAX to catch a departing flight to San Francisco for GMA. Ms. Spears will be taping a performance for Good Morning America this weekend that will air on Tuesday morning, the day her upcoming album is slated to hit!
Other celebrity fans of the line include: Emmy Rossum, Heidi Klum, Kate Hudson, Selma Blair, Elisabeth Hasselbeck, Selita Ebanks, and Maria Menounos.
(New York, NY) — Theodora & Callum, launching for Spring 2011, debuted during New York's fashion week in September. This is the latest collaboration between acclaimed fashion luminary Stefani Greenfield and entertainment producer Desiree Gruber.

L to R: Stefani Greenfield and Desiree Gruber
Born out of a love for collecting beautiful things from all over the world, Theodora & Callum is an accessories- based line featuring scarves, jewelry, shoes and bags inspired by their travels. Drawing inspiration from Morocco, Bali, Turkey, India and the Mediterranean as well as the bon vivant mentality of the late 60's and early 70's European jet-set, each style feels as if it has been discovered in a far-off locale.